Class of 2022 Marks Baldwin Wallace University's 172nd Commencement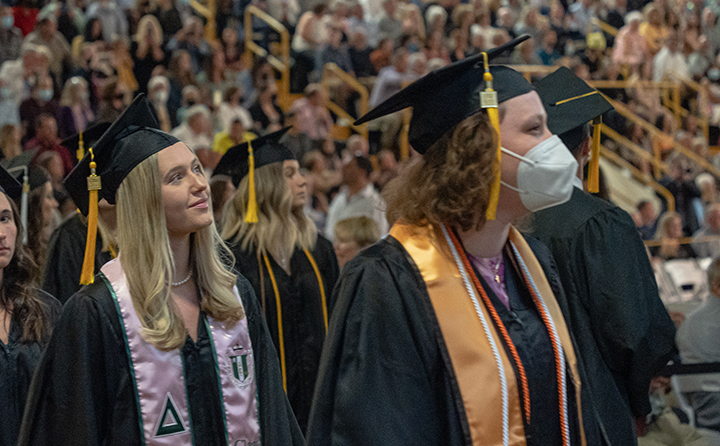 Baldwin Wallace University marked the momentous milestone of college graduation — both an ending and a beginning for 588 graduate and undergraduate students — on Saturday, May 7, in the Lou Higgins Center. 
A rainy forecast gave way to bright sunshine early in the day as family and friends, faculty and staff celebrated BW's 172nd Commencement ceremony steeped in pomp and pageantry.
Academic customs started with the first, clear notes of a trumpet fanfare that signaled the regalia-draped processional and ended with the singing of the alma mater and a closing prayer for the graduates. 
In between, each member of the Class of 2022 was called by name to take a triumphant walk across the stage in the Ursprung Gymnasium as friends and family cheered and BW President Robert C. Helmer offered personal congratulations. 
Inspiring words
In an inspiring commencement address, Randell "Randy" McShepard '86 urged the Class of 2022 to remember the lessons they absorbed during a college experience changed by the pandemic.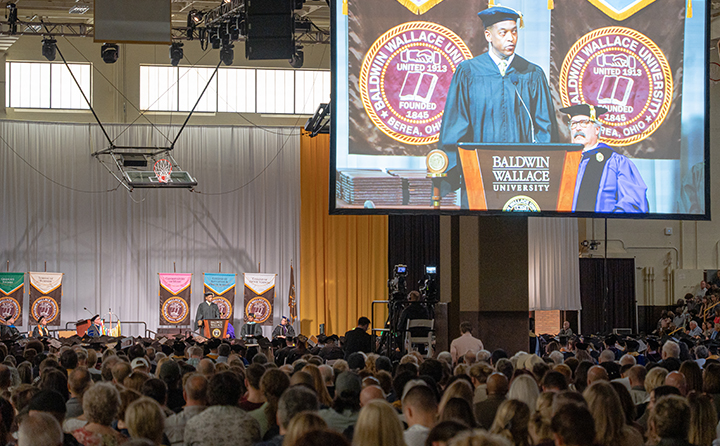 "You learned to be resilient, to work more independently …  sometimes even in isolation, McShepard said.
"You learned how to problem solve in radically new ways. You learned to appreciate health and life at a much younger age than those of us who came before you. And I hope and pray that the social unrest that our country experienced in 2020 also helped you to learn the importance of civility, respect for all persons, and social justice."
McShepard, who is vice president of public affairs and chief talent officer for the Fortune 500 company RPM International Inc. and who has also served on more than 40 nonprofit boards and commissions, including as a BW Trustee, challenged the grads to "simply be great!"
"Your parents and extended family didn't send you to Baldwin Wallace University to be average. Your professors didn't teach and mentor you with hopes that you would someday be an ordinary citizen. Rather, they, and all of us, expect that all of you will be extraordinary in whatever you choose to do."
McShepard's final piece of advice was to be grateful. Following his keynote, BW awarded him the Honorary Doctor of Humane Letters degree.
Honors Recognition
Special recognition for high-achieving members of the Class of 2022 included the prestigious Milton T. Baldwin Prize, given to the graduate with the highest academic achievement at BW.
This year's award went to Kelly Schikowski '22, who posted a perfect 4.0 grade point average, taking all courses at BW and earning a double major in theatre: acting & directing and arts management and entrepreneurship. A number of factors go into choosing the winner in addition to GPA.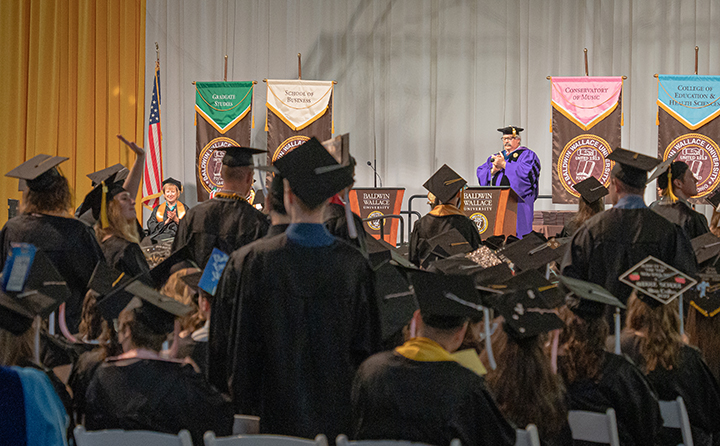 In fact, there were a dozen other BW undergraduates who worked their way to straight A's. Students also earning a perfect 4.0 were: Paul Blazek, Jeremy Coad, Cecilia Cooper, Savannah Duganier, Shaarav Ghose, Ashtyn Morris, Alyssa Palumbo, Rachel Schade, Katherine Sharp, Gregory Steinberger and Casey White.
An impressive number of undergraduate students graduated with honors: 71 earned summa cum laude recognition with a cumulative grade point average of 3.90 or higher; 66 graduated magna cum laude with at least a 3.75; while another 63 earned cum laude honors with at least a 3.60.
A group of 70 students was recognized as elite Dayton C. Miller Honor Society members, while 14 students who completed the BW Honors Program were applauded.
Super Seniors
Ten graduates were recognized as 2022 Outstanding Seniors for overall excellence and contributions to campus life, including academics, leadership, service and involvement on and off campus.
The 2022 graduating seniors acknowledged for demonstrating excellence in all areas of their University endeavors are: Casey White, Lauryn Cook, Lillian Edwards, Corey Friedrich, Arundhati Gupta, Salayna Hritz, Nicki Hodgkiss, Jordyn Rozek, Jared Rudge and Ezra Ohly.
BW Senior Class Officers were also recognized: Madison Hancock, president; Rachel VanArsdale, vice president; and Leon Contreras, secretary/treasurer, along with officers of the BW Graduate Student Association: Cate Lenahan, president, and Karley Beaudry, vice president.
Since 1845: Following BW Traditions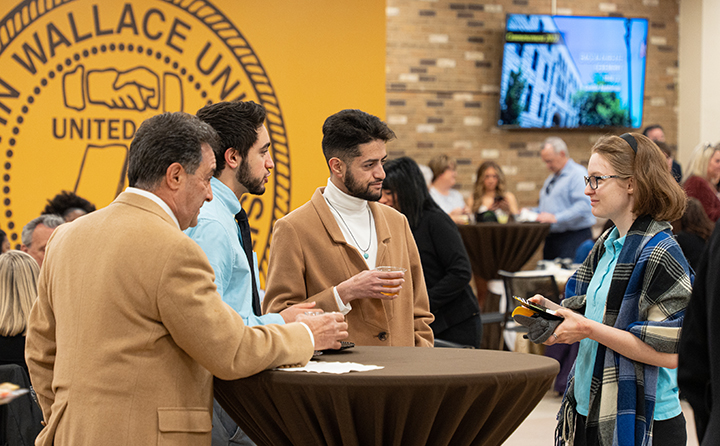 A series of traditional events led up to the culminating graduation ceremony. 
A non-denominational Baccalaureate service started the day and included music and readings by students and faculty and inspirational words by retiring religion professor Dr. Alan Kolp.
Baccalaureate was followed by the President's Reception — giving all graduating seniors and their families, faculty and staff a chance to mingle, snap photos and enjoy a spread of heavy appetizers and desserts.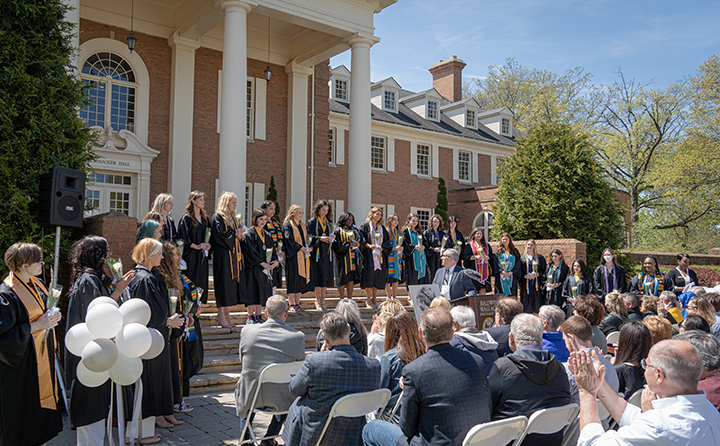 Another longstanding custom, The White Rose Ceremony, recognized 26 select young women while honoring Philura Gould Baldwin, granddaughter of BW founder John Baldwin. She helped establish the BW library and the University's brown and gold colors.
The contributions of White Rose honorees vary as the women of BW themselves. Although the criterion for the award is not defined, each woman has, in her own unique way, distinguished herself by making an impact in the BW community.
Finally, during "the main event," the Senior Class added distinctively colored ribbons to the "ring of ribbons" in a ritual that ties BW grads together from generation to generation and includes the colors of every graduating class since 1915.
Livestream Replay and Photos
Class of 2022 graduates now take their places among 48,000-plus BW graduates or "Yellow Jackets for Life" (YJ4L) who have come before them since the school's founding in 1845.
BW has preserved memories of Commencement in several ways. You can watch a replay of the big ceremony below. To view and download general photos after the ceremony, visit BW social media pages in the week following commencement.
Graduates may also order professional photos from GradImages, which captures photos and sends proofs directly to each grad. Contact GradImages at (800) 261-2576 or giservice@gradimages.net with any questions.