BW students and Radio on the Lake Theatre produce spine-tingling audio dramas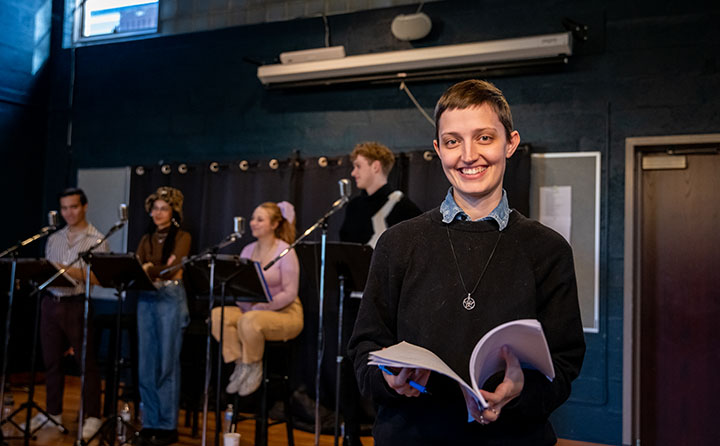 Radio audiences should expect raised heart rates and neck hair when they tune in to a new production featuring Baldwin Wallace University students.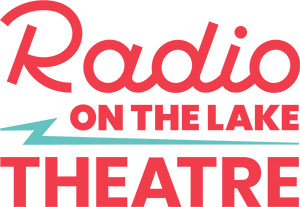 In a nod to "the golden age of radio plays," BW students and faculty are collaborating with Cleveland's Radio on the Lake Theatre to produce and star in audio-only dramas for the professional company's "CreakerBox Radio" series.
"The House that Bleeds," penned by BW creative writing major Lindsay Alfonsi '23 as part of Dr. Les Hunter's playwriting class, is the first BW student-authored piece chosen to be produced by the professional company.
Hunter describes his student's work as a "psychological-horror genre play about amateur ghost hunters in a house that may — or may not — be haunted."
The play will air in two parts on WON: The Apple in Brooklyn, New York on Friday, April 29 and Friday, May 6 at 7 p.m. and in its entirety on Baldwin Wallace's own WBWC 88.3 FM: The Sting on Sunday, May 1 at 5 p.m.
Haunting horror story with a modern twist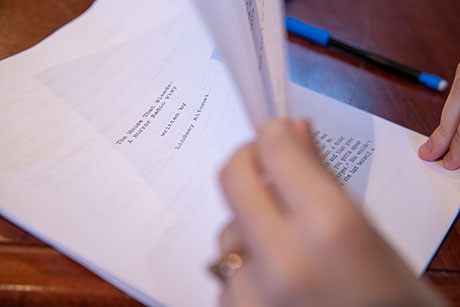 Playwright Alfonsi wove in "pop culture references and created a modern twist on the classic haunted house story" for "The House that Bleeds."
"The most terrifying aspect of the play was a very vivid image in my head," Alfonsi recalls. "In the process of writing, I would lay in bed at night, and that creepy, compelling image would pop into my mind."
Alfonsi, a community college transfer, had never written a play before taking Hunter's class but was intrigued by the option to pitch her work to Radio on the Lake Theatre.
"Why would I not want my play produced?" they ask. "I came up with a good idea for the final class project, and after the semester ended, with pointers from Professor Hunter, I worked on several rounds of revisions and submitted it for consideration." 
Now, the work is part of the "CreakerBox Radio" series, which pays homage to the great supernatural, horror and science fiction radio plays that held audiences spellbound in the '30s, '40s and '50s.
Audio-only acting experience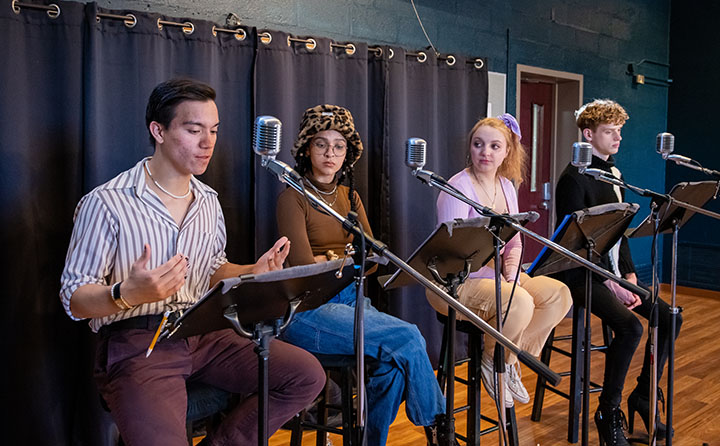 BW theatre professor Heidi Harris, who sits on the board of Radio on the Lake Theatre, sought out the opportunity for her BW acting students, and they've been recording "CreakerBox Radio" scripts since fall 2020.
"At that time, the partnership provided safe performance and directing opportunities when the pandemic had shut down many theatres," Harris explains.
"But the radio plays also build confidence as students focus exclusively on the voice," she adds. "Audio-only work also adds a resume experience that can lead to voicing books on tape, as well as podcast and radio dramas."
Showcasing new voices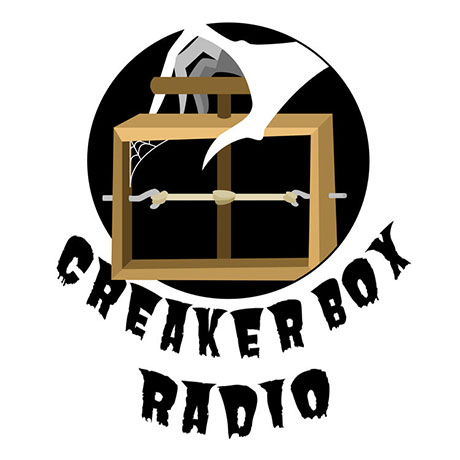 Caroline Breder-Watts, executive director of "Radio on the Lake Theatre," says, "The company has enjoyed recreating classic plays, but the 'CreakerBox' series and others are now focused on featuring new plays and new voices."
Hunter previously collaborated with the company to produce his original, choose-your-own-adventure audio story, "Under the Sycamores," about the fascinating lives of Clevelanders buried in the historic Erie Street Cemetery. 
Breder-Watts co-founded the theatre company in Florida (under another name) with her husband, John Watts, who serves as the Theatre's artistic director.
The two have been in Northeast Ohio since 2017, delighted by the "rich, diverse and supportive arts community" they found here.
According to Breder-Watts, the theatre company is devoted to radio as a medium but plans to make this play and all plays written or directed by BW students available on their website to widen the exposure for the young artists.