Baldwin Wallace University honored as a top college choice for transfer students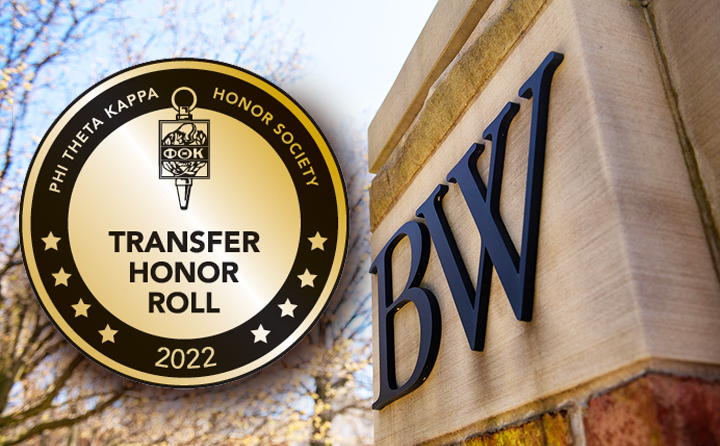 Baldwin Wallace University is once again on a select list of colleges and universities being recognized as the best destinations in the nation for community college transfer students.
Phi Theta Kappa Honor Society (PTK) named BW to its 2022 Transfer Honor Roll "in recognition of the dynamic pathways they have created to support transfer students."
According to Phi Theta Kappa, "the Transfer Honor Roll is determined by 40 key metrics related to the support and success of transfer students, including college cost and financial aid, campus life for transfer, admission practices, and bachelor's degree completion."
Exceptional support, outcomes
In a news release, the organization notes that this year's winners had "exceptional outcomes."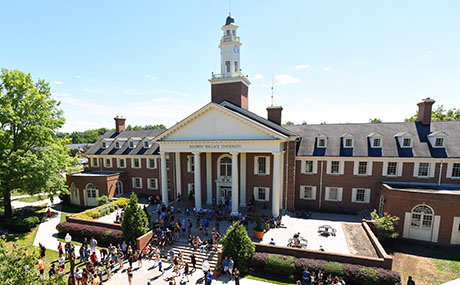 Honorees were commended for their performance on such key measures as bachelor's degree completion, credits that transferred and counted toward the degree, and percent of transfer students receiving merit-based financial aid.
"This award is so important because it is based on what students tell us they need from their transfer experience," says Dr. Lynn Tincher-Ladner, president and CEO of Phi Theta Kappa.
"We are honored to recognize the colleges and universities working exceptionally hard to create stronger pathways to bachelor's degree completion."
Staying on track with summer 'STING'
In addition to the key categories examined for the Honor Roll, BW offers A2BW students a unique Summer Tuition Incentive Grant (STING!) program, which provides access to two summer classes for full-time students (one class for part-time students) with no out-of-pocket tuition cost.
"Many students find that summer courses help them to maintain momentum and stay on track toward graduation," said Scott Schulz, vice president for enrollment management at BW.
"The STING! program at BW has provided many students with a valuable tool for earning academic credit without increasing the cost of their degree."
Transferring to BW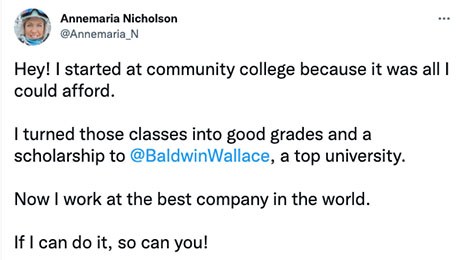 Baldwin Wallace has established a number of partnerships and pathways to ensure maximum transfer credit from regionally accredited two-year colleges.
For more information on transferring to BW, watch "Transfer and Transform at Baldwin Wallace University" and/or visit the transfer students page.
About Phi Theta Kappa
Phi Theta Kappa is the premier honor society recognizing the academic achievement of students at associate degree-granting colleges and helping them to grow as scholars and leaders. The Society is made up of more than 3.8 million members and nearly 1,300 chapters in 10 countries, with approximately 240,000 active members in the nation's colleges. Learn more at ptk.org.