Awards season at BW shines a light on a year of student success
BW honors exceptional student achievement through the 2022 Ovation Day of Excellence, Honors Day Awards and other recognition.
The conclusion of the academic year at Baldwin Wallace University brings many reasons to celebrate hard work, innovation, creativity and extraordinary achievement. 
The spring season features a range of honors and awards ceremonies, which culminated on Thursday, April 28, with the annual Ovation Day of Excellence showcasing original scholarly and creative projects and research.
Back in person following two virtual years, the 2022 Ovation featured more than 135 student projects presented as posters, videos, live presentations and performances.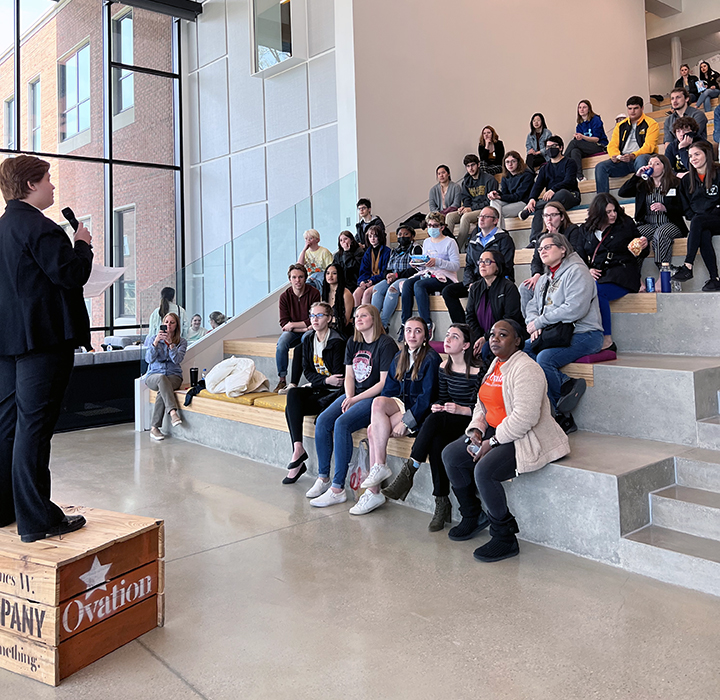 Elite Scholarship Awards and Super Seniors
Ovation Day of Excellence activities were staged amidst a variety of awards and recognition for exceptional student achievement that came before or will follow.
An April Honors Day Awards Ceremony recognized the highest student achievement through a variety of scholarships and awards for academics, athletics, service and leadership.
Honors Day also revealed the 2022 Outstanding Senior Awards, acknowledging a select group of graduating seniors, chosen for all-around excellence in academics, leadership, service and involvement on campus and in their communities.
Congratulations to these super seniors and Honors Day recipients:
2022 Outstanding Seniors
Casey White
Lauryn Cook
Corey Friedrich
Arundhati Gupta
Salayna Hritz
Nicki Hodgkiss
Jordyn Rozek
Jared Rudge
Ezra Ohly
Lillian Edwards
Kent and Shirley R. Williams Engineering and Pre-Engineering Scholarship
Alek Johnson
Martin Mann
Cooper Harestad (renewed)
Andrew Levis (renewed)
Dr. S. Lee Whiteman III Award in Psychology
Claire Waller
Carmel Family Business Scholarship
Jacqueline Escobar       
The Dr. Sardari L. and Sunita Arora Scholarship
Bryan Parnitzke (renewed)
Dr. Lee Tressel Award
Kira Philpot
Laura Anders Canis Philosophy Scholarship
Kylie Cianciolo
Stevie Kontnier
The Lauria Concerto Competition Award
Avedis Escandon         
Mel & Jenna Hakola Prize for Academic and Vocal Excellence
Sarah Strezewski
Lillian and Larry D. Bibbee Scholarship
Madelyn Pyles
John F. and Ida E. Gibler Scholarship
Chris Chang
Jacob Mansell  
Will Richmond Scholarship in Photography
Dustin Johnson
Ryan R. Cross '97 Scholarship
Sophia Leuma
Susan Zanetti Family Scholarship
Keiara Hansberry
Kaylee McKee
Melissa Trifiletti Award in Women's Leadership
Jill Wood
Fred Crossman Leadership Prize
Donald Croft
The Professor David Prok Humanitarian Award for Social Justice in Sex and Gender Diversity
Emily Hathcock
Hazelyn Smith
More ways to shine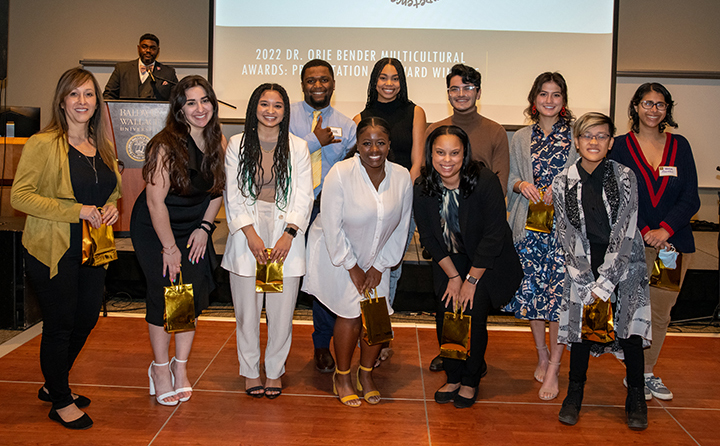 There are many other ways the BW community acknowledges exceptional student achievement and contributions to the vibrant campus community.
Among other recent awards and recognition, the Obie Bender Awards are presented annually to honor and affirm the contributions of multicultural members of the BW community as well as those who contribute to the overall spirit of inclusion.
Student Life and Leadership Awards annually recognize the accomplishments of student leaders, faculty and staff advisers, organizations and programs that have made an impact on the BW community and beyond.
There are also athletic awards recognizing Outstanding Athletes and Clyde A. Lamb Award winners. The Mill showcases the creative achievements of student artists and writers in a student-directed, annual literary and art journal, while The Conservatory Senior Honors Celebration highlights one outstanding senior honoree from each academic major within the Conservatory of Music.
The Dayton C. Miller Honor Society represents the pinnacle of BW academic honor society achievement with less than 4% of the undergraduate student body achieving membership. In addition, there are numerous honor societies representing achievement within various academic disciplines.