Environmental justice leads BW professor, students to research effects of redlining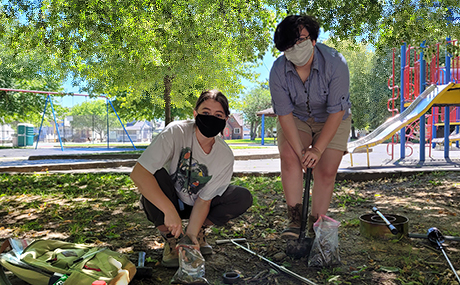 Their work starts at the ground level, literally … as they traverse through vacant lots, community gardens, playgrounds and homeowner yards with hefty backpacks filled with trowels, plastic bags, meters and other equipment. They've logged in hundreds of miles on their cars and gathered soil samples from east to west across Greater Cleveland. 
Research is at the center of their project. But for BW students Rowan Rindfleisch Huntley '24 and Emmalee Keep '22, advocacy is the passion that makes the countless hours, travels and calculations they've done personally and professionally fulfilling. Together with research lead and BW environmental science assistant professor Dr. Annette Trierweiler, the two students are tackling the environmental justice issue of redlining and its effects on communities and individuals.
Documenting Environmental Disparities
"Urban ecosystems and how they function and can become degraded is of interest to me," explained Trierweiler. "Our research aligns with a larger national effort to examine the impacts of redlining on urban soils. 
"Redlining is a discriminatory housing practice from the past," noted Trierweiler. "It often resulted in a denial of services and lack of investments in neighborhoods of minority and immigrant communities. The documentation of these disparities has largely been social, economic and political, but rarely environmental."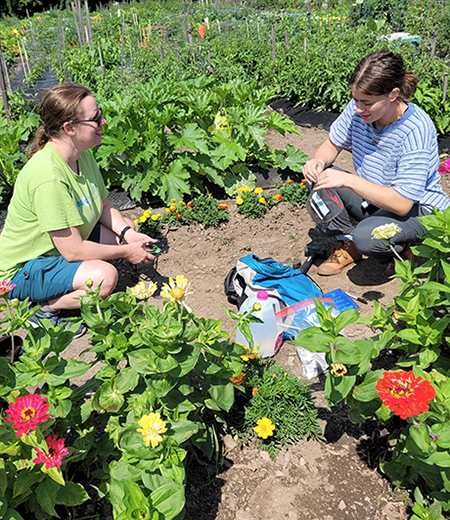 She went on to say that with the permission of home and property owners, they collected a small sample of soil from each site. The soil was then tested and analyzed for lead and other carbon and chemical properties. Their sampling sites included Cleveland neighborhoods — Cark-Fulton, Collinwood, Detroit-Shoreway, Edgewater, Lee-Miles and Kamm's Corners — as well as surrounding suburbs like Berea, Bedford, Parma, Shaker Heights and Euclid.
"In our study, we wanted to address several factors," said Trierweiler. "For example, kids are more prone to lead toxicity. Therefore, taking samples from playgrounds and other areas where children congregate was important for understanding potential contamination exposure. Likewise, community and homeowner gardens provided insight into food safety to assess if soil was safe for growing food or if fresh soil was needed to bring it to EPA (Environmental Protection Agency) levels of safety.
"Collecting and analyzing this data provides a lens through which we can measure how neighborhoods where there is historical documentation of redlining practices were affected. Beyond the research findings we uncover, there is a greater consideration of environmental justice and giving home and property owners advice to improve safety," she went on to say.
Amplifying Unheard Voices
"Translating science into something that can have an important community impact is very important to students like Rowan and Emmalee, who want to make a difference in social justice and activism," emphasized Trierweiler.
For environmental science majors Keep and Rindfleisch Huntley, the project enabled them to delve into areas of interest within the scope of the research study. Keep wanted to investigate the correlation between food insecurity and soil health. Rindfleisch Huntley wanted to provide valuable information to community organizations about potential lead contamination.
"Although redlining was almost 100 years ago, what we are seeing now is that these communities, which were deemed unsafe to loans and investments, are still seeing countless negative effects of redlining," asserted Keep.
"My biggest goal in whatever I do as a career is to focus on the power of community and to amplify unheard voices. I can share my scientific knowledge, but what I ultimately want is for the people within their communities to have the power to change the injustices they face," emphasized Keep, who grew up in Medina, Ohio. 
Rindfleisch Huntley shares a similar vision. The North Olmsted, Ohio, resident is excited to be working in an urban environment and providing resources at no cost to the organizations and homeowners.
"Lead in soil can be dangerous to children, animals and adults. It can also create food deserts or areas where growing crops is impossible or lead levels are above safe levels to eat. Our research is more than just data — it is about looking at cycles of poverty that were brought on by generations of people's inability to improve their living conditions and take safety measures such as removing lead paint," remarked Rindfleisch Huntley. 
"It has been amazing to work so closely with the communities we are serving," continued Rindfleisch Huntley. "I love working with nonprofit organizations and hope to incorporate research and community outreach. My dream career would be to examine the consequences of environmental change in urban areas. But for now, I can't wait to see the impacts this study can have for the betterment of our neighborhoods and the individuals who call it home."