BW's 'First-Generation' college students excel as family trailblazers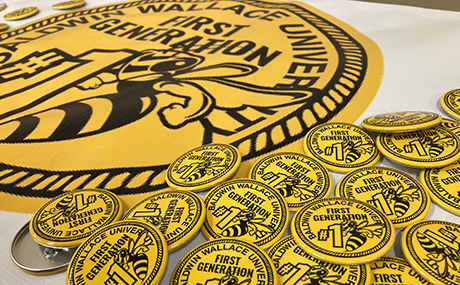 Breaking new ground is never easy, but each year, BW welcomes dozens of students seeking to become the first in their families to earn a college degree.
According to the National Association of Student Personnel Administrators (NASPA), a student is considered "first-generation" if their "parent(s) did not complete a four-year college or university degree, regardless of other family members' level of education."
Without first-hand, family experience, many first-generation college students face unique challenges on the road to earning a degree. But with support services designed to meet their needs and foster success, Baldwin Wallace University students are blazing trails to graduation every year.
Finding first-year, first-gen balance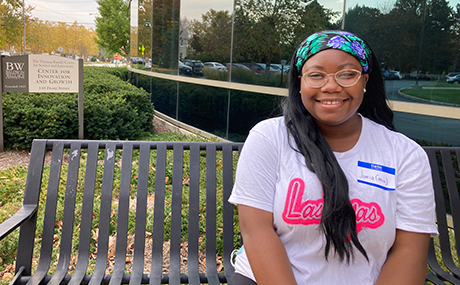 This fall, one-quarter of BW first-year students were "first-gen," and Jamia "Mia" Basit-Hightower '25 of Bedford, Ohio, is one of them.
The political science major, who aspires to be a policy analyst, juggles jobs on and off campus, activities and classes, and she is determined to finish her degree.
Being unafraid to ask for guidance is key. "Everyone at BW has been very supportive. Whenever I ask a question, I get a lot of willingness to help," Basit-Hightower says. "I was drawn to that energy when I first visited campus and experienced the personal connections."
Now a campus tour guide herself and a member of the Yellow Jackets Marching Band, Voices of Praise Gospel Choir and Circle K service club, Basit-Hightower says she works "extra hard" to stay in balance. "I just make it happen," she says.
Celebrating trailblazers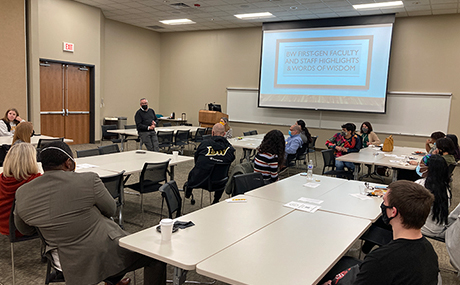 This week, BW is marking National First-Generation College Student Day by showcasing and celebrating the achievements of first-generation students and graduates at BW and beyond, from familiar Yellow Jackets to the famous from first lady Michelle Obama to renowned Nobel Prize-winning physicist Albert Einstein.
The list of first-generation students and graduates runs deep and wide at BW and includes many students and alumni as well as faculty and staff who have walked in the shoes of first-gen students. Among them is BW President Bob Helmer, who shared his story with first-gen students at a Tuesday event.
Helmer encouraged students to ask questions to help them navigate higher education, the very practice that is fueling Basit-Hightower's first-semester success.
"I bet I asked every question you have when I was a student," Helmer said. "Know that when you have questions, we are here to help."