Baldwin Wallace student receives top undergraduate paper award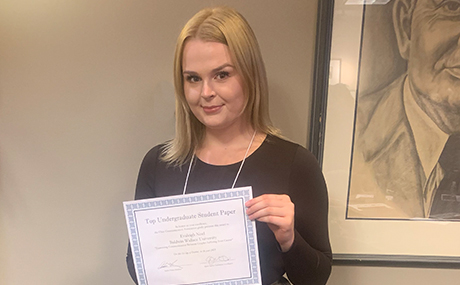 Evaleigh Noel '22, a communication studies major at Baldwin Wallace University, received the "Top Undergraduate Student Paper" award out of all undergraduate submissions at the Ohio Communication Association conference with her paper titled "Examining Communication Between Couples Suffering from Cancer."
Along with the great honor of being recognized for her work by her peers in her field and the award itself, Noel also received a check for $100. Noel's paper is also being published in the Ohio Communication Journal next spring.
Noel's paper observed how men with cancer displayed topic avoidance as a way to cope with the challenges of cancer. She incorporated interviews from the "Cancer Dudes" website.
Formative Experience 
Noel is currently an active member of the Delta Zeta sorority on campus as well as an intern at Cogswell Hall, a nonprofit that focuses on providing housing for those who cannot afford it. She is also a member of Psi Chi, the International Honor Society in Psychology, and the Legal Studies Honor Society at BW.
Despite her nervousness about presenting at the conference, Noel said, "[E]veryone made me feel so welcome there. This entire experience has shaped me in many ways already, from writing the paper to presenting."
She also hopes to have the opportunity to submit more communications research in the future.
Also Presenting
Jackie Miguet '21 presented "An Analysis of Alternative and Effective Cancer Coping Strategies," and Naomi Hornik '23 presented with communications professors Dr. Clare Gross and Dr. Sean Gilmore on their "Empowering Students to Engage in Discourse on Complex Topics" workshop.