BW Athletics Alumni Association Hall of Fame welcomes new inductees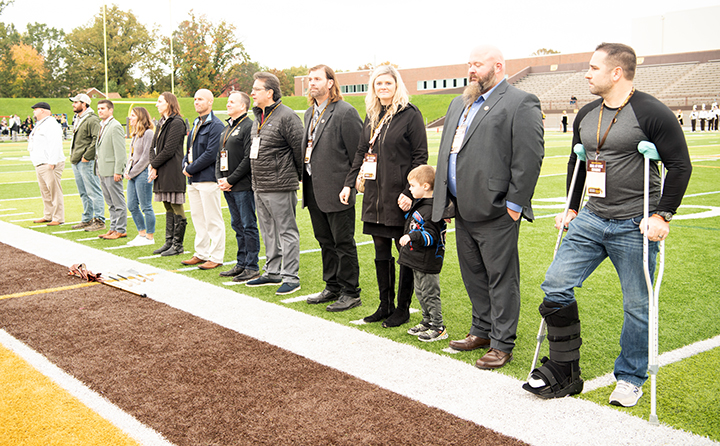 The Baldwin Wallace Athletics Hall of Fame grew by 14 distinguished Yellow Jacket athletes with the formal induction of both the 2020 and 2021 honorees over the weekend.
The BW Athletics Department, Center for Philanthropy and Alumni Engagement and the Brown and Gold Club host the awards annually. However, 2020 inductees, who were initially announced and honored in a virtual ceremony, got the full treatment along with the 2021 inductees.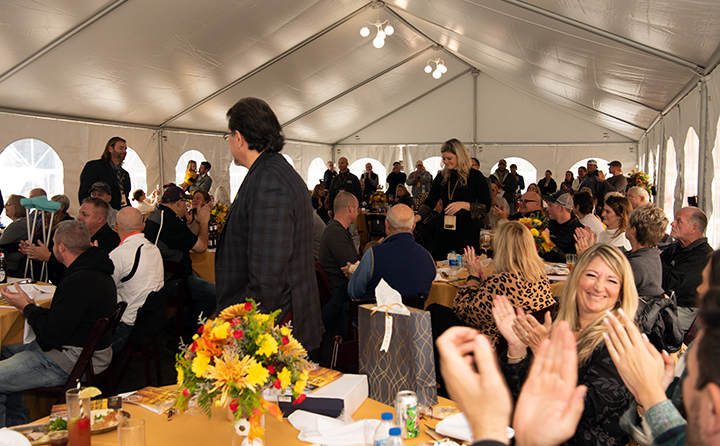 The inductees were introduced at halftime of BW's comeback win over Marietta and enjoyed a lunch in their honor.
2021 Hall of Fame Inductees
Kim Chinn '11, cross country, track & field
Matthew Cody Kidd '09, baseball
Kevin Phipps '11, football, track & field
Fred Saylor '98, football
2020 Hall of Fame Inductees
Keith Aufmuth '06, basketball
Mike Blackburn '99, football, wrestling
Randy Edwards '83, football
Kelsey Hills-Finucan '08, volleyball
Joel Nichols '96, baseball
Brian Rector '89, tennis
Larry Rosati '83, football
Jeff Schenk '87, soccer
Mike Turchan '06, baseball
Michelle White-Sheppard '07, basketball
Honoring exceptional achievement
The BW Athletics Alumni Association Hall of Fame was created in 1965 to recognize exceptional achievements and impact on the Brown & Gold by an athlete, administrator or coach, team or honorary. The newest inductees bring the total number of Yellow Jacket athletes in the Hall to 360.
The Hall of Fame Selection Committee considers nominations in four categories (Athlete, Coach/Administrator, Team or Honorary), based upon accomplishments during the nominee's time at BW, or in some circumstances, significant recognition for athletics achievement outside of BW. 
Nominations are accepted on a rolling basis, and selection is determined each spring.