New BW courses explore diversity through the lens of music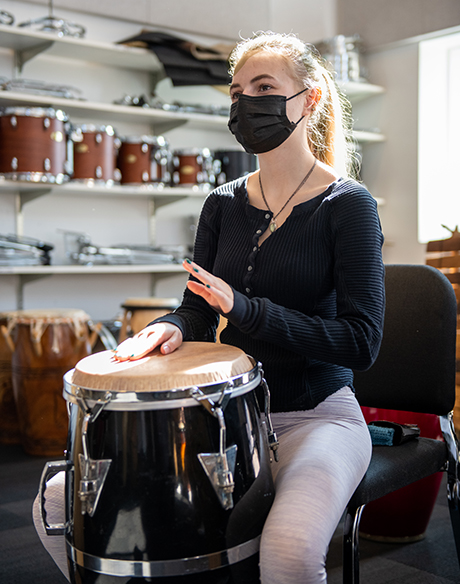 Call it energico or vivace. Or a bold reimagining of opportunity where new initiatives bring transformative awe, energy and excitement to something already wonderful.
Baldwin Wallace's Conservatory of Music is fueling a culture of innovation, creativity and collaboration within the Conservatory and at BW. New programs, partnerships, strategic priorities and experiential learning endeavors are being planned and poised to launch.
Among them is a focus on expanding the scope of the Conservatory to attract non-music majors and infuse diversity and multicultural awareness and appreciation throughout the curriculum and student experience.
This semester, two courses were introduced that align with both goals. Beyond the immersion into music and its influential role in society, students taking the courses are probing deeper issues of social justice, stereotypes, historical context and marginalization.
Dissecting Diversity in Disney
Mega-powerful in the entertainment industry, Disney/Pixar films reach back nearly 85 years to the first feature-length animated production, "Snow White and the Seven Dwarfs." Decades later, the industry mogul has been scrutinized and criticized for character portrayals, music and story narrative.
Thought-provoking, contemporary, deep-dive topics are a specialty of BW assistant professor of music theory Dr. Gene Willet, whose fall semester course "Diversity Through Music in Disney Films" hit its 42-person registration cap in a matter of days and is comprised of mostly non-music majors.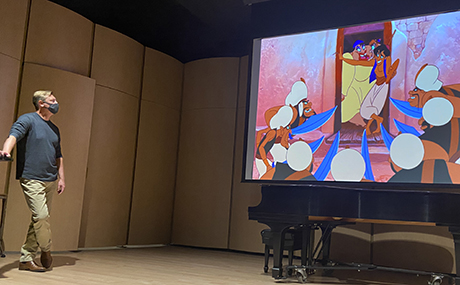 "This course examines representations of diversity — specifically, the topics of race, ethnicity, gender, sexuality and disability — through the lens of music in Disney and Pixar films," he explained. "We all grew up watching Disney. We have fond memories and a personal connection to these stories that extend beyond the films. Going back and critically analyzing them is a very eye-opening experience.
"From early Mickey Mouse films, in which negative racial stereotypes were depicted through music and caricatures, to more recent productions, like 'Lilo and Stich' and 'Coco' with authentic music and storylines, Disney/Pixar has made a noticeable shift in remediating past mistakes," he noted.
"Music is a powerful lens through which current and future generations will view us as a society," he added. "A course like this immerses students, both Conservatory and non-music majors, in a multi-dimensional look at who we are and where we need to go to move forward.
"The content of this course is not so much important as the critical thinking skills we are developing in students as they move forward in their studies in their careers and as members of a diverse global society. To be part of an initiative through the Conservatory of Music that focuses on multicultural and diversity awareness, appreciation and activism is personally and professionally rewarding," emphasized Willet.
Triumph of African Music from Drum to Diaspora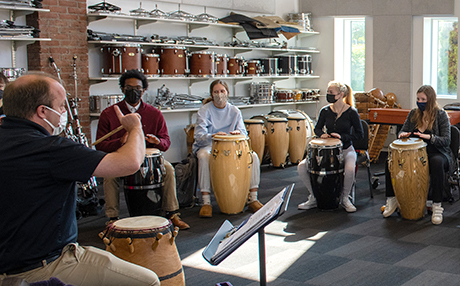 Amid the fast, slow, rhythmic sound of hand drums is a history that's as captivating as the music itself. The precise strikes and slaps with the palm and fingertips are a tactile, aural and visual symphony connecting the performer with an ancient art form.
For students in BW professor Josh Ryan's "Intro into Drumming with a Focus on the Music of African Diaspora" course, the experience is an immersive journey into the music of West Africa, Cuba, Brazil and the U.S.
Comprised of mostly non-music majors, the new course is one of the Conservatory's many initiatives to infuse diverse music styles throughout the curriculum. It combines music, history and culture as a way to understand and appreciate the richness of music from its ancient roots of communication and tradition to its mobility as an art form that was transported to new worlds.
"I proposed the course because I always wanted to engage the larger BW community in some type of drumming activity. The new emphasis on diversity and support from faculty and administrators convinced me the time is now," said Ryan.
Students in the course learn about slavery, colonialism and the mixing of global cultures. They explore traditional elements of Afro-centric music and their manifestation in modern American life. 
"There are difficult topics we discuss as part of the curriculum," said Ryan. "To look at the tragedy of the Trans-Atlantic Slave Trade from the vantage point of music and how it was transported across the globe is not easy. I'm impressed with the students' ability to look critically at history through a lens that isn't often examined.
"Culturally, the U.S. has inherited so much from West Africa. From music to art to language, the influences are many, and our appreciation of them continues to grow. In many ways, this class is an immersion into a global and cultural legacy," he concluded.