BW student-faculty computer science research group on a roll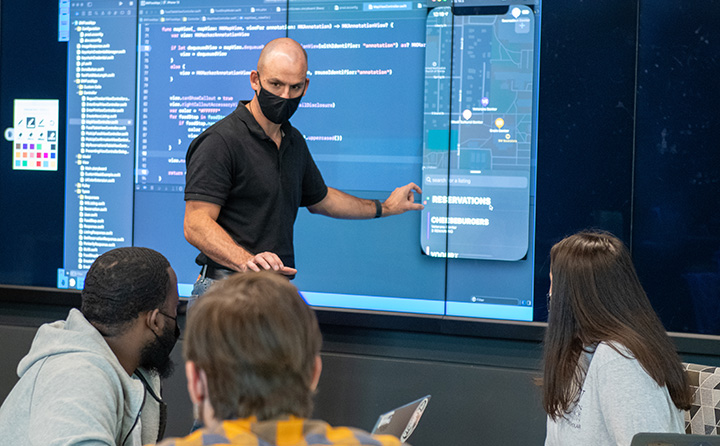 A Baldwin Wallace University student research group is making a mark in the mobile privacy arena, notching four research papers accepted for presentation at conferences around the world over the past year.
But the group's impact on the aspirations of BW students is the real star of this undergraduate experience. 
Eye on apps, privacy and security
The Mobile, Privacy, and Security Research Group (MOPS), part of BW's computer science department, digs into mobile applications, privacy and security.
Dr. Brian Krupp, who serves as faculty advisor to the student researchers, says MOPS looks into "security and privacy controls on mobile devices and security and privacy issues in embedding computing (IoT)." They also study and develop mobile applications like the University's EPA-funded Campus Plate project.
Building tech and team skills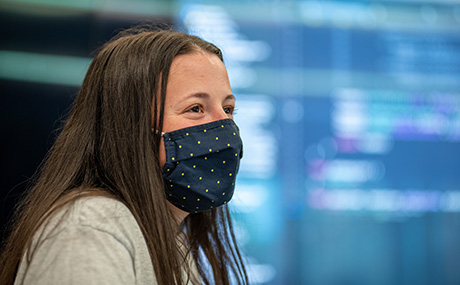 Sophomore software engineering and applied mathematics double major Julia Gersey '24 has been involved in MOPS since spring and says the experience has contributed to rapid growth in the skills needed to be an iOS developer.
"With both the Campus Plate project and my coursework, I believe it is thoroughly preparing me to build and maintain large-scale applications," said Gersey, who is also a Choose Ohio First STEM Scholar. The innovative scholarship program provides students with holistic support as they prepare for careers in science, technology, engineering and mathematics (STEM).
"Beyond the technical side of things, I've learned more about the app development process, working within a development team and about undergraduate research as a whole."
Global research recognition
"In addition to Campus Plate, our recent studies have been accepted for virtual presentation at international conferences based in London, Italy and Germany," Krupp says. "We've looked at how mobile device users perceive their own privacy, as well as the impact of apps that increase user awareness of how their information is being gathered and used without their knowledge."
The group's 2021 global research recognition includes:
Career and grad school booster
Spring grad Dan Fitzgerald '21 says the MOPS helped propel him to both a job and grad school.
"I have a great job working as a software developer, and I'm working toward my masters in computer science at Case Western," Fitzgerald says. "MOPS was a rather rare opportunity to put an app on my resume. When it came to graduate school, the main thing I talked about in my letter was the Campus Plate app."
Adds Gersey, "I aim to pursue graduate school for artificial intelligence/machine learning upon graduating from BW. Working alongside a professor to conduct research is not only a tremendous honor but an amazing learning opportunity."
With more time at BW to build her research and development portfolio, Gersey is well on the way to fulfilling her career calling.