BW music theatre major sings national anthem at Cleveland Browns game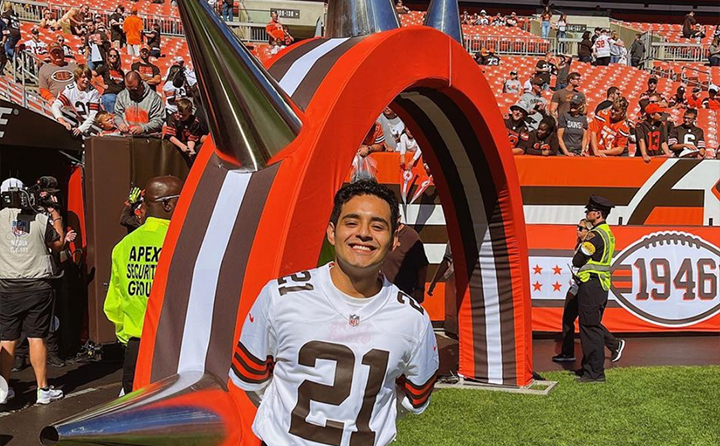 Rodrigo Torrejón '22 wasn't nervous auditioning to sing the national anthem for the Cleveland Browns.
While the "Star-Spangled Banner" can be a vocal challenge, Torrejón had plenty of practice performing the piece at various events back in his high school days in Delray Beach, Florida, — once with NBA superstar Scottie Pippin offering courtside kudos.
Now, the BW senior music theatre major can add an acapella rendition at an NFL game to the list, singing before the Sunday, September 26 NFL contest between the Browns and the Chicago Bears.
Jumbo audience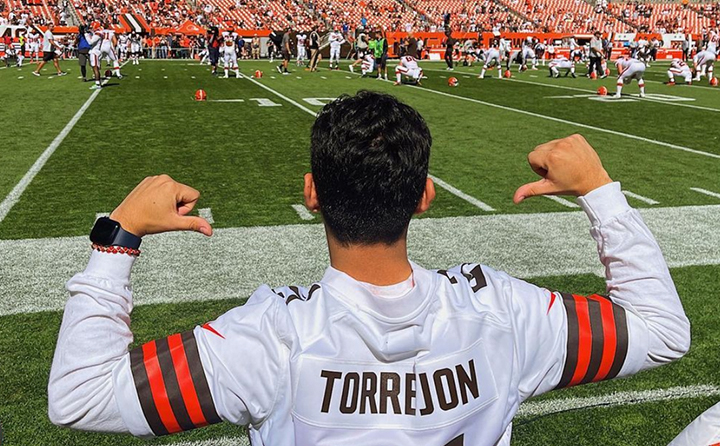 High School experience aside, the 67,000-plus fans at First Energy Stadium, plus local TV viewers, represented the largest audience Torrejón has ever performed for "by far." 
"That's a crazy amount of people to perform for," he noted prior to the game. "I'm really excited, and I'm sure I'll have a few nerves when I take the field. But mostly, I'm stoked."
Talent depth
Torrejón landed the pre-game gig by impressing reps from the NFL franchise at a campus audition arranged by BW music theatre director Victoria Bussert.
The audition session was so successful that three other BW music theatre majors — Eden Mau '22, Kris Lyons '25 and Jack Hale '22 — will be scheduled to sing at future home games.
"We are always looking for performance opportunities for our music theatre majors," Bussert says. "We are absolutely thrilled to collaborate with the Cleveland Browns!"
Dual NFL loyalties
Hailing from South Florida, Torrejón grew up as a Miami Dolphins fan. But as soon as he was accepted into BW's music theatre program, he adopted the Browns, too.
"My main team is the Miami Dolphins which has brought me a lot of sadness," he recalls. (Browns fans can relate.) "I came to BW the same year Baker [Mayfield] was drafted. Watching the draft with my friends, I said, 'Whoever they pick, I'm riding with them.'"
Catch a rising star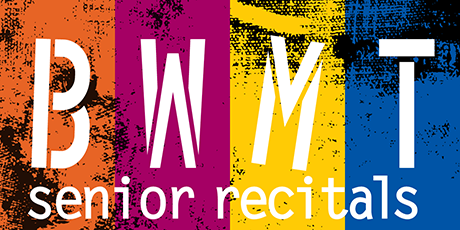 Torrejón's parents and brother traveled up from Florida to hear him sing and attend Sunday's game and witness the anthem and a Browns win. 
If you missed him, you can catch Torrejón in BW's fall production of "Into the Woods" or at his virtual Senior Recital on Wednesday, December 1 at 6 p.m.