BW accounting students bring home fourth consecutive ethics win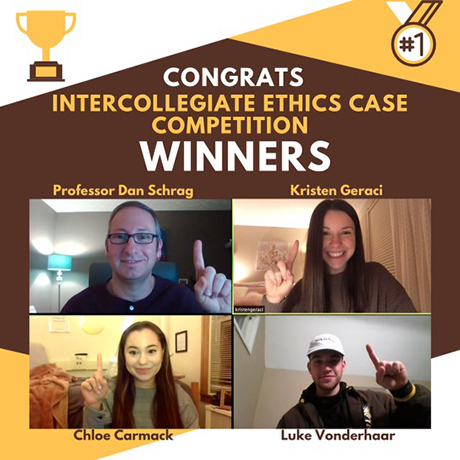 For accounting students at BW, winning has gotten to be a tradition.
A team of three BW accounting students won first place at this year's Intercollegiate Ethics Competition, hosted by Cleveland State University, besting Kent State, Tiffin and two teams from Case Western.
It was the fourth consecutive BW win at this competition.
The 2021 team members included Chloe Carmack '21, Kristin Geraci '21 and Luke Vonderhaar '23, advised by BW School of Business assistant professor Dan Schrag.
Preparing in a Year of Adversity
COVID-19 protocols made this year's win extra impressive after weeks of late-night Zoom preparation sessions.
Schrag noted his team's work ethic, saying, "Despite having jobs, sports and classes; they never complained and were eager to be their best for this team. They also worked hard in between our sessions, finding innovative articles and answers to questions."
Added Carmack, "Our team worked tirelessly and gave it our all to craft the best presentation we possibly could. We are incredibly grateful to Professor Schrag for taking the time to mentor us during those late-night meetings. We made sure to give him breaks on Zoom, so he could tuck his son into bed."
Impressing the Judges
This year's competition was also held virtually due to the COVID-19 pandemic. Each team submitted video presentations for anonymous judging.
During the competition's virtual ceremony, the judges noted that BW's team chose the hardest questions to answer. The judges also remarked that the team members' personalities shined throughout their presentation. View the team's winning presentation.