Signs of the times: BW prepares campus for responsible return
Signs and plexiglass are sprouting up alongside summer flowers as BW prepares for the resumption of learning and living together in August.
Even as BW's Health Advisory Committee digs into the next layer of detailed processes and protocols designed to mitigate the risk of COVID-19, new signage across campus heralds the health and safety practices that will come with a culture of shared responsibility to each other during the pandemic.
Notices in BW brown and gold, with a touch of red, offer guidance on the capacity of restrooms, where masks are required, reminders about safe distancing, virus prevention hygiene and much more.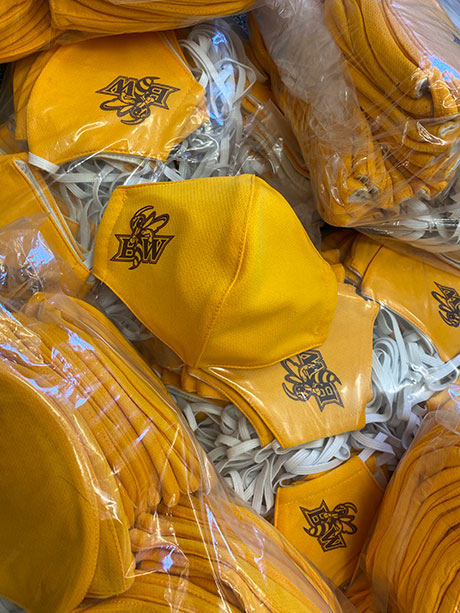 Plexiglass barriers are being installed where close interaction is required. Furnishings and equipment are being moved and, in some cases, removed to de-densify and enable physical distancing.
"The health and safety of our BW community is at the forefront of the plans we continue to weigh and put into place for our fall return," said BW President Bob Helmer. "One thing we know for sure: we will all need to work together to protect each other and to make the coming academic year a success."
To encourage compliance (along with a little BW spirit), a delivery of gold masks emblazoned with Stinger are already in hand and ready for distribution to all students, faculty and staff as President Bob Helmer showed off in a video message to campus: