BW students aim to flatten the COVID-19 curve
Language barriers can interfere with life-saving measures when important medical information is misunderstood or not readily accessible. When the Cleveland Department of Public Health (CDPH) needed to inform the Hispanic community on how to flatten the curve to reduce deaths from COVID-19, they turned to Baldwin Wallace for assistance.
"It was an honor for us to help," said Dr. Karen Barahona, who oversees BW's Spanish major and Spanish for the professions minor. "We provided translation service before to the CDPH to help them create written communication to the Hispanic community about disease awareness and prevention.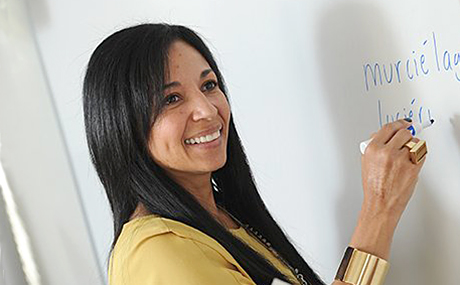 "But this time, there was a greater urgency," she emphasized. "We wanted to help them reach vulnerable individuals who may not readily understand English. It truly felt like we were in some small way helping to save lives."
Connecting Students to Real-World Needs
In April, the CDPH's office of minority health contacted Barahona, who responded quickly to provide assistance. Students in her Commercial Spanish course rallied behind the project.
"My translation skills were rather weak before working on this project," admitted Kane Zellers, a senior from Salem, Ohio, who is majoring in public health and minoring in Spanish for the professions. "This experience gave me a much deeper understanding of the language and the culture of the Latino community."
In agreement with Zellers is senior Aubrey Baumler, a Spanish and political science major from Huron, Ohio. "Translating a COVID-19 fact sheet really helped me to conceptualize how my Spanish major could fit into the real world in different ways. It led me to think about how translations like these are incredibly important to help spread necessary information to groups of people who might otherwise not have a mode of learning this information."
Experiencing a 'Whole New World'
Marissa Kural '20 of LaGrange, Illinois, was also involved in the project. The public and  nonprofit management major minoring in Spanish was accepted to teach English in Chile next year through the English Opens Doors program. Kural said working on the CDPH translation was extremely rewarding because it made her feel like she was helping others during a difficult time.
Zellers summed up the experience holistically by explaining that the benefits of studying a foreign language are numerous and lasting. "Yes, a new language can help us to speak with others who we normally may not be able to speak with," he acknowledged. "But it also can put us in the shoes of another individual and immerse us in the culture of people who may be completely opposite of ourselves.
"It can help us to see others for who they truly are," believes Zellers. "Language is more than just a different way of communicating. Language is a whole new world."