Two BW grads awarded a Fulbright
The path to success often has a few detours along the way. Just ask 2020 graduates Klementyna Pozniak and Jessica Villacres. The twist of fate they didn't plan for five months ago was a global pandemic called COVID-19.
In April, the two women learned they were named Fulbright English Teaching Assistants – which makes them part of an elite group of individuals who went through a highly competitive process to secure a coveted grant from the U.S. Bureau of Educational and Cultural Affairs.
For Pozniak, a Cleveland Heights, Ohio, resident who majored in communication studies and philosophy, the detour means she will be delayed in her Fulbright plans to teach English in Ukraine. Instead of leaving in August, she will begin her position in January 2021.
After learning of the delayed start, Villacres, who studied communication sciences and disorders and Spanish and is from Westerville, Ohio, shifted her plans. She will be attending graduate school this fall at Indiana University to pursue a master's in speech-language pathology and participate in a Spanish-English bilingual training program.
Two lives. Two nations.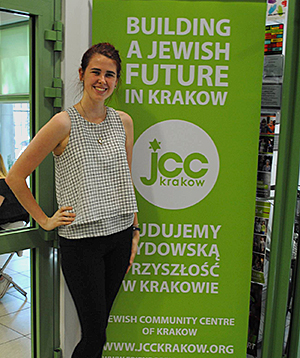 "My family came to America when I was eight years old and for many years, we traveled back and forth between the two countries. I grew up living two lives. That of an immigrant in America who saw the many possibilities ahead of her and that of a Polish girl who missed the beauty and traditions of her homeland and the loved ones still residing there," she said with deep reflection.
"While at BW, I was able to participate in two intensive summer cultural experiences. After my sophomore year, I traveled to Poland to intern with the Jewish Community Centre of Krakow. The following year, I completed the Ukrainian summer language intensive at the University of Pittsburgh," recalled Pozniak.
"All along, my BW professors and Honors Program advisor encouraged and supported me," emphasized Pozniak. "I am excited to teach in Ukraine. Once that is complete, I plan to pursue graduate studies. I would love to go to law school and to participate in a master's program in Slavic studies. If I could have any job, I would want to work for an organization that promotes intercultural exchanges between the United States and countries in the former Soviet Union."
A Childhood Interest Forges a Career Path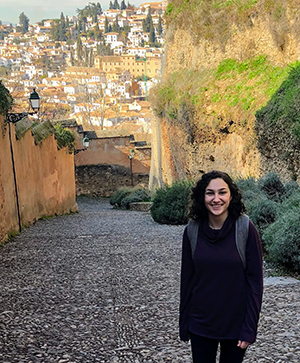 Like Pozniak, Villacres sees her career path focused on intercultural communication and advocacy. The BW Honors Program participant believes her interest in traveling and intercultural engagement goes back to her early childhood, where she attended a world language and cultures magnet school. At BW, she furthered her interest by studying abroad in Spain and doing Spanish-English translation internships with COAR Peace Mission and the Cleveland Department of Public Health.
"My interest in bilingual speech-language pathology was really solidified during my sophomore year at BW," said Villacres. "I was taking a Spanish translation class that included a service-learning project for the Cleveland Department of Public Health's Office of Minority Health.
"While translating materials for the organization, I learned about the negative effects of language barriers and a lack of cultural understanding in healthcare settings. After investigating the issue within my own field of speech-language pathology, I discovered an urgent need for bilingual, culturally competent speech-language pathologists. I felt this career path was the perfect way to integrate my various passions of Spanish, intercultural connections and speech-language pathology," she said thoughtfully.