BW community at forefront of meeting COVID-19 health care needs
It's what she was called to do as a critical care nurse. And yet, Stephanie Schumaker still felt unnerved to take care of the first COVID-19 positive patient in the cardiac intensive care unit of University Hospitals main campus in Cleveland.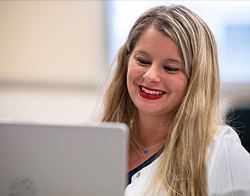 "It was frightening and challenging," recalled the Lorain, Ohio, resident. "But without hesitation, I stepped up and carried out my nursing oath alongside my supportive peers. I'm committed and passionate about my work and the care of patients. This pandemic is not only about the virus. It's about humanity, too."
Humble heroes
Across the U.S., doctors, nurses, physician assistants and countless others in the health care field are being hailed as heroes. It's a term Schumaker scoffs at.
"I don't look at myself as a hero," admits the 29-year-old registered nurse who is both a 2017 alumnus of BW's Accelerated Bachelor of Science in Nursing program as well as an adjunct professor in it. "This pandemic is a new learning experience for all of us and an opportunity to grow as a professional as well as an individual."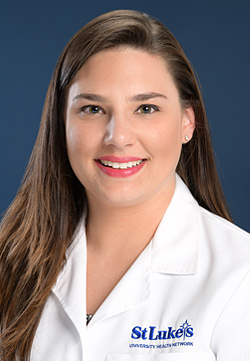 Stephanie Caja agrees. The 2017 graduate of BW's Master of Medical Science program is an emergency physician assistant with St. Luke's University Health Network in Pennsylvania. The Allentown resident said she went into medicine to help people regardless of the health status or threat facing the world.
"I am currently working, although I am five months pregnant with my first child," acknowledged Caja. "I face exposure to communicable illnesses of all types every day.
"I have seen a wide range of COVID-19 patients, including known exposures, asymptomatic individuals, mild/moderate symptoms and those in respiratory distress. Unfortunately, we are very close to New Jersey and New York City, so we have seen an influx of patients who had contact with family members, recent travel or even work in the 'hot spot' areas," she explained.
Not her first pandemic
For BW Master of Public Health student Sonja Kennick, COVID-19 is the latest in a series of epidemics and pandemics she's faced in her career. The Parma Heights, Ohio, resident works as a medical technologist in the pathology department of MetroHealth Medical Center.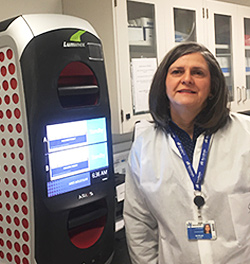 "In our department, we do a variety of viral testing. We do the COVID-19 testing for all inpatient and outpatient locations throughout the MetroHealth System. Being in the laboratory, we don't get to see patients. But we get the privilege of testing the specimens that aid the physicians in the diagnosis of their patient's illnesses," she noted.   
"Having worked in this field for three decades, this is not the first pandemic I've worked through," she said. "In the 1980s, I worked when we first saw patients with AIDS. Then there was the SARS and bird flu after that. We also dealt with West Nile virus, swine flu and even Ebola. COVID-19 is something totally different. I've never seen complete shutdown of schools, restaurants and businesses. The death toll is difficult to comprehend."
Serving our Veterans
Like many physicians, Dr. Paul Shaniuk of Lyndhurst, Ohio, felt a daunting sense of responsibility when COVID-19 became a reality at the hospital where he worked. The internal medicine physician takes his job seriously in serving patients at the Louis Stokes Cleveland Veterans Affairs Medical Center.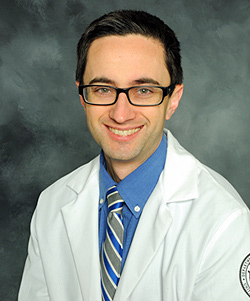 "I have many roles within the medical center. I've mostly worked in the emergency department, but also in the hospital ward caring directly for patients with COVID-19," he said. "I was working in the emergency department the week our protocols went online and we diagnosed our first patients.
"It was both exciting and frightening," emphasized Shaniuk '08, who majored in chemistry at BW. "It is stressful at times, but it's certainly a chance to truly serve the people of Cleveland and, in particular, our nation's veterans."
Fighting an "Elusive enemy"
Mike Gutridge may not have been in the armed services, but there's no doubt the Brecksville, Ohio, resident would have been a strategic warrior for any opponent. In his role as the associate director of inpatient pharmacy operations, Gutridge helps to manage a large, multi-faceted service for the MetroHealth System.
"In normal times, medication shortages disrupt our finely calibrated system," he explained. "These are not normal times. I'm helping to fight an elusive enemy in the midst of an ever-changing landscape of clinical, operational and ethical challenges."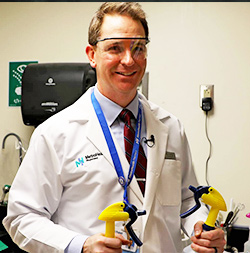 Gutridge notes that even simple things like hand sanitizer require strategic thinking. When the supply chain became disrupted, Metrohealth adopted a recipe from the FDA and the WHO that Gutridge and his team can safely and easily compound for internal use.
In looking at the challenges facing the health care system today, he draws upon knowledge gained from both his Doctor of Pharmacy and BW Master of Public Health degrees to help guide him.
"It all comes down to community. We must work with each other to not only survive but thrive. Public health draws from multiple academic disciplines that include the arts and sciences. These will help us in our fight to win this war."
Looking ahead to change
As a physician assistant in the emergency department, Daniel O'Brien is used to the fast pace of diagnosing and treating patients in hospitals across the Cleveland Clinic network. During the current pandemic, he has worked several shifts dedicated to triaging and treating potential COVID-19 patients.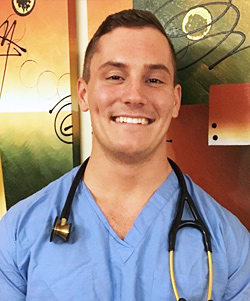 "Patients have expressed their appreciation and thanked us for the care we provided them during these trying times," said O'Brien, who graduated from BW as an undergraduate biology major in 2015 and as a graduate student in the physician assistant program in 2017.
The Northfield, Ohio, resident believes the pandemic will have a lasting effect. "I think it will change how our society prepares for a pandemic or disaster in terms of allocating resources, supplies, and funding to hospital systems and public health initiatives. I hope this pandemic increases the awareness of the importance of health care in preparing for disastrous events."
The face of compassion
The list of credentials following Amy Jackson's name is long and impressive. But together, they represent what's at the core of her profession – knowledge, experience and compassion.
"Nursing is what I do and love. I'm both an assistant professor with BW's Accelerated Bachelor of Science in Nursing program and a registered nurse with the Cleveland Clinic Brunswick Emergency Department," she acknowledged.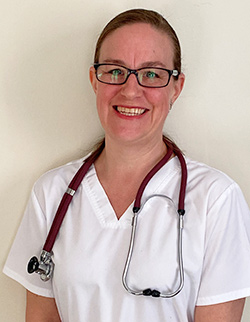 "We're all nervous we might be exposed to the virus ourselves. But, worse in my mind is that we might then subsequently expose another patient or our family members," admitted the Strongsville, Ohio, resident.
"We worry about our children, our spouses and potentially exposing our aging parents. But what scares me the most is that I might become a carrier that transmits the disease to someone's grandma or grandpa. The emotional burden is heavy, and the worry consumes many of us," she said truthfully.
"As health care professionals, we know the risk of being exposed to diseases is simply part of the job, and we accept it. COVID-19 is so different. But thankfully, people have been following the advice issued by the health care community," she gently emphasized.
"It makes me very grateful to help care for people in their time of need. I like that I can do all the things nurses do – pay attention to safety concerns, advocate for patients and communicate as part of a collaborative team – but still be that smile and warm touch to each patient."