New 'Yellow Jackets Java' is rocket fuel for BW seniors with financial need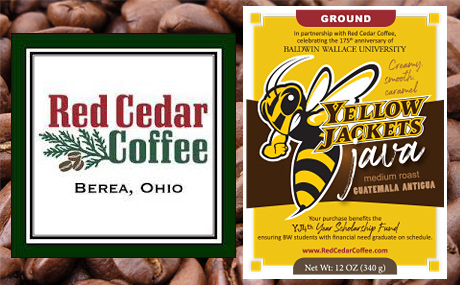 Like a triple shot of caffeine, a new community partnership will fuel up a scholarship fund that propels Baldwin Wallace University students with financial need across the graduation finish line. 
Just in time for the holiday season, the Red Cedar Coffee Company in Berea, Ohio, is offering a special coffee, Yellow Jackets Java (Guatemala Antigua*, ground medium roast), in honor of BW's 175th anniversary year and to benefit the "YJ4th Year Scholarship."
"This scholarship is awarded to seniors who have positively contributed to the BW community and have demonstrated unmet financial need in their final year at BW," explained Patrick Dunlavy, VP of Philanthropy and Alumni Engagement. "Past recipients have been incredibly grateful to our generous donors who have helped to remove that final financial hurdle to degree completion."
Road Less Traveled
"At Red Cedar Coffee Company, we understand that great coffee, just like a great BW education, doesn't just happen by chance," said Red Cedar's Anne Denton. "We take the road less traveled in order to spend time with farmers to see how the coffee is grown, harvested and processed before it arrives at our roastery and then to our customers."
Through this BW community partnership, "Yellow Jackets Java" is available for purchase under "Cause Coffee" on Red Cedar Coffee Company's website, with a portion of the proceeds from all sales benefiting the BW fourth-year scholarship fund.
*In the event of a short crop in Guatemala Antigua coffee, Red Cedar Coffee Company will substitute another Guatemalan coffee.