Alumna's graduate school path goes from BW to Benin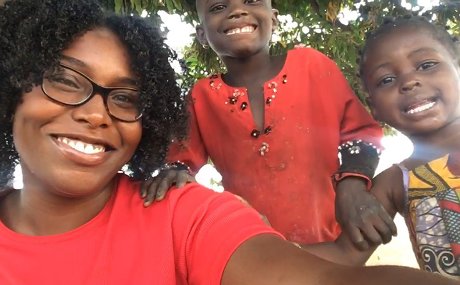 For international studies major Madison McNeil '18, the route to graduate school began in a West African country the size of Ohio.
For two years, the service-minded 23-year-old is living in the Republic of Benin as a Peace Corps volunteer to assist community members in improving nutrition rates in children and agricultural businesses.
"Each day is a new adventure," she said with genuine enthusiasm. "I joined the Peace Corps because I wanted to work in community development at the grassroots level. I chose Benin because I minored in the Africana Studies program offered at BW. Throughout my minor, I concentrated my studies in West Africa and was interested in continuing my understanding of this region."
A Day in Benin
"In my village we speak Lokpa, a local language of Benin that can be found in Togo as well," explained McNeil, who is proficient in French. "My host country is a rural coastal region in western Africa known as one of Africa's most stable democracies. The people here are so open to sharing their history and traditions. They are very communal and take great pride in their cultural roots.
"At my site village, there is little access to electricity and plumbing. In any given day, I carry three gallons of water on top of my head and saluaté everyone I see as I walk around my village for my morning walk. It is an amazing, rewarding experience because I get the chance to learn something new every day and share our culture from the states."
Making an Impact
"In grad school, I plan to work on a master's degree in international business. Afterwards, I hope to work in consulting for small international businesses or be part of an inter-governmental organization like the United Nations," she added.
McNeil credits Baldwin Wallace's Peace Corps Preparatory Program for helping her prepare for her current position. She also is grateful to BW for helping her gain valuable leadership skills and expanding her perspectives through programs like the Center for Community Engagement, Student Diversity Council, Model African Union and athletics. In addition, she participated in a month-long study abroad experience in Ghana.
"BW has the tools you need to strive for success and to help you make an impact on the community, both during and after college," she believes.