MetroHealth leader Akram Boutros to speak at commencement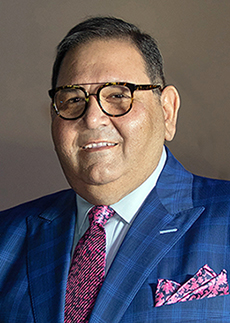 He's been called the leader of a public health system marching boldly into the future. He has galvanized political leaders, entrepreneurs and the public around supporting community-wide health care initiatives and has unveiled plans for a nearly $1 billion transformation to MetroHealth, Cuyahoga County's public health system.
As BW welcomes Akram Boutros, M.D., FACHE, president and CEO of The MetroHealth System, as its keynote speaker for its May 4 Spring Commencement, it is another step in a strong partnership that spans decades and a shared vision of the importance of community, service and education.
CELEBRATING CROSS-CAMPUS CONNECTIONS
Whether through formal or informal ties, the relationship between BW and MetroHealth encompasses nearly all of BW's eight academic schools. Its range includes collaboration on academic programs, student internships and fellowships, guest speaker presentations, community service initiatives, and connections through students, faculty and alumni.
Paramount this year is the graduation of 10 students representing the inaugural class of BW's Master of Public Health program. Offered in partnership with MetroHealth, the program gives students valuable skills and insights in population health. Classes are held on-site at the hospital system's main campus and are taught by both BW and MetroHealth faculty. Nine of the 10 graduating students are MetroHealth employees, including physicians, social workers and a pharmacist, nurse, dietician, finance specialist and others.
BOLD LEADER WHO TRANSFORMS IDEAS INTO ACTION
Since his arrival in 2013, Boutros has helped The MetroHealth System rebuild its hospital, revitalize its main campus and resurrect its Cleveland West Side neighborhood.
Among successes, he created an Integrated Delivery System that provides care across MetroHealth's network of community health centers, emergency departments, retail clinics, MetroExpressCare locations and pharmacies. This is in addition to its main-campus hospital, which is home to the area's most experienced Level I Adult Trauma Center, Level II Pediatric Trauma Center, the only adult and pediatric burn center in the state and Ohio's only Ebola Treatment Center.
In the past five years, MetroHealth has created more than 1,300 additional jobs, sent doctors into Cleveland schools and constructed an $82 million addition to its Critical Care Pavilion. Annual operating revenues have grown impressively, and last year MetroHealth returned $231 million — 21.3 percent of its operating expenses — to Cuyahoga County in free care and community benefit programs.
IMPRESSIVE DEGREES, BOARD APPOINTMENTS, AWARDS
An internist with a 25-year record of successful hospital leadership at academic medical centers, community hospitals and specialty hospitals, Boutros is a graduate of St. John's University, SUNY Downstate Medical Center and Harvard Business School's Advanced Management Program.
His community service includes chairing the American Heart Association 2015 Cleveland Heart Ball and serving on the boards of numerous organizations, including the Greater Cleveland Food Bank, United Way of Greater Cleveland and the Cleveland Ballet.
With a long list of awards and recognitions, Boutros' most recent achievements include being the recipient of the 2018 George V. Voinovich Municipal Service Award from The Cuyahoga County Mayors & City Managers Association and the 2018 Richard H. Adler Community Leadership Award from the American Jewish Committee Cleveland.