Alumnus named to Crain's top forty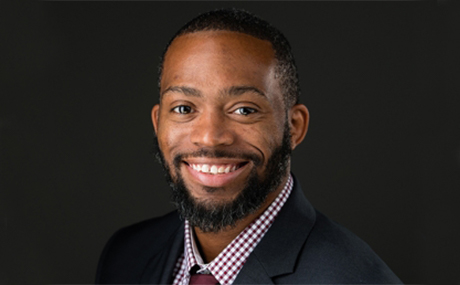 He went from a double-major and collegiate wrestler to being named one of Crain's Cleveland Forty Under 40. At 33, Rayshawn Eatmon '08 was one of the youngest to be named to the list in 2018.
Eatmon notes that his professional work and community work with at-risk youths, which revolves around his "principles of [continuous] improvement, learning, and personal growth," helped him qualify for this honor.
He began his career as a freelancer and worked his way up to become a senior IT applications developer at Progressive Insurance. However, Eatmon was not an IT major, he double-majored in religion and philosophy.
His studies developed his love of learning and other skills vital to his field such as communication, research and critical thinking. "The journey to complete these degrees meant hours and hours of reading, thinking, writing, and editing … I've grown to love hours of reading, thinking, and writing which is one of the most important characteristics of a successful IT professional," says Eatmon.
His quest for self-improvement has also led Eatmon to become a member of Toastmasters International, an organization that teaches public speaking and leadership. Through this, he has been able to be "a supportive influence in both work and the Cleveland community." This is one of the many attributes that likely earned him a spot on the list of Cleveland's best of the best.
Crain's Cleveland states that the list is based on "not just their contribution to Northeast Ohio but their dedication to its future." Eatmon's work with at-risk youth, Toastmasters and his profession are clear indicators he earned his spot.