BW alumnus elevates high school football program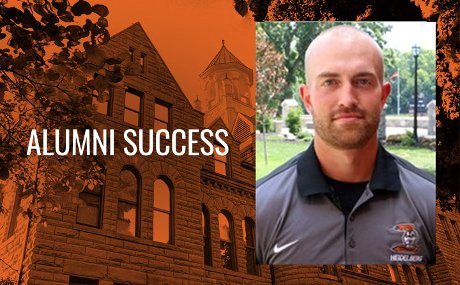 One Baldwin Wallace alumnus has managed to take a struggling local high school football team and turn it into one of the highest performing teams in its division, resulting in him being named the Division V Coach of the Year.
At BW, Brian Fox '11 played football for two years and helped out as an assistant coach for the latter half of his college career. After graduating with a B.A. in pre-physical therapy, he went on to gain 12 years of coaching experience at numerous programs, most recently at Heidelberg University as the passing game coordinator and quarterback coach.
Fox was selected from more than 30 applicants back in December of 2017 to be the new head football coach at Elyria Catholic High School. Upon hiring, Fox evaluated who and what he was working with. With his process-oriented philosophy and the players he had, he knew the Panther's previous year's record of 3-7 could be turned into something extraordinary.
Differences in Coaching and Energy
Fox changed up the offensive and defensive schemes to better suit not only his players talents, but to handle the dynamic of the other teams in their conference. "We're trying to get more guys in the box. A lot of our conference will be very run-heavy teams," he said.

Along with those changes, the Panthers also have some very talented athletes who will make the most out of any offensive or defensive scheme. Fox boasts of his players, saying, "We could screw up everything with our defensive play calls and I still think we could be a very good defense."
There is a lot of support behind Fox from his Huron High School football coach Tony Legando, "Brian is a hard worker that really loves the game. He will always outwork his opponent, I guarantee that. I always had individual meetings with my players and Brian expressed interest in coaching back then. He did some great things at the college level, and I'm really excited for him to have this opportunity."
In addition to the new coaching style, the Panthers experienced a change in energy and excitement. Fox brought his high energy to the team and it quickly became infectious. He taught them to not only enjoy the process, but to also do everything the right way.
"If they're going to play for Brian, they are going to be taught the right way to do things, both on the football field and off. And he will hold them accountable," said Scott Donaldson, Heidelberg football head coach.
Reaping the Rewards
Following a grueling and disciplining off-season, the Panther football team went on to become Great Lakes Conference champions with a 9-3 record. Fox, with his fresh ideas and talents, has managed to turn the Elyria Catholic football program around and revive its winning legacy.