BW student-faculty study explores factors related to e-cigarette use during pregnancy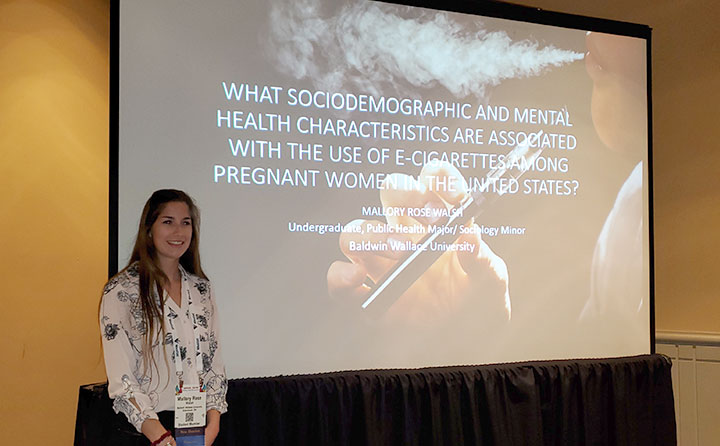 Public health major Mallory Walsh '21 presented findings from a research study investigating the factors associated with e-cigarette use during pregnancy at the Nov. 6 American Public Health Association (APHA) Annual Meeting and Expo in Philadelphia.
The study titled "What Sociodemographic and Mental Health Characteristics are Associated with the Use of E-Cigarettes Among Pregnant Women in the United States?" was conducted with Dr. Raed Bahelah, assistant professor of public health.
Perception informs reality
"There are a lot of studies that have come out about e-cigarettes," Bahelah said. "But few studies have focused on pregnant women."
He believes e-cigarettes are becoming more prevalent than regular cigarettes because they are perceived to be safer and are used for quitting cigarettes. It is possible that these factors may lead regular smokers to switch to e-cigarettes while they are pregnant.
Presenting on a national stage
Walsh got involved with the research after working in BW's public health department and doing a literature review for Bahelah. She is very passionate about public health research, so being able to collaborate with Bahelah was a great opportunity.
Walsh said the most valuable takeaway from this study was the opportunity to share her work with professionals in the field at a national conference.
"I want to get into advocacy and research," said Walsh, "and I think this is the first step to that future career."
Value of original research
Dr. Swagata Banik, chair of the BW Public Health and Prevention Science Department, said research done on campus is essential. It helps to generate new knowledge, contributes to innovation, gives students hands-on experience, promotes the university's image and improves the academic reputation of the university.
"People who attended Mallory's session, they now know what BW students are able to do," said Banik.
For Walsh, this is an experience she can take with her for life.
The original version of this story first appeared in The Exponent, the student-run newspaper of Baldwin Wallace University. Edited and reprinted with permission.