PFLAG honors Baldwin Wallace University's commitment to inclusion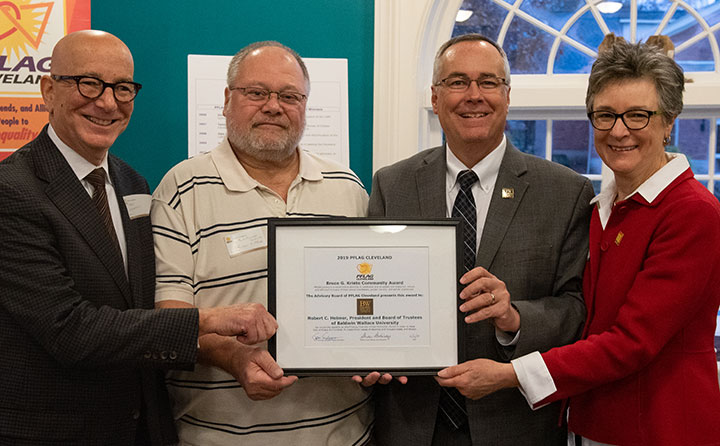 PFLAG Cleveland (Parents, Friends, Families & Allies United with LGBTQ People to Move Equality Forward) has honored Baldwin Wallace University with the 2019 Bruce G. Kriete Community Award.
PFLAG annually presents the award "to an individual, organization or group that has promoted understanding and acceptance of Northeast Ohio's gay, lesbian, bisexual, and transgender citizens, and their families and friends." Past recipients have included both Ohio U.S. Senators, journalists, activists and everyday citizens.
Longstanding Commitment to Inclusion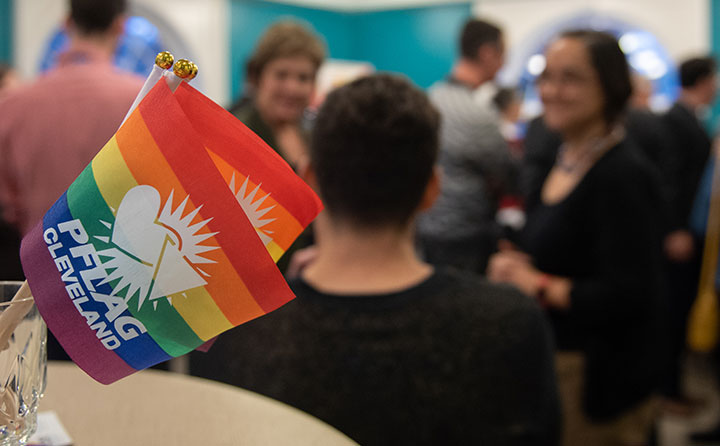 PFLAG Cleveland officers presented the award at a November 11 ceremony on the BW campus attended by students, faculty, BW Trustees, families and friends.
PFLAG President Tom Falcone cited BW's leadership "especially as it relates to standing with LGBTQ individuals for greater inclusion and equality at BW and in our world." 
President Bob Helmer accepted the award on BW's behalf, noting that the University was founded on the value of inclusion. "We have tried to live out that value for all of our 174 years in many ways," he said. 
Walking the walk
In honoring BW, PFLAG noted a vote by BW Trustees to end United Methodist Church affiliation in response to church prohibitions on same-sex marriage and exclusion of LGBTQ people from clergy as a tangible demonstration of BW's unwavering commitment to diversity and inclusion.
Along with that stand, BW recently appointed professor Ana Boe as LGBT services coordinator and continues to build resources and support for LGBT students ranging from Safe Zone training to LGBT scholarships.
Continuing Dialogue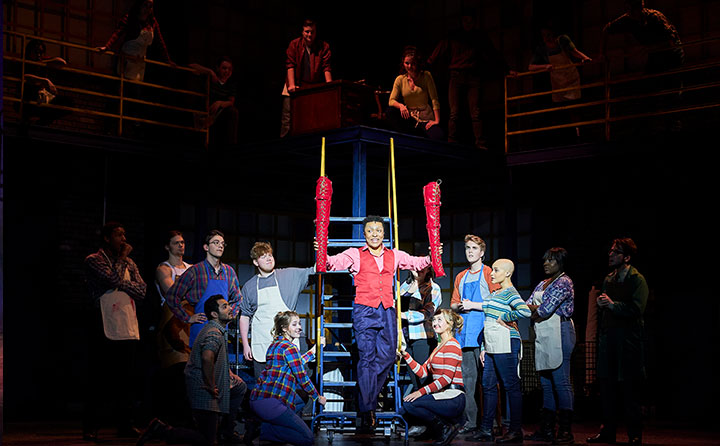 The PFLAG award ceremony took place on the same day that the BW Conservatory of Music invited high school Gay/Straight Alliance (GSA) members and other LGBT-focused youth group members and their families (including PFLAG) to the final dress rehearsal for the nation's first academic production of "Kinky Boots."
The themes from "Kinky Boots," which runs Nov. 12-24, have provided a jumping-off point for diversity dialogues this fall at BW, including BW's annual Arts Innovation Summit, which focused on how Cleveland artists and arts organizations, supported by Cuyahoga Arts & Culture (CAC), work to increase diversity, equity and inclusion in their art, audiences and the communities they serve. 
About PFLAG Cleveland
Jane Daroff, LISW & Dr. Jes Sellers established the PFLAG Cleveland chapter in July 1985. PFLAG is a volunteer, non-profit self-help organization founded nationally in 1981. We are an inclusive group of family members, friends, and individuals who are straight, gay, lesbian, bisexual, and transgender. PFLAG is committed to advancing equality through its mission of support, education, and advocacy. PFLAG has more than 350 chapters and 200,000 supporters crossing multiple generations of American families in major urban centers, small cities, and rural areas in all 50 states. To learn more, visit http://www.pflagcleveland.org.