BW music theatre grad takes 'The Lightning Thief' to Broadway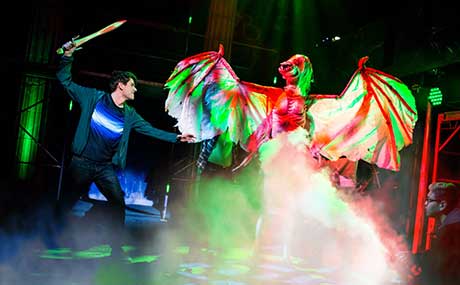 Lightning may not strike twice, but the talented Chris McCarrell '13 is lighting up Broadway for the second time since graduating from BW's celebrated music theatre program.
McCarrell is starring in "The Lightning Thief: The Percy Jackson Musical," now in a limited 16-week engagement. McCarrell is reprising the role of the title character and he's not the only BW grad in the cast. Sam Leicht '16 is making his Broadway debut at the Longacre Theatre this fall.

McCarrell originated the role of Percy Jackson back in 2017 in the Off-Broadway production and took it on a national tour. He has been with the production since finishing his run in the revival of Les Miserables. "We made this show in Chelsea Studios, laughing while trying to figure out how to make a horse come out of a wheelchair," said McCarrell in an interview with Broadway.com.
Crazy Ride
"The fact that I get to be the son of Poseidon, I relate to that. I feel like that when I wake up," McCarrell said in a Broadway In Chicago press video.

Leicht reflected, "It's definitely been a crazy ride! When I was in school, I remember thinking, 'Wow, that's the goal. I want to be in an original Broadway cast,' and now it's actually happening."

The show is based on the first of five best-selling young adult novels by Rick Riordan, "Percy Jackson and the Olympians."
Previews began September 20 with an official opening on October 16. The show is scheduled to close on January 5, 2020. Tickets can be purchased here.