Class of 2018 marks BW's 168th Commencement
With a former astronaut urging them to stay grounded as they reach for the stars, Baldwin Wallace University recognized the achievement of 672 graduate and undergraduate students during BW's 168th Commencement ceremony on Saturday, May 5 in Ursprung Gymnasium in the Lou Higgins Center.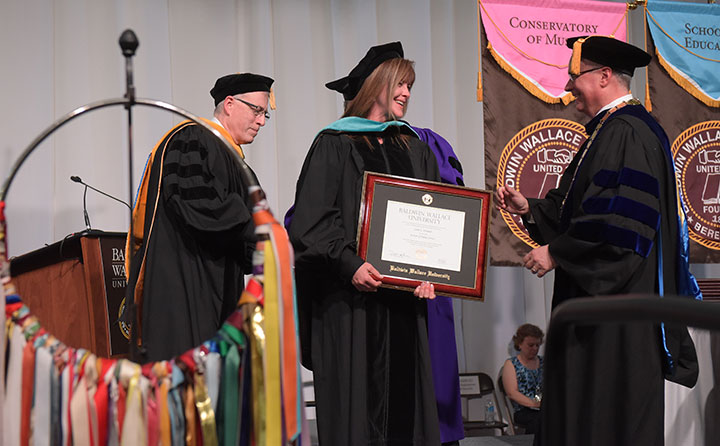 Before they each took a jubilant walk across center stage to receive congratulations from President Bob Helmer and cheers from family and friends, members of the Class of 2018 were inspired by commencement speaker Dr. Janet L. Kavandi, director of the NASA Glenn Research Center in Cleveland.
Noting that "life is full of mysteries and complexities," Kavandi recounted ten lessons she gleaned during more than 33 days in space and 535 orbits around our planet Earth, urging graduates to "establish your goals and never give up."
BW awarded the Honorary Doctor of Public Service degree to Kavandi, whose distinguished career at NASA includes three space shuttle flights.
Academic firsts and honors
The ceremony also included special recognition for high-achieving members of the Class of 2018. Spencer E. Badia, a pre-physical therapy major with a perfect 4.0 GPA, received the prestigious Milton T. Baldwin Prize, given to the graduate with the highest academic achievement at BW.
An impressive number of undergraduate students graduated with academic honors: 48 earned summa cum laude recognition with a cumulative grade point average of 3.90 or higher; 74 graduated magna cum laude with at least a 3.75; while another 71 earned cum laude honors with at least a 3.60.
Students in the Dayton C. Miller Honor Society and the Honors Program were also applauded and the May 2018 ceremony also marked conferral of BW's first six Bachelor of Fine Arts (BFA) degrees to graduates of the only BFA in acting in Northeast Ohio and only BFA in classical acting in the Midwest.
Super Seniors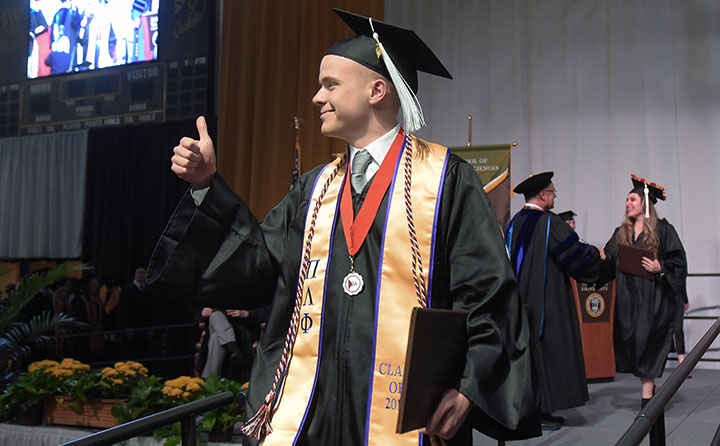 Ten graduates were recognized as 2018 Outstanding Seniors for overall excellence and contributions to campus life including academics, leadership, service and involvement on and off campus. 
The 2018 graduating seniors acknowledged for demonstrating excellence in all areas of their University endeavors are: William Anastasiadis, Andrew Bianco, Michael Brown, Dylan Cook, Kirsten Goddard, Kevin Kaufhold, Madison McNeil, Olivia Murphy, Manolo Sandoval and Katherine Simonis.
Pomp, Circumstance and Tradition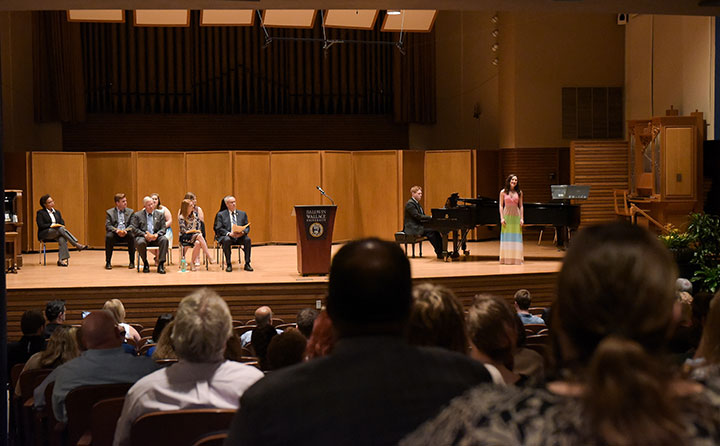 Steeped in tradition, BW Commencement Day also included a Baccalaureate service at the Kulas Musical Arts Building that featured an inspiring address by Dr. Christy Walkuski, director of the David & Frances Brain Center for Community Engagement, along with special music. Baccalaureate was followed by a President's Reception in the Strosacker Hall union ballroom– giving graduating seniors and their families, faculty and staff a chance to mingle, snap photos and enjoy a spread of heavy appetizers.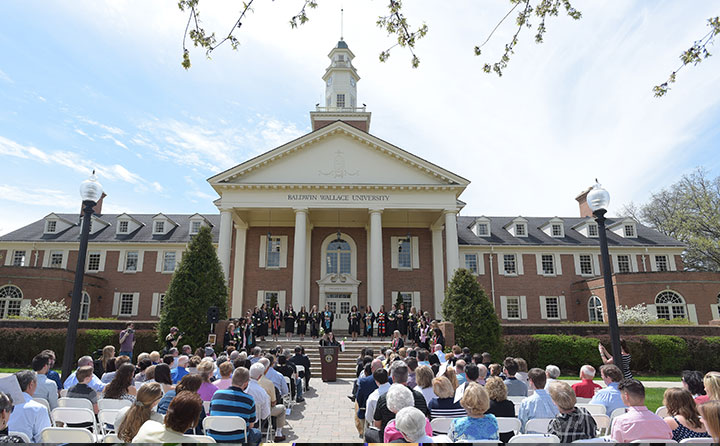 Another longstanding custom, The White Rose Ceremony, recognized select young women and honored Philura Gould Baldwin, granddaughter of BW founder, John Baldwin. She helped establish the BW library and the University's brown and gold colors.
During "the main event," the Senior Class added distinctively colored ribbons to the "ring of ribbons" in a ritual that ties BW grads together from generation to generation and includes the colors of every graduating class since 1915. 
At their upcoming 50-year golden reunion during "Alumni Encore," members of the Class of 1968 will renew their colors on the Ring of Ribbons.
Boxcast Replay and photos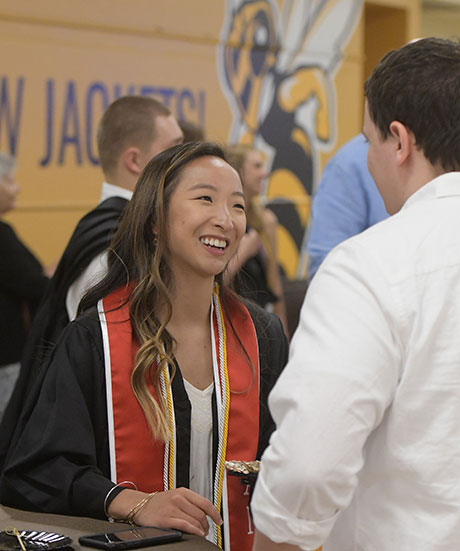 The Class of 2018 graduates now take their places among 48,000-plus BW graduates or "Yellow Jackets for Life" (YJ4L) who have come before them since the school's founding in 1845.
Watch a Boxcast replay of the big ceremony at the link below. To view and download photos after the ceremony, visit BW on flickr and/or the BW Facebook page for a gallery that will grow in the week following commencement.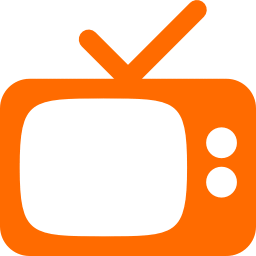 WATCH BOXCAST VIDEO >>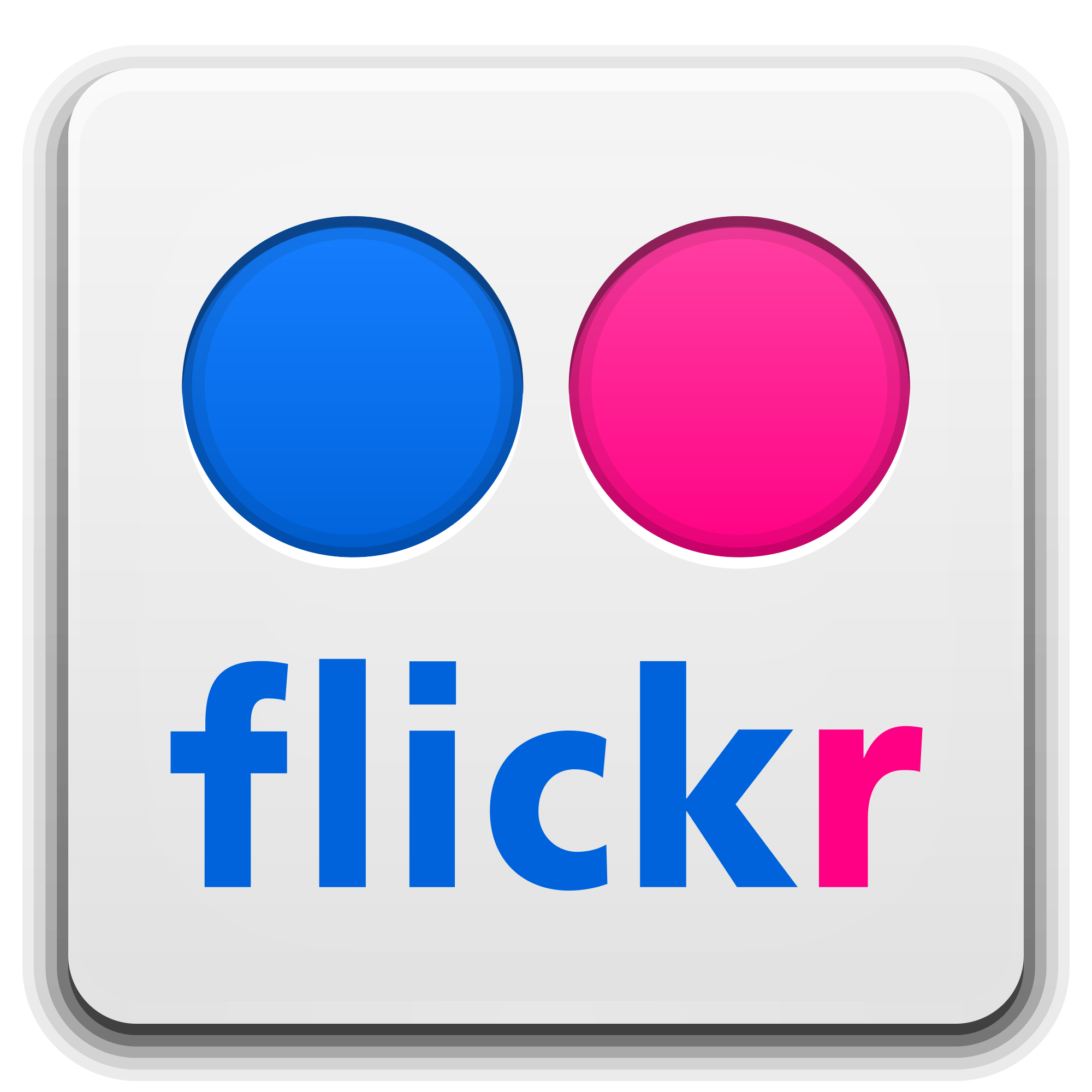 SEE PHOTOS ON FLICKR>>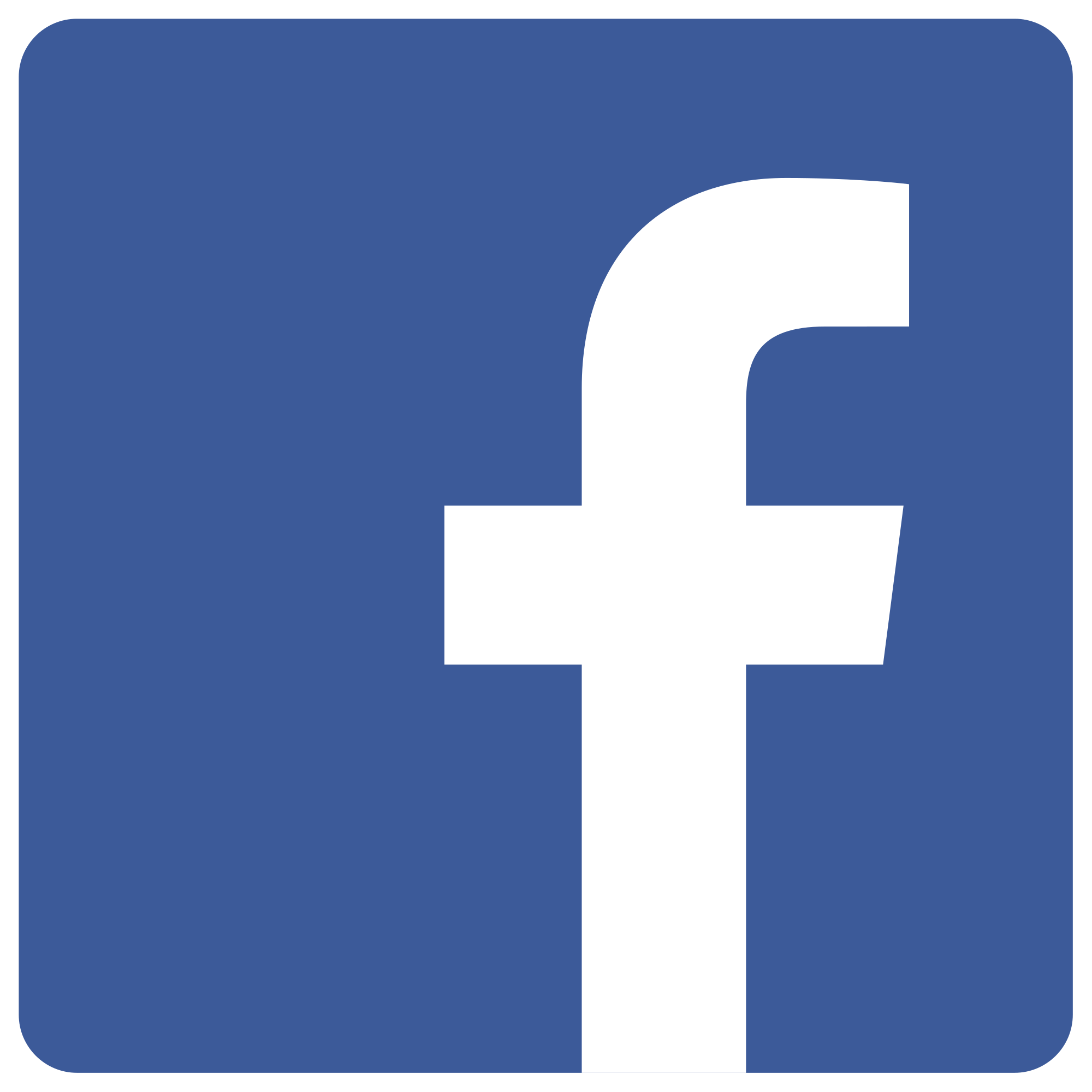 SEE PHOTOS ON FACEBOOK>>