BW students go global in May
More than 100 BW students studied abroad in the month of May as part of faculty-led experiences on four continents.
The globetrotting students took spring semester courses to prepare for and amplify the takeaways from their time abroad.
Discovering China
Nineteen students traveled to China, led by Dr. Liya Wang (sociology) and professor John Fuehrer (business). Culminating semester-long coursework at BW, students took in 5,000 years of Chinese culture alongside modern-day business and management practices.
The 19-day study tour through the cosmopolitan cities of Hong Kong, Shanghai and Beijing included attractions such as the Po Lin Monastery, The Great Wall and the Temple of Heaven. Multiple company visits also gave insights into the world of international business.
Discover Dominican Republic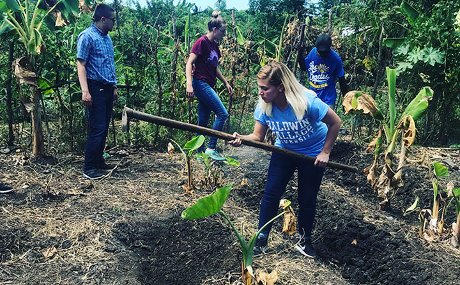 Eighteen students journeyed to the Dominican Republic, led by Dr. Megan Frank (health, physical education and sport sciences) and Dr. Charles Campisi (sport management). Students spent two weeks learning about food and nutrition with guest lectures focusing on history, culture, nutrition and Dominican-Haitian relations.
Students also enjoyed a taste of everyday life in Santiago by living with Dominican host families. Planned experiences ran the gamut from tours of banana and cigar production to cooking and dance classes. The travel was preceded by spring food and nutrition course at BW.
Coaching or Teaching in Ireland
In collaboration with University College Cork, 27 students, led by Dr. Kerry Bebie, (health, physical education and sport sciences) and Dr. Chad Malcolm (education), taught and coached local schools and teams in Ireland.
In addition to exploring how physical education and coaching can form positive academic or athletic experiences, students toured sites like the Cliffs of Mohr, Blarney Castle, The Ring of Kerry and the city of Dublin. During the spring 2018 semester, students enrolled in an HPE course focusing on either a coaching track or a teaching track.
Seminar in Germany
Twenty-three students, led by Dr. Stephen Hollender (foreign languages) and Dr. Andrew Dohanos (communication studies), immersed themselves in the language and culture of Germany.
The group started their journey in Munich, made their way to Berlin and then onto Dresden. Along the way, they toured historic sites such as the Dachau concentration camp, the Berlin Wall Memorial and the Olympic Park and broadened their German language skills at the German Language School in Berlin. A spring intercultural communications course at BW prepared them for their time abroad.
Speech-Language Pathology in Zambia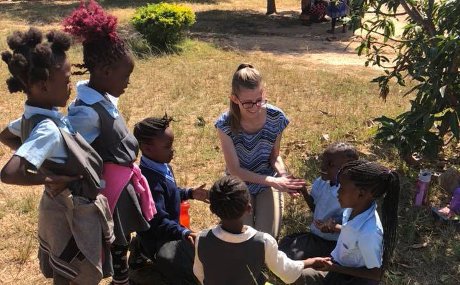 Finally, 21 graduate students in the speech-language pathology (SLP) program spent time in Zambia, led by SLP faculty members, Chisomo Selemani, Christie Needham, Amy Larocco, and BW School of Health Sciences Dean Colleen Visconti.  Students worked at several service sites, including hospitals and schools. 
The national award-winning program emphasizes the opportunity for students to observe and interact with local practitioners in Zambia. While abroad, students also had the chance to tour the city of Livingstone with its majestic Victoria Falls and other cultural sites.