Teamwork lands BW scholar in Journal of Public Health and Emergency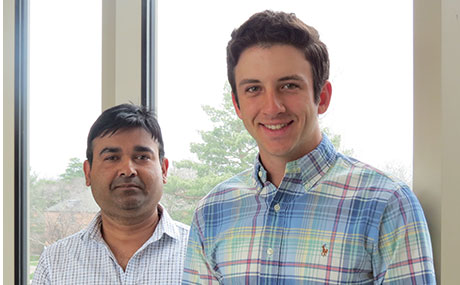 Jacob Smith '20, Dr. Ubydul Haque and Dr. Swagata Banik recently collaborated on a research paper which brings light to consequences of natural disasters that the public rarely sees. Their conclusions, reached in the wake of Hurricanes Harvey and Irma, were featured in the March issue of the Journal of Public Health and Emergency.
Smith, a public health major, worked with Dr. Haque, a professor in the BW School of Health Sciences, to address issues surrounding natural disasters and their long-term effects. The paper, titled "Catastrophic hurricanes and public health dangers: lesson learned," addressed the mental and physical health problems that victims of hurricanes may suffer, the impact of social media on disaster awareness, and the call to action toward better resiliency planning and greenhouse gas mitigation in the future.
New perspectives
Smith says the main point he wants the public to take away from this paper is that they should urge their congressional representatives to address climate change issues. He goes on to say the best thing first responders and health officials can do in the event of a natural disaster is deploy aid as quickly as possible to those affected by the storm and make sure that everyone in the affected area is following the local evacuation plan.
Giving back
While Smith may still be an undergrad at BW, he already has quite the record of success. With a focus on community that shows in his paper, Smith has volunteered with the Cuyahoga County Board of Developmental Disabilities, Salvation Army and the Elmcroft Assisted Living Center. He has also volunteered in the BW neuroscience lab and works for the University in the Admission Office.
Smith praises the faculty at BW, saying "Every faculty member here has been available for extra help, and they are all aware of your goals and the best way to assist you on your journey." He goes on, "I could not be more grateful for the opportunities I have already been provided in my short career here, and I am very much looking forward to what the future has in store."