BW student body elects president and vice president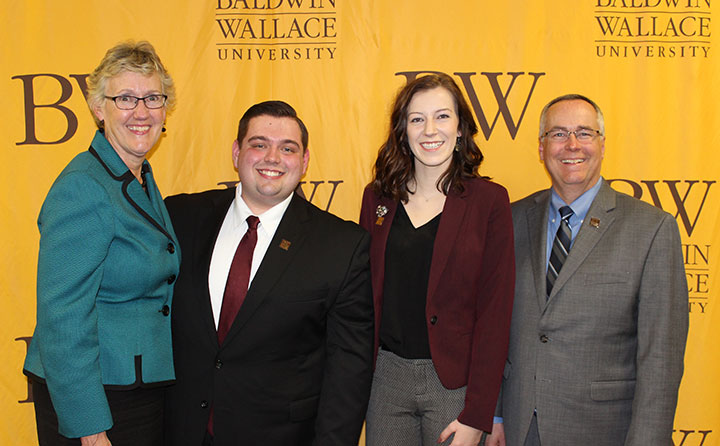 Students at Baldwin Wallace University elected Andrew Henthorn '19 of Cleveland and Allyson Crays '20 Warren, Ohio, on Wednesday, February 7 to serve as the 106th BW Student Body President and Vice President. They officially took office during an inauguration ceremony on Tuesday, February 20.
Henthorn is a junior political science major with a double minor in legal studies and political communications. He is a brother of Pi Lambda Phi and holds an executive council position within the fraternity. He most recently served as president of Student Senate and before that served as a student senator.
"I am incredibly excited to begin pursuing the initiatives that we discussed during our campaign," Henthorn said. "Ally and I are looking forward to being a voice for the student body and listening to the concerns of our fellow classmates. We believe that we have the opportunity to create impactful change on campus. We are always open to new ideas and we look forward to working with the administration, student government and the student body to make an impact on campus!"

Crays is a sophomore public health major with minors in legal studies, political science and public relations. She is a sister of Zeta Tau Alpha and holds the executive council position of new member coordinator. She has also served as the Student Concerns Committee chairman in Senate and works as a student supervisor at the Center for Philanthropy & Alumni Engagement with Telejackets.

Crays had this to say about her position, "I am extremely excited and honored to have the opportunity to work with Andy to address the needs and concerns of the student body. I have immense faith in some of our platform initiatives to create meaningful collaboration between groups on campus and improve the mental and physical wellness of students. I cannot wait to see what adventures this next year holds!"