Conservatory alumna brings flamenco to BW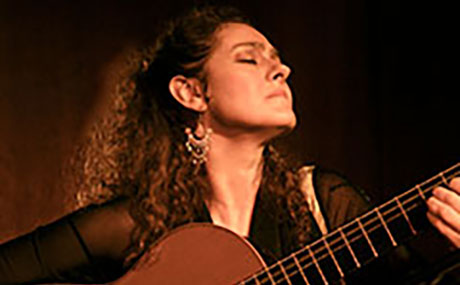 Please Note: The performance has been canceled due to artist illness.
In the nearly three decades since Marija Temo graduated from the Baldwin Wallace Conservatory of Music, she has spread her virtuoso wings as a flamenco guitarist, vocalist, conductor and dancer. This month, you can catch Temo doing what she does best - performing - onstage as part of the World Music Series.
Temo, a recipient of the Earnest Knautz scholarship, was also granted membership in the prestigious Dayton C. Miller Honor Society. Only four percent of the undergraduate student body achieves this accolade and acknowledgment of being one of BW's top scholars. Graduating in 1991 with a Bachelor of Music degree, she then went on to receive her master's degree from the Peabody Conservatory of Music.
Performances with the Zac Brown Band and at venues all over North America gave way to critics lauding her for "challenging the rules of traditional flamenco" (Philadelphia Inquirer). National Guitar Magazine stated that "her intelligence, natural intuitive ability combined with a passion and love of music places her among those exceptional interpreters of our time."
BW's Academic and Cultural Events Series (ACES) is highlighted by the World Music Series, featuring globally diverse musicians who often bring colorful cultural costumes, authentic indigenous instruments, and, as always, exceptional artistry. ACES helps coordinate BW's annual observances for Martin Luther King Jr. Week, Black History Month and Hispanic Heritage Month, too.