Award-winning 'This Is Us' star Sterling K. Brown wows BW crowd
BW welcomed Emmy and Golden Globe Award-winning actor Sterling K. Brown for the 2018 School of Business Leadership Lecture. But the event felt more like a warm conversation in the living room of Randall Pearson, the beloved character Brown plays on the NBC hit series "This Is Us."
About 3,000 people gathered around (in Ursprung Gym) and listened in as BW President Bob Helmer peppered the actor with a range of questions, some submitted by students and faculty in advance.
Valuing time itself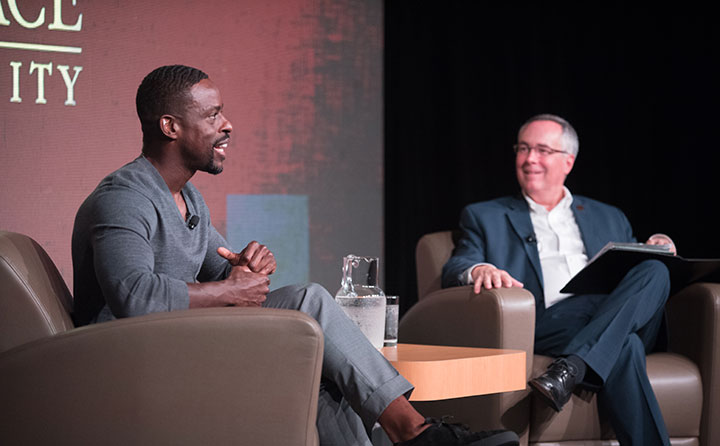 Drawing on his own personal experiences, Brown spun stories and shared insightful, life-affirming wisdom.
He told the nearly 700 freshmen in attendance (First Year Experience classes will write reflections on the talk) that his own undergraduate experience at Stanford was one of the best periods of his life and advised them to "take advantage of all the resources available to you."
"We spend a lot of time in life on autopilot," he noted. "I value time itself."
The down-to-earth Brown also talked about faith, family and the joys of being a father — his own dad died when he was just 10 — and the values that keep him centered. "There's difference in what you do and who you are. I hope that who I am outlasts what I do."
Art reflecting life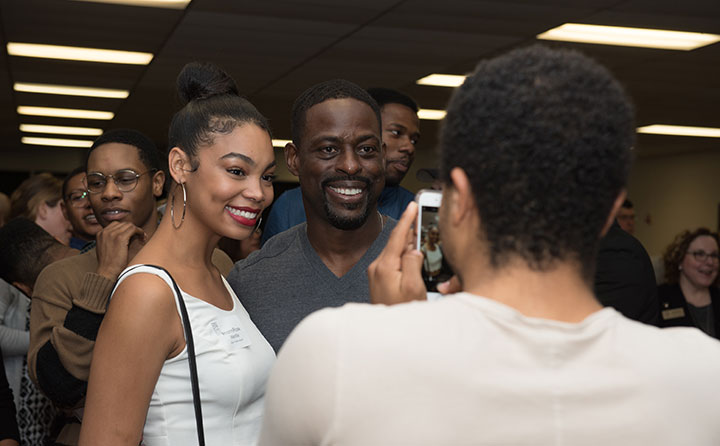 Having changed his college major in midstream from economics to drama, Brown called being an artist "a walk of faith."
On the power of storytelling, he added, "As an artist, you have an opportunity to hold up a mirror to society."
A show like "This Is Us" "helps remind people they are not by themselves" in the struggles, joys and challenges portrayed on screen.
Randall, a part written for an African American man, also allows Brown to fully inhabit the role from a very personal perspective.
Spoiler Alert
Along with his views on weightier topics, Brown offered some hints about where Randall is headed this season saying there will be turbulence in his character's much-admired marriage (#relationshipgoals) and a potential new career path.
At the end of the evening, one attendee said it best. Sterling K. Brown is the "real deal!"