BW poll shows voter enthusiasm gap in advance of Ohio midterm election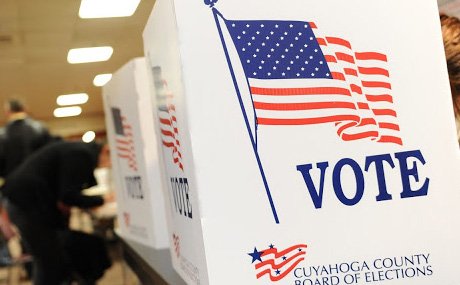 A Baldwin Wallace University survey reveals that a strong majority of likely Ohio voters have magnified the significance of the 2018 midterm elections, with nearly 58% saying that voting this November is more important than in previous midterms.
The results also point to an enthusiasm gap that could benefit Democratic candidates; about 67% of Democrats believe voting in this midterm election is more important compared to about 53% of Republicans.
The poll, conducted by BW's Community Research Institute (CRI) September 5-15, also shows the incumbent Democratic U.S. Senator Sherrod Brown and Republican candidate for governor, Mike DeWine, both leading their respective races. In both races, however, large groups of "undecided" voters could determine the outcomes.
U.S. Senate and Gubernatorial Races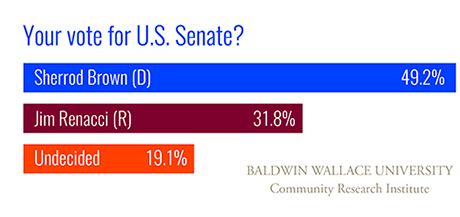 In the contest for U.S. Senate, the survey shows Brown with a 49% to 32% lead over his Republican challenger Jim Renacci. About 19% remain undecided with seven weeks until the election.
In the Governor's race, DeWine holds a 42% to 37% advantage over Democrat Richard Cordray among voters stating a preference, making the race a statistical tie. More than 20% say they remain unsure about how they will vote for governor.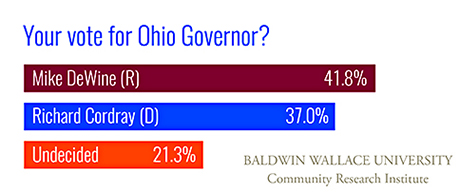 "In both races, the outcomes will hinge on how late-deciding voters break on election day," said Dr. Tom Sutton, director of the Community Research Institute. "Both Cordray and Renacci are still far less known to Ohio voters, with nearly half of those surveyed saying they haven't heard enough about either candidate to form a favorable or unfavorable opinion. Just one in five voters don't yet know enough about DeWine or Brown. 
"As a result, the frontrunners in each race have both higher favorable and unfavorable ratings already established among the electorate, but also have an opportunity to help define their less well-known opponents," added Sutton. 
Ranking the issues
The survey also asked likely voters from all five regions of this bellwether state to rank the issues most important to them in the races for governor and U.S. Senate. Health care came out on top, followed by the economy, taxes, gun policy, immigration, abortion and trade.  
"With health care top of mind, another interesting result is that about 70% of Ohio voters voiced approval for Ohio Republican Governor John Kasich's expansion of Medicaid health care coverage despite opposition within his own party," said Dr. Lauren Copeland, associate director of the CRI.
Discouraging a Kasich challenge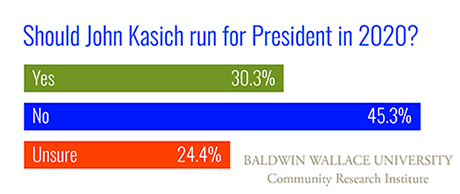 "At the same time, we found tepid support for Kasich mounting a primary challenge to President Trump in 2020," Copeland added. "Just 30% would like to see the outgoing governor get into the race, with about 45% saying they would not like to see Kasich run."
According to Copeland, "This is consistent with previous polls we've conducted, but it's interesting in light of Governor Kasich's and President Trump's respective job approval ratings. Although a majority of Ohio Democrats (50%) and Republicans (53%) support Kasich, Trump's support breaks squarely along party lines (9% Democrats, 81% Republicans)."
Survey respondents also expressed opinions on how the Trump administration has handled a number of issues from tax cuts (50% approve, 38% disapprove) to trade tariffs (44% disapprove, 42% approve) to immigration (equally divided at 47% approve and disapprove).
A clear majority of Ohioans approve of the Mueller investigation into Russian meddling in the 2016 election (53% approve, 34% disapprove).
Trump's Tweeting and Trust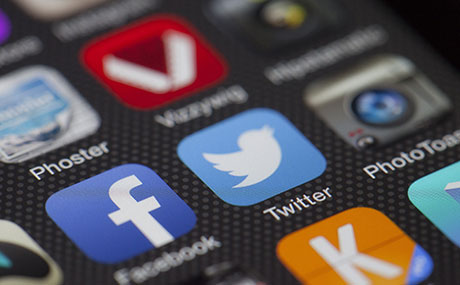 There is widespread agreement among survey respondents that President Trump uses his personal Twitter handle "too much" (70%). In addition, a supermajority (62%) believe that the president's use of Twitter is "inappropriate."
Nevertheless, Ohioans are divided as to whether they trust President Trump or the news media to tell "the truth about important issues." Whereas 29% trust President Trump more, about 37% trust the news media more. The differences are stark among party lines, with 64% of Democrats trusting the media more and 59% of Republicans trusting President Trump more.
Topline report and methodology
This poll was conducted among 1,048 likely Ohio voters, between September 5 and September 15, using a Qualtrics-curated online panel with quotas in place for gender and age, along with stratification by region. Margin of error: ±3.6% (applicable only to overall results and not to demographic subgroups).
Access the complete BW CRI 2018 Midterm Election Poll topline report (PDF) here including detailed methodology notes.
Media coverage
In addition to adding meaningtful data to the running calculations of the national FiveThirtyEight election site, results of the CRI survey have helped to inform coverage of the 2018 midterm election at a number of Ohio and national media outlets including CBS News, The Hill, cleveland.com/The Plain Dealer, Dayton Daily News, Cincinnati Enquirer, WCPN's Sound of Ideas, WEWS-TV, WHIO-TV and WKYC-TV, among others.