BW and DiGeronimo Companies break ground on commercial and student housing complex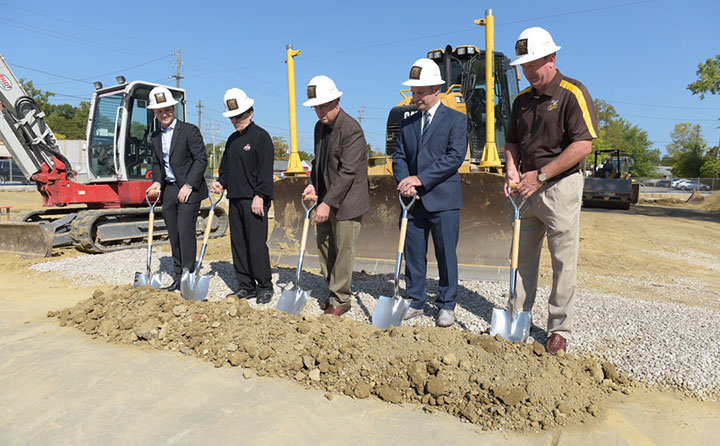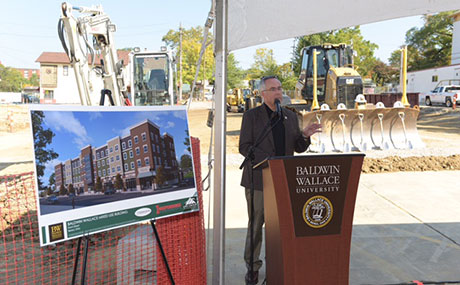 Representatives from DiGeronimo Companies, the City of Berea and Baldwin Wallace University put shovels in the ground to formally kick off the construction of an innovative mixed-use development on Front Street in the heart of Berea.
At the groundbreaking ceremony, which preceded BW's annual Community and Family Day festivities, BW President Robert C. Helmer and developer Kevin DiGeronimo noted the spirit of cooperation that is bringing the project to the city's hub, adjacent to the BW Conservatory of Music's Kulas Musical Arts Building.
"This project...is an opportunity for BW to support the city and help foster economic growth, and for the city to support BW and help us with our residence hall needs," said BW President Robert Helmer in an interview with cleveland.com. "Together we're better."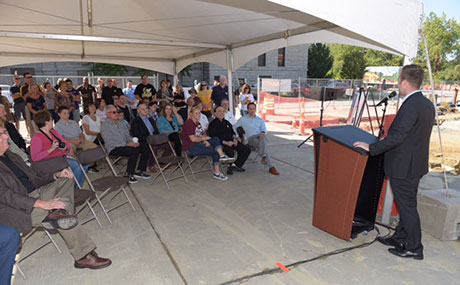 The 64,000-square-foot development will include ground-level commercial space which will be owned and leased by DiGeronimo Companies and residence hall floors, housing 131 students in 81 units above the retail, owned by the University.
The project was reviewed and green-lighted by Berea's Heritage Architectural Review Board, Planning Commission and City Council in 2016.
Both the commercial level, to be known as "University Market," and the residence hall floors are scheduled for a fall 2018 opening.