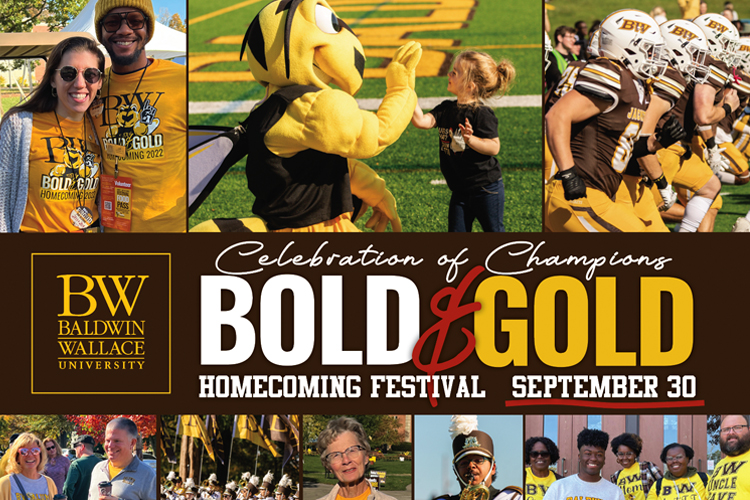 Bold & Gold Homecoming Festival
Come home to Baldwin Wallace for our annual BOLD & GOLD Homecoming Festival. Students, alumni, parents and the entire community are invited to join in celebrating our rich history ALL TOGETHER since 1845.
Make plans to join us for a morning of activities — reunions, performances, networking and the annual Homecoming parade. Then, gather on the North Quad for a festival-style dining experience and head over to George Finnie Stadium to cheer on the Yellow Jackets.
*The map includes location markers for the Welcome Tent, Saturday's events, parking areas, parade route and viewing hives, restrooms and emergency medical services.
Schedule of Events
New activities and events are being added often – check back for updates!
Friday, September 29, 2023
6 p.m. – Esports Ribbon Cutting Ceremony
Join us in Loomis Hall for this special event celebrating BW's new esports varsity teams. Register >>
6 p.m. – Cheer Team Alumni Game Day Prep
It's a great time to return to campus as a Yellow Jacket Cheer Team alum! Join us in the Lou Higgins Recreation Center MODS for a quick meet and greet as we prep for Game Day! We have been working on new core Yellow Jacket Sprit chants and Fight Song choreography and want you to be ready to yell with us at the game! Register >>
7-10 p.m. – Bold & Gold Rewind Reunion
Classes of 1980 through 2000 are invited to gather in the Knowlton Center to reconnect, see what's new and mingle with other alumni. Registration is $15 per person and includes heavy appetizers, one drink ticket, fun giveaways and entertainment. Learn more >>
7-9 p.m. – Symphonic Wind Ensemble Performance
Get a "first look" at some of the repertoire they will perform at the 2024 Ohio Music Education Association (OMEA) Professional Development Conference. Enjoy this event in person or via live stream. Learn more >>
7:30 p.m. – Testing Ground Fall Edition: Flatland
When A. Square encounters a sphere, he gets a glimpse of the joys and sorrows of the third dimension in this student-choreographed dance performance. Learn more >> 
---
Saturday, September 30, 2023
GATHERINGS AND REUNIONS AROUND CAMPUS:


8:30 a.m. – Fraternity and Sorority Life Community Social
Join the Fraternity and Sorority Life (FSL) community for fraternal networking with current and alumni members of the FSL community in the
Ernsthausen Hall
 lobby.
9 a.m. – Alumni Marching Band Rehearsal with the Marching Yellow Jackets
Marching Yellow Jackets alumni are invited to perform alongside the current Marching Yellow Jackets during halftime of the homecoming football game! Rehearsal will begin at 9 a.m. in 
George Finnie Stadium
, followed by a Parade Viewing Hive for the Alumni Marching Band.
9 a.m. – S.A.L.S.A. Alumni Gathering for Latin and Hispanic Alumni and Families
9 a.m. – Residence Life Alumni Reception
The Office of Residence Life is hosting a morning reception to reconnect with former residence life and housing staff members (Resident Assistants, Hall Directors, and more) in
Klein Hall
. 
9 a.m. – 5 p.m. – WBWC Alumni Takeover & Open House
Alumni & friends are welcome to take part in an alumni takeover where they can pull a favorite song from our library and introduce it on the air. The takeover runs until Homecoming game coverage and continues onward until 5 p.m. in
Loomis Hall
.
9:30 a.m. – Humanities Book Chat and Swap
Join the School of Humanities to get together and chat about a favorite, fun or intriguing book. Alumni can bring a book to swap with one another or take/leave a book from the big "little library" in the Marting Lounge. Stop by the Marting Treuhaft Lounge on the first floor of
Marting Hall
to enjoy coffee and conversation about interesting books with your fellow alumni! Contact Denise Kohn, Associate Dean of Humanities and Professor of English, at
dkohn@bw.edu
 for more details.
9:30 a.m. – Department of Public Health & Prevention Sciences Gathering
Alumni, current students and friends are welcome to join the BW Department of Public Health & Prevention Sciences for a reception and open house in
Malicky Center for Social Sciences
, Room 112.
10 a.m. – BW Swimming and Diving Family and Alumni Breakfast 
10 a.m. – TRIO/Upward Bound Reception
12 p.m. – Black Alumni Network Tailgate
The Black Alumni Network invites current students, alumni, friends and family for a tailgate in the
Kleist Center for Art & Drama
parking lot before the big game!
1 p.m. – BW Wrestling Tailgate
BW Wrestling invites wrestling athletes, alumni, families and fans to join together for a seafood boil tailgate during Bold & Gold Homecoming. For more details, contact Coach Jamie Gibbs at
jgibbs@bw.edu
. 
4 p.m. – Black Alumni Network Kickback
Reconnect with alumni and current students while you enjoy great food and music during the Black Alumni Network Kickback at the
Black Cultural Center
following the football game.
10 a.m. – Disney Showcase
Back by popular demand, BW Music Theatre majors present the best of Disney on the Boesel Musical Arts Center steps. Learn more >>
10:30 a.m. - 12 p.m. – BW alumnus Tim Robinson '81 Book Signing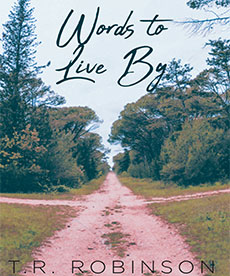 BW welcomes home Tim Robinson '81 for a book signing of "Words to Live By" at The Buzz on Front BW bookstore. More than an inspirational book, it's a guide to help you seek out, compile and live life according to a set of words you can be proud of, words that encourage hope and leave a legacy others can follow with a can-do-mentality. Learn more >>  
11 a.m. – Annual BW Homecoming Parade
Featuring the BW Marching Band, Stinger, various student groups and more. New this year – join us at the Parade of Champions Bandstand for featured performances from our BW champions.
11:30 a.m. –  BW Swimming and Diving "Brown vs. Gold" Meet
Alumni and families are invited to cheer on the BW Swimming and Diving Team for the annual "Brown vs. Gold" meet at the Lou Higgins Recreation Center pool. Alumni may also get back on the blocks for the Alumni Race.
12 p.m. – Festival Food & Fun on North Quad
Enjoy a variety of festival dining options on North Quad, including food trucks. Visit the engagement tents to connect with BW students, faculty and staff. Lunchtime programming will feature performances by the BW Marching Band and other extraordinary student groups, BW Homecoming Court presentation, remarks from President Bob Helmer, a pre-game rally with Coach Hilvert and more!
1:30 p.m. – Alumni & Friends Spirit Garden
Raise a toast with fellow Yellow Jackets before cheering on our Yellow Jacket Football Team at the big game. Light snacks and refreshments (beer & wine) provided. $10 admission gives full access to the Alumni & Friends Spirit Garden Tent, located between Packard Athletic Center and George Finnie Stadium. This event is 21+ only; guests must present I.D. upon entry. Walk-ups are welcome, but pre-registration is highly recommended. Register >>
2 p.m. – BW vs. Marietta College Football
Cheer on the Yellow Jackets in George Finnie Stadium!
3 p.m. – Conservatory Faculty Recital
Featuring J.R. Fralick, tenor; Christine Fuoco, piano; and Khari Joyner, cello. Enjoy this event in person or live streamed. Learn more >>
7 p.m. – BW vs. Marietta College Soccer
Cheer on Women's Soccer in George Finnie Stadium!
7:30 p.m. – Testing Ground Fall Edition: Flatland
When A. Square encounters a sphere, he gets a glimpse of the joys and sorrows of the third dimension in this student-choreographed dance performance. Learn more >>