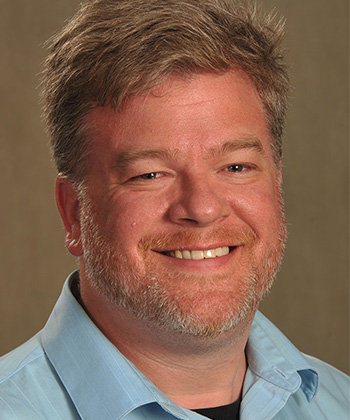 Associate Professor of Conducting
Director, Wind Ensembles
D.M.A., University of Minnesota
M.M., University of Colorado
Contact:
Dr. Brendan Caldwell is associate professor of conducting and director of wind ensembles at the Baldwin Wallace Conservatory of Music. In this role, he conducts the symphonic wind ensemble and the symphonic band. In addition, Caldwell teaches courses in conducting and a seminar entitled "The Buddha and Bruce Springsteen."
Through a vision for artistic process deeply rooted in collaboration, Caldwell regularly forms unique partnerships with the ensemble, soloist, composer and audience members with the shared goal of seeking to reimagine the concert-going experience. Past collaborations have included Dame Evelyn Glennie, George Crumb, Frank Ticheli, Bud Beyer, Marianne Ploger, Charles Rochester Young, Gro Sandvik, Velvet Brown, Graham Breedlove, Wesley Anderson and Nancy Ambrose King.
Caldwell's research and scholarship explore personal and musical transformation through the spiritual practice of mindful listening. Caldwell's vision for performance and listening is deeply rooted in communal mindfulness. In 2013, Caldwell released a CD on mindful listening entitled "Gypsy Radio and the Rock and Roll Consecration." As an accompanying document, Caldwell also wrote a book entitled, "The Buddha and Bruce Springsteen."
Caldwell is in wide demand as a speaker. His talks have included keynote addresses at university-wide symposia on teaching and learning, national and international conferences on education in the arts, spiritual gatherings with a wide variety of faith-based groups and countless forums on music education. Caldwell's speeches help the audience to awaken from the illusion of separateness through the healing power of perception.
Caldwell annually runs two experiential seminars entitled, "The Buddha and Bruce Springsteen," (a seminar designed for a general audience), and "The Conscious Conductor," (a seminar designed for musicians). If interested, please contact him directly for more details.
Before arriving in Cleveland, Caldwell served as director of bands at the University of Wisconsin – Stevens Point from 2006 until 2014. In this role, he oversaw the band area and conducted the UWSP wind ensemble and concert band. He also taught classes in conducting, music education and directed the instrumental UWSP apprentice conducting program. Caldwell was also the founder and administrator of The Perception Project and the UWSP Courtyard Connections Forum, a lecture series modeled after the TED Talks in which audiences gathered once a semester to "awaken from the illusion of separateness" through presentations which discussed various areas of passion and scholarship. Through exploring seemingly disparate topics in a profound manner, audiences were encouraged to seek connections with their own discipline, personal life and each other.
Caldwell also taught at the University of Dayton from 2002 to 2004. From 1996 – 2000, Caldwell was the director of bands at Robert E. Lee High School in Baton Rouge, Louisiana. 
Caldwell's degrees are from Louisiana State University, the University of Colorado and the University of Minnesota.