Office Hours
Monday-Friday: 8:30 am - 5:00 pm
Campus Location
Burrell Observatory
42 E. Fifth Ave.
Berea, OH 44017
The office is closed on Saturdays and Sundays but academic skills workshops are held on most Saturdays during the academic year in the Malicky Center on the BW campus.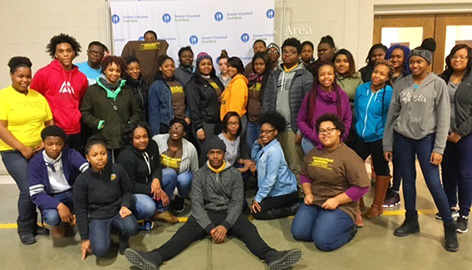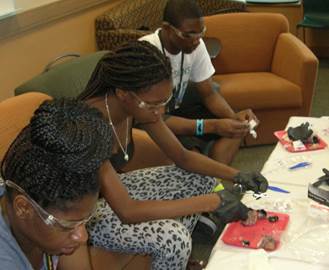 Upward Bound (UB) is a college preparatory program for high school students from low-income households who have the potential to be first-generation college students. UB encourages participants to strive for a better life for themselves by giving them the tools they need to achieve their highest potential. UB has been in existence at Baldwin Wallace since 1968; and as a TRIO program funded by a grant from the U.S. Department of Education, all services are free of charge to participants.
PROGRAM COMPONENTS
Academic Year
The academic year program assists participants with not only maintaining the gains of the summer, but improving their academic skills. During the academic year, UB participants receive advanced tutoring in preparation for passing the Ohio Graduation Test. In addition, the participants receive instruction in mathematics, science, literature, composition and tutoring in high school coursework. Participants receive year-round advising and guidance to prepare and assist them with the steps toward entering postsecondary education including college placement test seminars, financial aid seminars, and postsecondary and admission advising. Participants also are exposed to a variety of educational and cultural events and activities during both the summer and academic year.
Academic Year Required Documents>>
Summer Residential
The summer residential program provides a simulated college environment to prepare students for the social and academic aspects of college life. During the summer, participants live on campus for six weeks in residential halls and take college preparatory courses in mathematics through pre-calculus, laboratory science, literature, composition and foreign language. Special focus courses offered include lifetime sports, technology, career education, a seminar to prepare high school juniors for their senior year and a Bridge seminar for Bridge students. Bridge students are UB participants who have graduated from high school and are enrolled in a credit-bearing college course, a mathematics course and a college-level English course.
Summer Residential Required Documents>>
ELIGIBILITY REQUIREMENTS
Students interested in participating in Upward Bound must:
Attend Glenville High School, John F. Kennedy High School, John Adams High School or Washington Park High School in the Cleveland Metropolitan School District.
Have at least a 2.25 grade point average based on a 4.0 scale.
Have the potential to enroll in college preparatory classes.
Meet the federal criteria for a first-generation college student, which means that neither the parent(s) nor legal guardian(s) with whom the student resides has obtained a four-year degree.
Meet federal criteria for low income.
FORMS
Health Form – This form must be updated yearly and must be notarized.
Photo Release Form – This form must be filled out once. This form allows Baldwin Wallace University Upward Bound to take pictures, videos, etc. of participants during events.
Upward Bound Information Sheet – This document gives information about the Baldwin Wallace University Upward Bound program.
Upward Bound Application Packet – This link has the complete application for the Baldwin Wallace University Upward Bound program. All eligible candidates must have a completed application on file to be considered for the program.
Applicant Survey – This document is used to assess a student's eligibility for the program before completing the application.
Financial Aid Scholarships for Hispanic Students – Scholarships for Latino, first generation, migrant and undocumented students.
Staff
Bonnie Munguia
Director, Upward Bound Program
bmunguia@bw.edu
(440) 826-2209
Michael Carlisle
Student Support and Academic Coordinator
mcarlisl@bw.edu
440-826-2259
Callie Stokes
Academic Advisor
cstokes@bw.edu
440-826-3496
Katherine Bazil
Administrative Specialist
kbazil@bw.edu
(440) 826-2208