OFFICERS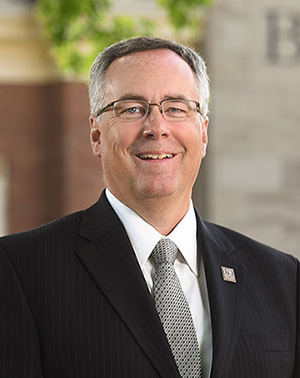 Robert C. Helmer, Ph.D., J.D. - President
The ninth president of Baldwin Wallace University, Dr. Helmer has established himself as a dynamic leader in higher education with demonstrated strengths in curriculum development, enrollment, campus life, fundraising and facility development. In his tenure at BW, Dr. Helmer led the formation of the BW Vision 2020 Strategic Plan which sets a roadmap for institutional strength and purpose in the coming decade, oversaw the establishment new academic programs and helped to secure the largest single gift in BW history.
Dr. Helmer provides leadership and expertise to a number of national, state and local organizations through board membership including service as a trustee for both the Higher Learning Commission (HLC) and the Council of Independent Colleges (CIC). At the state level, he sits on the boards of the Association of Independent Colleges and Universities of Ohio (AICUO) and The Ohio Foundation of Independent Colleges (OFIC). In Northeast Ohio, Dr. Helmer's board service includes The United Way of Greater Cleveland, Southwest General Hospital and Saint Joseph Academy. He is a 2015 graduate of Leadership Cleveland.
Before arriving at BW on July 1, 2012, Dr. Helmer served nine years as president of Lourdes University in Sylvania, Ohio, where he led the creation of new academic programs, more than doubled student enrollment, established an intercollegiate athletics program and expanded the campus physical plant to include new residence halls and a student center.
A graduate of the University of Notre Dame and The Catholic University of Louvain in Belgium, Dr. Helmer received his PhD from Marquette University and his JD from the University of Toledo. His scholarly interests are in early Christian origins and apocalyptic literature.
An active and vocal advocate for student success, Dr. Helmer often can be seen at campus athletic events, academic programs and performances; he also engages with the BW community via Twitter. Follow President Helmer on Twitter at @BWPres.
Richard L. Fletcher '70, MBA '76 - Senior Vice President
As senior vice president, Mr. Fletcher oversees institutional research, athletics, safety and security and external relations for the University. He previously served as vice president for advancement for 25 years and provided leadership for three comprehensive capital campaigns. He is an active member of numerous professional organizations and is frequently invited to be a presenter at conferences. Additionally, he serves on the Board of Trustees of the Eliza Jennings Senior Care Group. Mr. Fletcher earned both a bachelor's degree and MBA from Baldwin Wallace University.
Stephen D. Stahl, Ph.D. - Provost
Serving as the University's chief academic officer since June of 2013, Dr. Stahl has forged a distinguished career as an academic leader, collaborator and team builder who initiates innovative programs to meet the needs of today's students. Dr. Stahl came to BW from Wheeling Jesuit University in W.Va. where he served as vice president for academic affairs and dean of the faculty. Prior to that, he held positions as dean of the School of Arts & Sciences at St. Bonaventure University; vice president for academic affairs and dean of the college at Sweet Briar College, where he also held a faculty rank as professor of environmental sciences; dean of Natural and Social Sciences and Professional Studies at the State University of New York College (SUNY) at Fredonia; and chairperson of the Geology Department at Central Michigan University. Dr. Stahl completed both his doctorate and master's degree in geological sciences at Northwestern University.
Trina Dobberstein, Ph.D. - Vice President for Student Affairs and Dean of Students
Dr. Dobberstein oversees the Division of Student Affairs including the offices of Residence Life, Student Life, Student Activities, Greek Life, the Student Union, the Health and Counseling Center, SPROUT, ACES, CARE, International Student Services, the BW Scholars Program, Community Outreach, Multicultural Student Services, Student Conduct and Explorations/Study Abroad. Prior to coming to Baldwin Wallace University, she served as vice president for student affairs at West Virginia Wesleyan College. Dr. Dobberstein received a bachelor's degree from Luther College and a master's degree from Bradley University before earning her PhD in Educational Administration from Illinois State University.
Patrick J. Dunlavy '71, M.A. - Vice President for Advancement
Mr. Dunlavy, who oversees alumni relations and fundraising activities for BW, came to his current post after a distinguished business career. He spent the first 28 years in the investment banking industry, serving as managing director for Salomon Brothers Inc. in New York. After taking early retirement following the merger that formed Citigroup, Mr. Dunlavy completed an MA in communications and education from Teachers College, Columbia University. He most recently worked as an officer with CitationAir in Greenwich, Conn. and BoardEx in New York City. As a member of BW's Board of Trustees for 24 years, Mr. Dunlavy served on both the advancement and enrollment management committees, and twice served as the Board's volunteer national chair for the University's Annual Fund drive.
William M. Reniff, MBA '76 - Vice President for Finance and Administration
Mr. Reniff brings more than 30 years of finance and management expertise to BW, most recently as vice president for finance with MetroHealth System, Inc. Prior experience includes positions with Kaiser Permanente, Ernst & Whinney and St. Vincent Charity Hospital. Mr. Reniff is a graduate of Cleveland State University and earned an MBA from Baldwin Wallace University.
Scott Schulz, Ph.D. - Vice President for Enrollment Management
Dr. Schulz draws on a multilayered career foundation as researcher, policy expert and successful leader in the recruitment and retention of students. Prior to his 2015 appointment at BW, Dr. Schulz served as dean of enrollment at St. Martin's University in Lacey, Wash., where he recruited the strongest academically prepared class in the institution's history, improved retention rates, grew the enrollment of transfer students and attracted a more geographically and racially diverse freshman class. Previously, he was program director at the University of Southern California's Center for Enrollment Research, Policy, and Practice, where he also produced a podcast on best practices. Dr. Schulz earned his undergraduate and graduate degrees at The University of Arizona, where he focused his doctoral work on analyzing the enrollment priorities and recruitment strategies of master's level institutions.
BOARD OF TRUSTEES
Charles E. Rotuno '86 - Chair
Wooster, Ohio
President and CEO, OEConnection
Christopher M. Zito '80 - Secretary
Rocky River, Ohio
President, Zito Insurance Agency, Inc.
Daniel C. Hagen '77 - Assistant Secretary
Brecksville, Ohio
Partner, Jones Day law firm; chair of the firm's employee benefits and executive compensation practice
Lee Thomas '76 - Treasurer
Gates Mills, Ohio
Retired managing partner, Ernst & Young
Stephen W. Boesel '68
Baltimore, Md. and Sarasota, Fla.
Retired vice president, T. Rowe Price Associates
Donald W. Bogus '69
Williamsburg, Va. 
Retired president, Noveon, Inc., a wholly-owned subsidiary of the Lubrizol Corporation
George Boyer '51
Jamestown, R.I.
Retired limited partner, Goldman Sachs & Company; BW's longest tenured board member (since 1969); and BW endowment manager
Paul H. Carleton '70
Shaker Heights, Ohio
Managing partner, Carleton McKenna & Co., LLC
Willard E. Carmel '52
Bay Village, Ohio
Registered principal and financial advisor, Raymond James Financial Services, Inc.; former chairman and CEO, McDonald Investments
Paul Clark '81
Shaker Heights, Ohio
Regional president of Cleveland, PNC Bank
Pamela Dunn Connolly '71
Longboat Key, Florida
Retired attorney and corporate counsel, Wal-Mart Stores in Bentonville, Arkansas
Robin C. Cottingham '79 and '96
University Heights, Ohio
Senior vice president and RISC officer, KeyBank's National Banking Group
Tim Cowen '80
Ashland, Ohio
President, Cowen Truck Line
Ryan R. Cross '97
Bratenahl, Ohio
Vice president and campaign director for institutional relations, University Hospitals
James Miller Davidson '58
Devon, Pa. 
Retired managing partner, Davidson Investment Counselors; president and CEO, Davidson Trust Company
Richard Desich
Bay Village, Ohio
Vice president and co-founder, Equity Trust Company; president of Equity Trust's brokerage affiliate, ETC Brokerage Services 
Agnes P. Dover '76
Washington, D.C.
Partner, Hogan Lovells; director of the firm's government contracts practice group
Lutul D. Farrow '98
Strongsville, Ohio
M.D. and assistant professor, Department of Orthopaedic Surgery, The Cleveland Clinic Orthopaedic and Rheumatologic Institute; member, Cleveland Clinic Sports Health; team physician, Cleveland Browns; head team physician, Brunswick High School
Gina D. France
Medina, Ohio
President & CEO, France Strategic Partners LLC
Bennett Gaines '75
Richfield, Ohio
Senior vice president, corporate services, and chief information officer, FirstEnergy Service Company, a subsidiary of FirstEnergy Corp.
Michael G. Hanna, Jr. '58
Bethany Beach, Del.
Retired chairman and CEO of Vaccinogen, Inc.; discoverer and developer of the cancer vaccine OncoVAX; chairman emeritus and chief scientific officer of Intracel Resources
John Hoyt '67
Allison Park, Pa.
President of Pittsburgh Critical Care Associates, Inc.; clinical professor of critical care medicine, University of Pittsburgh
John Kropf '65
Orrville, Ohio
Senior partner, Kropf, Wagner, Lutz & VanSickle LLP
Debra Lyons '94
Ashland, Ohio
Retired chief human resources officer, Westfield Group
Nora T. Mahoney '10
Cleveland, Ohio
Associate counsel, Carleton, McKenna and Company, LLC
David F. Martin
Lakeside, Ohio
Retired senior pastor, Rocky River United Methodist Church
Wade I. Massad '89
Rocky River, Ohio
Co-managing partner, principal owner and co-founder, Cleveland Capital Management, LLC
Randell McShepard '86
Beachwood, Ohio
Vice president of community affairs, RPM, Inc.; founder PolicyBridge
Edward Napoleon, Jr. '75
Strongsville, Ohio
Retired principal, Ernst & Young LLP
Peter V. Neffenger '77
Alexandria, Va. 
Retired vice admiral, U.S. Coast Guard, and managing principal, Neffenger Consulting LLC
Steven M. Nobil '69
Aurora, Ohio
Managing partner, Fisher & Phillips LLP; co-founder, Millisor & Nobil Co., LPA
Paul E. Pendleton
Sagamore Hills, Ohio
President, Pendleton Enterprises; executive director, Ohio Council for Academic Excellence; adjunct faculty member at several universities
Vincent K. Petrella '82
Westlake, Ohio
Senior vice president, CFO and treasurer, Lincoln Electric Holdings, Inc.
Mark H. Summers '75
Avon Lake, Ohio
COO and managing director, MAI Wealth Advisors, LLC; retired senior managing director, Key Corp.
William B. Summers, Jr. '72
Rocky River, Ohio
CEO, McDonald Investments; member of the board of directors, New York Stock Exchange; and chairman, NASDAQ Stock Market Board of Directors
Elizabeth Mayer Swailes '65
Oxford, Ohio
Restaurant, real estate and retirement community entrepreneur; musician
Donna Zapis Thomas '84
Rocky River, Ohio
Director, Rockport Retirement Community and Harbor Court Retirement Community
James A. Thomas '59
Los Angeles, Calif.
Chairman and CEO, Thomas Properties Group LLC; former owner, NBA's Sacramento Kings
Floyd A. Trouten '80
Strongsville, Ohio
Director, Barnes Wendling CPAs, Inc. 
Michael A. Vadini '83
Charlotte, N.C.
Founder and chairman, SignUpGenius.com and Torus Sphere Inc. 
Thomas Waltermire
Green, Ohio
Chairman of the board, Vadxx Energy
Susan Zanetti '91
Bay Village, Ohio
Senior specialty sales associate, Promius Pharma 
Chris Zito '80
Rocky River, Ohio 
President, Zito Insurance Agency, Inc.