> Fall 2020: Information for Conservatory Students
Fall 2020: Information for Conservatory Students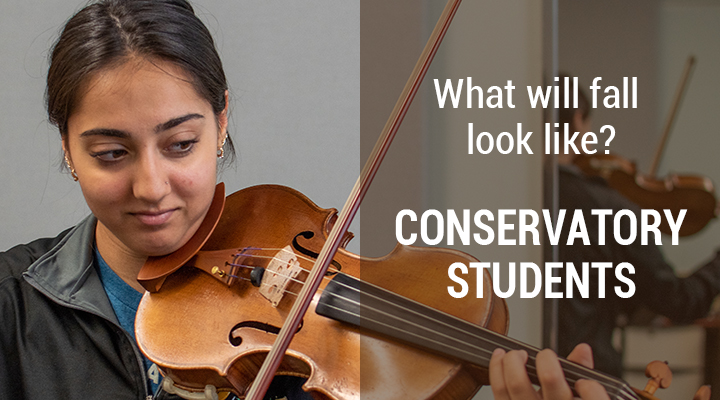 Updated August 21, 2020
The Conservatory of Music is developing innovative and responsible ways to achieve physical distancing, to utilize masks and passive personal protective equipment, and to employ creative "COVID-19" staging and ensembles for the fall semester.
View the Conservatory of Music Fall 2020 COVID-19 Protocols >
What You Need to Know
Planning for fall courses takes into consideration the unique challenges related to physical proximity, use of instruments, singing and other factors related to safe physical distancing and health practices in the performing arts.

No fall courses have been canceled and 60% or more of Conservatory classes this fall remain in-person with blended instruction, including all performance classes. In-person classes in the Conservatory have an average size of nine (9) students.
All in-person classes are taught with physical distancing of 6 feet or more.
All classes with singing are meeting in a space best designed for ventilation and additional physical distancing.
Because of classroom size limitations, 92% of theory courses are online this fall.
50% of fall music history & literature courses will remain in-person with blended instruction.
Keyboard classes will be taught in-person with blended instruction.

Classroom and rehearsal space assignments, as well as physical modifications to classroom layouts, enable the practice of COVID-19 health protocols.

11 new voice-exclusive practice rooms have been created. These are large enough for both a singer and an accompanist.
13 faculty members have moved into different studios to improve physical distancing.
The MIDI lab should be used exclusively as an open-access lab with 10 physically distanced stations for students requiring access to technology.
Time between scheduled meetings in academic classrooms allows for room ventilation times of 40 minutes or longer in most cases. 
Two conditional use permits have been obtained from the City of Berea to augment Conservatory facilities. These include the use of St. Adalbert elementary school and the Community Arts School Whistle Stop location.

Performances and recitals on campus will be limited to participating students and sponsoring faculty and staff only. Many events and performances will be livestreamed and/or archived (as permitted by licensing agreements) for others to watch remotely. A full list of livestreamed and recorded performances and events will be available on the Conservatory of Music events page.

Outside these carefully crafted experiences, Conservatory students are expected to follow all health and safety guidelines and protocols established for all BW undergraduate students.

We continue to work with medical professionals, using the best available science, to inform our re-opening plan for fall semester. In response to new information, we have adjusted our initial ensemble plans for the fall semester. Plans are as follows:

The BW Symphony Orchestra, Symphonic Wind Ensemble and Symphonic Band will continue to meet in-person. These ensembles will focus more on recording projects and less on live performances than in the past. Orchestra and wind bands will be smaller in size and rehearsals will be shorter.

Symphony Orchestra: Exclusively comprised of strings. No more than 15 string players at a time in alternating short in-person rehearsals. We will employ 9-foot physical distancing between all players, exceeding CDC spacing guidelines. Masks will be worn during all rehearsals.
Wind Bands: Smaller ensembles of 12 or fewer players at a time in alternating short in-person rehearsals. Large ensemble works will also be used for recording projects. Rehearsals will be outdoors when possible, utilizing our beautiful nearby green spaces. We will employ 9-foot physical distancing between all players, exceeding CDC spacing guidelines. Customized instrumental facemasks and bell covers will be used throughout all rehearsals.

Conservatory choirs will be offered in fulfillment of large ensemble degree requirements. To preserve safety, the ensembles will focus on remote/online sung recording projects and/or other meaningful learning experiences in lieu of in-person group choral singing. Outdoor in-person meetings without singing may be possible when appropriate, utilizing our beautiful nearby green spaces and ample tents.

Practice Room Policy

In order to ensure the health and safety of all students, faculty and staff, and to allow for required contact tracing, all practice spaces must be reserved before use.

Practice rooms in the BW Conservatory of Music will be assigned for student use and divided by instrument and studio. Rooms will be assigned by the number of students in a given studio with multiple rooms assigned for larger studios, and single rooms for smaller studios. All students will be assigned one practice room which should be used for all individual practice including, but not limited to, primary and secondary instrument practice, applied course study and/or composition study.

Before the start of the semester, students received a virtual sign-up schedule for their assigned room along with guidelines for maximum daily practice times and required ventilation breaks. Times may be edited throughout the course of the semester to account for changing schedules, but students must adhere to the ventilation times listed on each schedule and specific to each room. Students are encouraged to schedule longer practice sessions when possible which will create less total time needed for ventilation and, ultimately, more time available for practice. Once students determine the weekly practice room schedule, it will be reviewed and approved by the Conservatory concerts and events team.

Please note that this policy is drastically different from what students have followed in the past; practice room use is no longer available on a first-come, first-serve basis. All practice time must be scheduled in advance, either through the assigned practice room or in an alternate space available, based on instrument type.

Based on physical distancing guidelines, most practice rooms can hold one person maximum with the exception of newly created voice practice rooms which are large enough to include a singer and accompanist. When using a practice room alone, students are permitted to take off their masks, however anytime there is more than one person in a practice room, everyone must wear a mask. Students wishing to rehearse with an accompanist or others will need to reserve time in a larger space utilizing the campus scheduling reservation system, EMS.

Practice Room and Studio Cleaning Protocol

Practice rooms and studio practice spaces will be cleaned and sanitized by BW staff once per day as a part of regular cleaning protocol. It is recommended that students leave the piano keyboards in practice rooms or studios closed if they will not be using the instrument so that the keyboard does not need to be cleaned following use of the room.

Students are required to wipe down the practice room before and after use using only approved cleaning wipes provided and according to the posted policy for how cleaning should take place. Students should carefully clean door handle, chairs, music stands and benches. For students planning to use the piano, they should plan to wipe the keyboard down at the beginning and end of their practice session as well using only the provided sanitizing wipes. Care should be given to make sure only the keyboard is wiped, and that each key is sufficiently cleaned. Be sure to dispose of used wipes in the waste containers available in the hallways outside of practice rooms.

Studio Practice Policy

Select studios may be made available for student use after regular studio teaching has concluded each day. Studio practice will be prioritized for students who want to practice with more than one person or with an accompanist.

As with regular practice rooms, studio spaces will be available only for students of a given instrument or studio. Scheduling of studio spaces will be handled utilizing the campus scheduling reservation system, EMS. Students will submit requests for studio space using the online reservation request system via myBW. Those requests will then be reviewed and approved by the Conservatory concert production and scheduling coordinator. If approved, students should plan to check out the key to that space from the main office between 12 p.m. and 4 p.m. on the day they have the space reserved. Only one key per studio space will be permitted to be checked out on a given day and students may not share the key with others. The checked out key should be returned to the main office before 12 p.m. the next day. Students may not hold onto keys for more than one day and may not reserve a studio for two consecutive days. This allows other students in the studio to utilize the space as well. 

Students of the same studio should plan to coordinate with one another if they need access to the room for specific rehearsal times, but under no circumstance should a student allow another student to use the studio space while they are in possession of the studio key, unless that student is part of their rehearsal to begin with.

Any time more than one person is involved in a practice session, masks must be worn by everyone involved at all times. Care should be taken to not to disturb anything in the studios and that the studio is returned to the same state in which it was found. Students should never use, borrow or remove any items, instruments, music or other personal belongings from studios. The cleaning policy noted above must be followed before and after use of a studio for practice. Students that abuse any part of this policy or do not return the key on time after their practice session will lose access to studio practice time.

Piano Key Cleaning Protocols

Please disinfect when you arrive and before you leave.

Remove one wet wipe and use it to clean all keys.

Begin by cleaning black keys and narrow parts of white keys. You can clean them in groups, cleaning from the backs of keys toward you.
Then clean the wide parts of the white keys.
Wipe across the fronts of the white keys.

Lightly wipe music desks and areas of piano case (the black finish) around keys (Please do not wipe entire piano or inside piano!)

Try to wipe in direction of the black satin finish lines if the piano has them.

DO NOT use any spray cleaner on the pianos.
Discard used wipes in the hallway trash receptacles.

Organ and Harpsichord Key Cleaning Protocols

Please wash your hands thoroughly before and after you use the instrument. DO NOT use any cleaners, wipes or water on the instruments.

As many aspects of life in the Conservatory are different this year, we offer a list of items that may be helpful in maintaining a safe and healthy protocol for your music study.

Essentials:

Your own set of washable, well-fitted cloth face masks.
A reliable thermometer.
Ample amounts of hand sanitizer (with at least 60% alcohol).
Laptop, phone,or tablet for blended instruction (let us know if you do not have access to any of these).
Abundant cleaning supplies for your instrument, mouthpieces, neckpieces, bocals, etc.
Towels or puppy pads for saliva management for brass players and low woodwind players (baritone saxophone, contrabassoon, etc.)
Headphones for students in keyboard classes. This set is recommended.

Nice to have:

Your own portable music stand that you would not share with others. We will provide sharable music stands and disinfecting wipes.
Clothespins and other ways to secure music on your music stand when rehearsing outdoors.
A standard CAT 5 ethernet cable for your residence hall room or practice spaces to connect your laptop or tablet to a network (provides better audio for lessons in blended instruction).
Audio adaptors for your headphones to connect to one-quarter inch or one-eighth inch audio plugs.
A USB microphone that can plug directly into your laptop or tablet for blended or online lessons.

Testing, Screening and Contact Tracing

To help protect our students, faculty and staff from COVID-19, BW has developed a robust and comprehensive program of testing, screening and contact tracing. Conservatory students were required to complete a COVID-19 test upon their arrival to campus. View full details on COVID-19 testing, screening and contact tracing.

Hours

Jones Music Library

Monday: 9:30 a.m. - 4 p.m.
Tuesday: 9:30 a.m. - 8 p.m.
Wednesday: 9:30 a.m. - 4 p.m.
Thursday: 9:30 a.m. - 8 p.m.
Friday: 9:30 a.m. - 4 p.m.

Riemenschneider Bach Institute

Monday – Friday: 11 a.m. - 4 p.m.

Services

Reference assistance will be available, primarily on a virtual basis. Paul Cary is available via email, phone (440) 826-8074, Zoom and chat.

The shelves will be open for browsing. Users are expected to sanitize the controls on the movable shelving before and after use.

Materials will circulate normally with reduced touches at checkout. All materials will be set aside (quarantined) for three days upon return. OhioLINK borrowing will be available but will be slower due to the quarantine period and other pandemic-related issues.

Please return all items, including devices, in the book drops outside the respective libraries.

We will be starting an on-request delivery service to faculty studios in the Conservatory complex. Items will be delivered in an envelope when student staffing allows. Faculty members can call the library at (440) 826-2375 to request this service.

Public computers will be available but fewer in number to accommodate physical distancing. Users are expected to sanitize before and after use.

The photocopier/scanner will be available as self-serve, as it has always been. Users are expected to sanitize before and after use.

Staplers and hole punchers will be available as self-serve, as they have always been. Users are expected to sanitize before and after use.

Headphones are not available.

Devices

Surface tablets, iPads, microphones and recording devices will continue to circulate as in the past, with a two-week loan period and a renewal possible. Devices will be sanitized by library staff upon return.

Safety

All persons are required to wear a mask at all times in the libraries.
Physical distancing must be maintained.
Food and drink are prohibited in both libraries.
All users are expected to sanitize any surfaces or objects they use.
Two wall-mounted hand sanitizer stations have been installed.
Plexiglass barriers have been installed at the circulation desks.

Campus Updates

View the latest information on:

Remember to check your BW email and revisit this page often for updates.