Classroom 'superpowers' earn alumna the 'Oscar' of teaching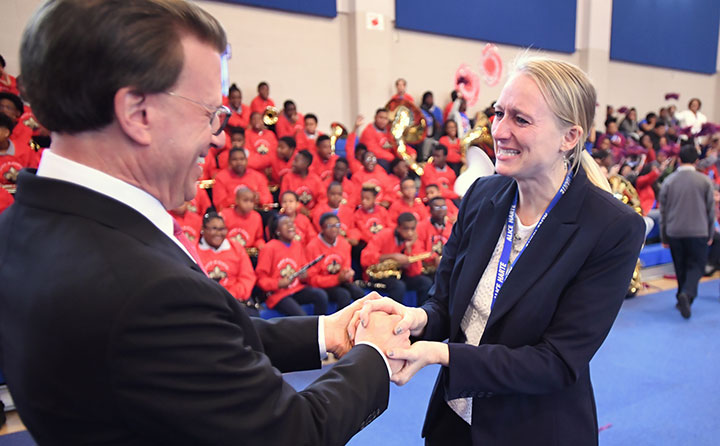 Lauding her "superpowers" in the classroom, the Milken Family Foundation recently honored Baldwin Wallace University alumna and master teacher Theresa Cross with a $25,000 Educator Award. The event was part of the foundation's national tour surprising outstanding educators with the "Oscar of Teaching" and its accompanying unrestricted cash prize.
Cross, a BW business graduate (both BA '04 and MBA '06), put her considerable "goal-oriented and purpose-driven" skills to work in the classroom in New Orleans where she is a TAP master teacher as part of the National Institute for Excellence in Teaching's (NIET) TAPTM: The System for Teacher and Student Advancement. 
Emotional, 'surreal' surprise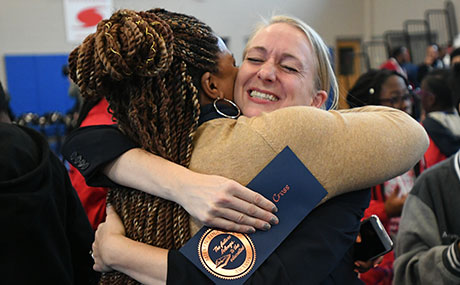 Milken Family Foundation chairman and co-founder Lowell Milken and Louisiana Superintendent of Education John White presented an astounded Cross with the award, as colleagues, students, dignitaries and media applauded. 
An emotional Cross called the moment "absolutely surreal" and said she teaches, not for recognition but, for the joy of seeing her students flourish. She added, "This is going back to the school and deserves to be all of ours."
Extraordinary outcomes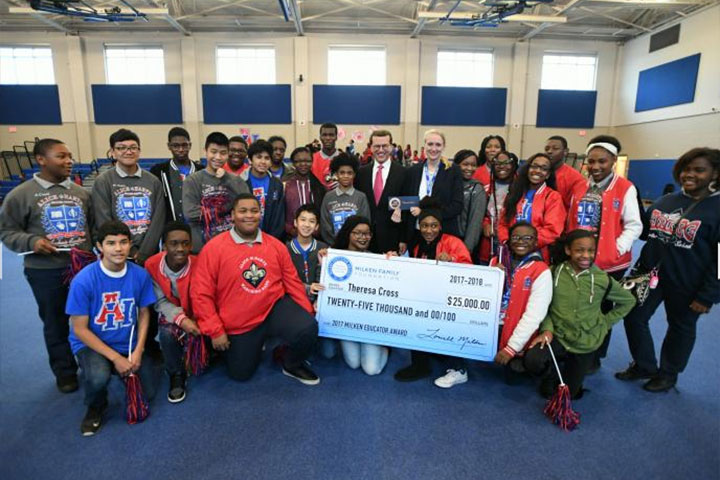 Cross teaches eighth-grade math and Algebra I at the Alice Harte Charter School in the InspireNOLA school district, a school that has achieved four straight years of "A" ratings.
Her algebra students consistently earn high school credit by achieving a 100 percent pass rate on end-of-course exams, compared to the state's 34 percent average.



Rewarding outstanding teaching talent
Hailed as the "Oscars of Teaching" by Teacher magazine,The Milken Educator Awards were  conceived to attract, retain and motivate outstanding talent to the teaching profession. 
Over the past three decades, the Milken Family Foundation has devoted more than $138 million in funding to the awards, including $68 million in individual awards to more than 2,700 recipients, plus powerful professional learning opportunities and networking with leading education stakeholders.
For the most recent round of awards, 44 teachers across the country were singled out, including Theresa Cross.