Business professor's growing seminar series unlocks hidden potential and resilience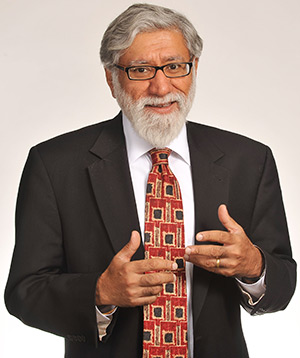 Dr. Param Srikantia is dedicated to helping others find resilience, hidden potential and "the magic of inner peace," but first he has to tell you exactly "Why Life Sucks."
Since his first presentation under that provocative title in 2012, Srikantia has pioneered a genre of "hidden potential" workshops that have been hailed as a "paradigm shift" in the seminar world.
Unorthodox, riveting approach
In his interactive talks, Srikantia applies timeless, cross-cultural wisdom to the challenges of diverse client groups and audiences.
"The common thread in my seminars is the use of diverse methods and perspectives from across the world that enable us to tap into the deepest reservoirs of human potential," he says.
His unorthodox but riveting delivery encompasses stand-up comedy, storytelling, pantomimes, living philosophy, role-playing and mindfulness practices.
The approach has attracted national and international recognition through public seminars that have reached more than 20,000 participants in Cleveland, Boston, Chicago, New York, Washington D.C., Cincinnati, Pittsburgh and San Francisco.
In good company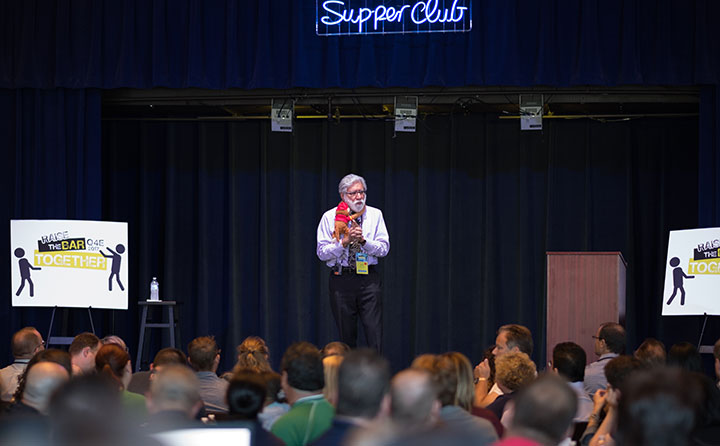 With sky-high participant ratings, the internationally renowned Institute for Management Studies (IMS) recently invited Srikantia to present one of his seminars at their annual meeting in San Francisco, attended by a select audience from 26 cities across the U.S., Canada and Europe. 
The director of program planning for IMS, Steven Daniel, Ph.D. (Cornell), equated Srikantia's capabilities with those of seven legendary management educators.
"Dr. Srikantia is one of the very best educators with whom IMS has worked," Daniel wrote. "This is saying a great deal, as IMS has been around since 1974 and has been fortunate to work with many remarkable people over the years, including Stephen Covey, Charles Handy, Peter Drucker, Michael Porter, David Ulrich, Vijay Govindrajan and Ram Charan to name just a few. As a thinker and educator, I believe that Dr. Srikantia occupies a secure place in this exclusive group."
Differentiated and customized
Observers have said that Srikantia is inhabiting a "blue ocean" space, in which he is uniquely differentiated, integrating insights from the social sciences and humanities, cross-cultural wisdom drawn from global traditions of both the West and East, along with the writings and rare insights of the Indian mystic Osho.
The approach has earned high praise from large audiences at such diverse organizations as the Cleveland Clinic, NASA, General Electric Company, the Federal Reserve Bank, the Veteran's Administration, Bendix, Forest City, University Hospitals, Buckeye Health and the Cleveland Metroparks to name a few.
In each case, Srikantia tailors the seminar material based on client interests or requests.
Wisdom trumps knowledge
In the seminars, Srikantia warns against becoming "human doings" or "human havings" rather than human beings. True happiness, he contends, "comes only when you stop trying to use external evidence to prove your self-worth."
"Every one of us is trying to be extraordinary, which implicitly means you've already decided you aren't."
Srikantia has earned the equivalent of four master's degrees and a Ph.D. and uses his own life as an example of how academic achievement was an attempt to relieve his feelings of inadequacy. "Inner peace comes from loving yourself. It doesn't happen by achieving 'stuff,'" he said.
A popular professor in BW's School of Business, Srikantia believes his seminars apply to all majors and all types of people. "This wisdom is disappearing because it isn't in modern education systems. We are full of knowledge, but devoid of wisdom."
---
Hidden Potential Seminars with Param Srikantia
After the success of "Why Life Sucks," Srikantia introduced a series of new seminars that explore ways to address everyday challenges and unleash hidden potential. 
Leadership and Personal Growth Topics
• Why Life Sucks: Enjoying the Lightness of Being
• Unleashing Your Deeply Hidden Potential
• Awake in a World that is Sleepwalking
• Beyond the Ecstasy of Love and The Agony of Marriage 
Management & Organization
• The Manager as an Enlightened Presence
• Beyond Emotional Intelligence: The Art of Mindful Management
• Overcoming Anger, Stress and Anxiety: A New Perspective on Management
• The Manager as Healer & Energizer
Healthcare and Well Being
• Caregiving and the Mindfulness Revolution in Health Care
• Rejuvenating Our Being: Thriving In Illness
• Fostering the Health of Health Care Professionals
• Facing Death: A Cosmic Prelude to The Unknown
Parenting and Education
• The School as Factory: Protecting Your Children From Manufactured Ignorance
• The Art of Compassionate Parenting
To see the latest seminar schedule at BW, visit the BW MBA Association for updates.
---
About Param Srikantia
Param Srikantia, professor in BW's School of Business, is a former television host in India who knows the art of entertaining and energizing a live audience.
Business Career
Before joining BW, Srikantia was consultant to The World Bank Group, designing workshops on poverty reduction strategies for finance ministers from 30+ countries. Earlier, as program officer for an organization established by the U.S. Agency for International Development, he delivered workshops on strategic planning to top management teams in 70 countries. In India, he headed up human resources for American Cyanamid Company and was personnel manager for the Unilever Group.
Publishing & Presentations
Srikantia's book "The Architecture of Human Greatness" is based on a five-year research study which involved talking with thousands of people from around the world about extraordinary moments in their lives. Srikantia also has authored, published or presented more than 35 scholarly papers.
Education
Srikantia holds a doctorate in organizational behavior from Case Western Reserve University and master's degrees in business administration, human resources and organizational psychology.
Teaching Experience
Beyond BW, Srikantia served as lead faculty at the Weatherhead School of Management, Case Western Reserve University and as visiting faculty at the School of Public Policy, George Mason University, Washington D.C. He also taught in the business program at University of Iowa, Jamnalal Bajaj Institute in India and FAE Business School in Brazil.
Consulting & Research
Srikantia consulted and led research projects for the National Science Foundation, the World Bank, Catholic Relief Services, Coca Cola, Arthur Andersen & Co., Siemens, Cadbury's, Unilever and United Technologies.