Music composition major discovers voice at BW and abroad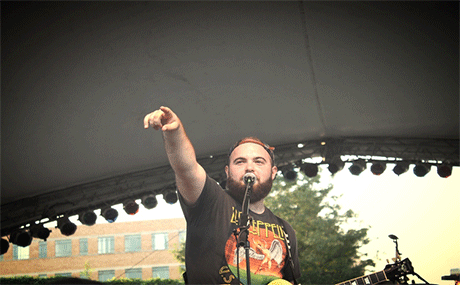 When Tyler Hawes '18  transferred to BW from the University of Akron, the music composition major brought along a multidimensional musical talent. With big dreams of one day scoring a major motion picture, he continues to develop in BW's celebrated Conservatory of Music.
Hawes, a guitarist, drummer, bassist and vocalist, is actively shaping and chasing his musical dreams on campus and throughout the community. The multi-instrumentalist is a drummer in the BW Jazz Band, a member of the BW Percussion Ensemble and played guitar with the BW Beatles at the seventh annual BW Beatles Festival.
Living the Dream
With the ultimate dream of becoming a film composer, Hawes has contributed his composition skills to several high-profile projects. "At BW, I've had opportunities to write for Bela Fleck, the Brooklyn Rider string quartet, and Francesca Anderegg and Brent Funderburk (renowned Juilliard graduate violinist and pianist), as well as the BW orchestra and other small ensembles here," Hawes recounted.
"Thanks to such open-minded faculty who are willing to support all types of new ideas and experiments, I've been able to find my voice in music," he continued.
Instrumentalist Extraordinaire
Hawes possesses the exceptional ability to make any musical instrument he touches sing, from strings to percussion. His latest instrument is the ngoni, a guitar-like instrument he became familiar with during his study abroad trip to Ghana.
Hawes was one of 19 students to participate in BW's first study abroad trip to Ghana, West Africa last spring. While there, the group studied the history, modern society, and traditional music and dance of the area.
Singing in the Rain
The business of music is fiercely competitive, yet Hawes is confident the Conservatory has prepared him for success.
"All musicians are told upon choosing this career path that it's a very risky field to get into," Hawes explained. "Finding the strength and determination to follow my passions in music has been the biggest hurdle. But with the right mentorship and encouragement and a good mind, any dream is within reach."