BW grad working his way up NFL pro scouting ladder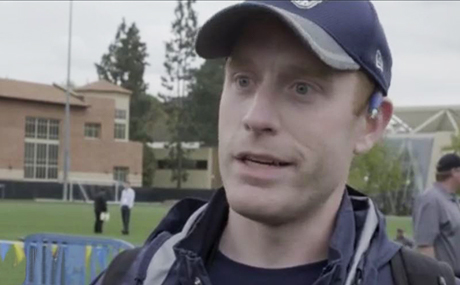 As the West Coast scout for the National Football League's Los Angeles Rams, Brian Hill '11 is a rising star in the industry as he hunts daily for the next great NFL players at college talent scouting combines. His evaluations will be key for the Rams in the upcoming April 27-29 NFL Draft.
Day in the life of a pro scout
"I absolutely love what I do," said Hill from his hotel room on the road in Boise, Idaho. "I cover nine West Coast states and every day is different and exciting. I get to a school around 7 or 8 o'clock in the morning, watch film and talk with the coaching staff and players to get a feel for the prospect. I watch spring practice and then try to meet as many people who know the prospect as possible. That helps in the areas of background information, mental and physical prototype, and character assessment."
Hill spends his evenings writing up his reports for the Rams director of college scouting and the national scout who cross-reference with information they've gathered. "It gives us a chance to compile a full evaluation prior to draft day."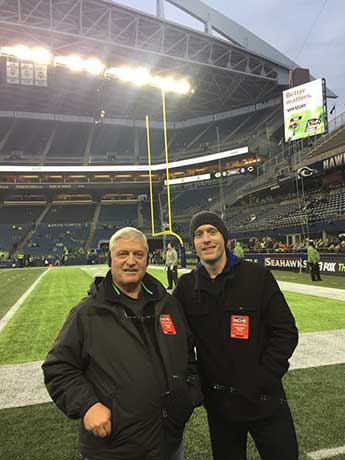 BW and Browns career foundation
Hill credits his time at BW as instrumental to his success. "I chose BW because of the sport management program and its excellent faculty, and for BW's proximity to the [Cleveland] Browns and other professional sports teams." In fact, Hill interned with the Browns as a BW senior and got his first taste of operations and scouting.
Prior to joining the Rams, Hill interned with the Tennessee Titans in scouting and did another internship with the Kansas City Chiefs. Three years ago, he joined the Rams organization when it was in St. Louis and he made the transition to Los Angeles when the team moved two years ago.
Perseverance, sacrifice and hard work
"After two seasons as a scouting assistant for the St. Louis Rams, I was promoted to West Coast area scout last year. My next step is to become a national scout, then the director of college scouting and ultimately be a player personnel director," said Hill of his career game plan.
"I have come a long way," said Hill, "I worked entry-level jobs and internships for about five years before landing a full-time job . . . The journey was all about perseverance, sacrifice and hard work, and it was all worth it."