Day of Excellence celebrates spectrum of success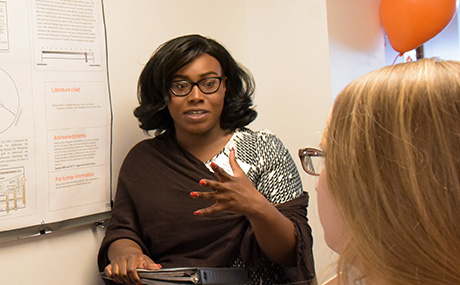 The Day of Excellence is the signature event of the 10-day Ovation Festival. Held April 27, the vibrant celebration of student achievement and creativity presented the best of BW and highlighted student work from every school of the University through posters, displays, live presentations and performances.
The day concluded with a campus-wide Honors Awards Ceremony that recognized students with scholarships and awards, and honored faculty members for their dedication to teaching and learning.
2017 Ovation Winners
Faculty Recognition
Strosacker Award for Excellence in Teaching
Dr. Ven Ochaya
Associate Professor and Director of MBA in Entrepreneurship
Bechberger Award for Human Development
Ken Atchinson
Associate Professor
The Gigax Faculty Scholarship Award
Dr. Diana Barko
Associate Professor
Dr. Steven Siry
Professor
The Exemplary Teacher Award
Dr. Sungeun Kim
Associate Professor
Excellence in Community Engagement Award
Dr. Lisa Green
Professor

The Student Senate Faculty Excellence Award
Dr. Thomas Sutton
Professor and Burton Morgan Chair in Entrepreneurial Studies
Student Recognition
A. Fred Crossman Leadership Prize
Rhea Mendiratta
Alan Blumenthal Prize in Student Government
Kevin Kaufhold
Dr. Mark G. Noffsinger Award for Leadership
Madison McNeil
Mark G. Noffsinger Award for Outstanding RA
Kiara Kennelly
Barbara H. Fortin Award for Outstanding First-Year RA
Erin August & Kristen Goddard
Bonnie Raye Scholar/Athlete Award
Erin Kasper
Clyde Lamb Scholar Athlete Awards
Alex Kurtz & Madeline Russell
Kenneth F. Steingass Outstanding Senior Male Athlete Award
Cole Nieto
Outstanding Senior Woman Athlete Award
Kelly Gough
Overmyer Achievement Award
Yousef Mustafa
Will Richmond Prize in Photography
Jessica Newbacher
Student Senate Faculty Excellence Award
Dr. Tom Sutton
Student Senate Staff/Administrator Excellence Award
Jaime Yager
The Professor David Prok Humanitarian Award for Social Justice in Sex and Gender Diversity
Emma Dombrowski
Outstanding Senior Awards Class of 2017
Vanessa Adu-Gyamfi, Aziz Ahmad, Kara Carpenter, Nathan Cole, Jordan Gase, Cassidy Lowden, Nikita Martin, Morgan Rudge, Joseph Simonis & Sydney Warren
Academic Recognition
Michael Keith Dwyer Art Scholarship
Samantha Gorczyca
Dr. James M. Ruegsegger Biology Prize
Andrea Huther
Amling Investment Award
Michael Derenard
Dr. Jacob O. Kamm Award
Gwyn Dubel
Lubrizol Foundation Business Administration Award
Katherine Gilbert
Ralph M. Dunbar, Jr. Scholarship
Brian Andrews
Walter & Elaine Mueller Scholarship
Kristi Vopat
Carmel Family Business Scholarship
Allison Thompson
The Dr. Sardari L. and Sunita Arora Scholarship
Alyssa Spear
Concerto Competition Award
Camilla Yoder
Mel and Jenna Hakola Prize for Academic and Vocal Excellence
Dawna Rae Warren
Adult Senior Academic Awards
Dan Deaton, Jeffrey Raycher & Kerry Zierenberg
Pavsek Award for Excellence in Economics
Tyler Lee
Jess & Arline Petty Scholarship
Karleigh Pluta
Alice Benedict Gagen Prize in Elementary Education
Mary Gorski
Harold A. & Louise Cramer White Prize
Carmen Hernandez
Ruby Redinger Prize in English
Cassidy Lowden
A.B. & Georgianna Bonds Scholarship
Christopher Dreger
Dr. William D. and Mary Pendell Memorial Scholarship
Clara Harb & Leandra Patton
Dr. Maria Marin Memorial Scholarship
Christopher Dreger
Hower/Stover Award
Kara Carpenter & Mackenzie Nelsen
Dr. Robert H. Lechner Memorial Service Award         
Lauryn Lanzer
Lee Tressel Scholarship
Adam Hoffman
George R. Grame Award
Rachel Wilkie
Dr. Emory C. Unnewehr Award
Kyle Pellegrin
Robert and Dorothy Bell Memorial Award in International Studies
Nikita Martin
Robert and Dorothy Bell Memorial Award in Political Science
Aziz Ahmad
Dr. Delo C. Grover Award
William Lekan
William Prokasy Psychology Alumni Award
Laine Gross & Zachary Sluzala
Dr. Ernest Knautz Award
Abigail Carter-Stephanopolous
Thomas "Jake" Beyer Award
Emily Dowling
Albert Morrill Memorial Scholarship
Joslyn Materna
Lillian and Larry D. Bibbee Scholarship
Andrew Henthorn & David Schwartz
John F. and Ida E. Gibler Scholarship
Neelab Abdullah & Brian Dreger