Ovation is Bigger, Broader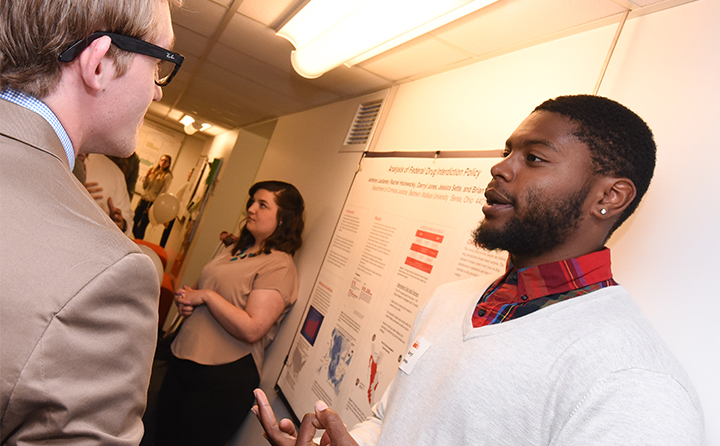 Celebrating student success at BW has gotten so big that one day just can't hold it anymore. With a nod to its role as BW's showcase for student achievement, Ovation is now a 10-day, multi-event festival that is bigger and broader in scope and activity.
"This is the 10-year anniversary of Ovation," said BW Provost Stephen Stahl. "As we considered its role on campus, we looked at ways to increase its depth and impact. So we expanded it from a one-day event to a festival having multiple activities that showcase the richness and variance of student success reflected through research and scholarship, the arts, experiential learning and athletics."
Celebration Spanning April 19-28
This year's kickoff event for Ovation is a speaker for The Marting Humanities Lecture Series. Dean Yoder, conservator of paintings at the Cleveland Museum of Art, will discuss the recent conservation efforts behind Caravaggio's masterpiece "Crucifixion of Saint Andrew" on Wednesday, April 19.
Also included in the schedule are the student art exhibition, Conservatory of Music and theatre events, Voices of Praise gospel choir concert, Sparky Adams track and field meet, 2016 Summer Scholars presentations and Jacket Philanthropy Project awards presentation.
Day of Excellence is Signature Event 
On Thursday, April 27, BW will celebrate its Day of Excellence. Newly revamped, the event will include its mainstay of activities–posters, displays, live presentations and performances – as well as a few additions.
Among new activities, BW will host a coffee shop in the Marting Lounge and a soapbox at Lyceum Square for students to share their ideas and encourage dialogue among attendees.
The culminating event of the day is the Honors Awards Ceremony, which recognizes the academic and co-curricular achievements of students and faculty excellence.
All events are open to the BW community and the public.