Communications Major Appears in Netflix Documentary
Ask Alexandra "Lexi" Winkelfoos '19 about WWII POW Ben Steele and she'll probably get emotional. Not just because the man she saw as a grandfather figure passed away last autumn at age 98, but also because Winkelfoos had the honor of paying tribute to him in a Netflix documentary.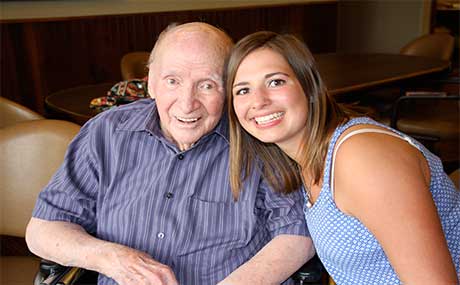 Winkelfoos, a communication studies major from of Mount Gilead, Ohio, first learned of Steele in high school when she read the novel "Tears in the Darkness: The Story of the Bataan Death March and its Aftermath."
Impressed with his courage, she contacted Steele and later traveled to his home in Montana to do a video interview with him as part of The Library of Congress Veterans History Project. A strong friendship was cemented that included weekly communication and multiple visits to his home.
An Unforgettable Hero
A history buff, Winkelfoos believes Steele is "the epitome of an American hero."
"My life has never been the same since meeting him. I appreciate every single thing I have and look at every situation differently. If he could survive the gruesome circumstances of disease, war, torture and starvation, I certainly have nothing to complain about," she emphasized.
Legacy Captured in Netflix Documentary
Winkelfoos' ongoing friendship with Steele led to an invitation to be part of a Netflix documentary, "Survival Through Art," that reflected on Steele's life and how he used artwork as an outlet during and after troubling times. The film is narrated by Alec Baldwin.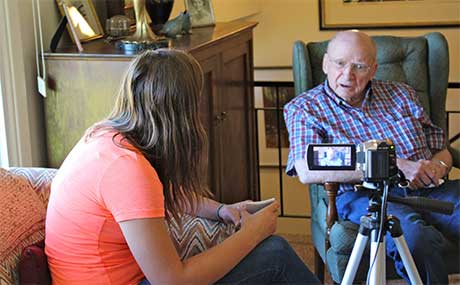 Winkelfoos has taken the lessons she learned from Steele and applied them to everyday life. She uses her grit and determination to assume major roles within the BW community and wakes up each day ready to make a difference.
History Honor Society Hosts Talk
The Baldwin Wallace University Delta-Upsilon chapter of Phi Alpha Theta National History Honor Society hosted Winkelfoos on Friday, March 24 for a discussion of her story, "My WWII Hero: From Bataan to My Heart."