Alumna Pairs Humor and Music in Successful Comedy Show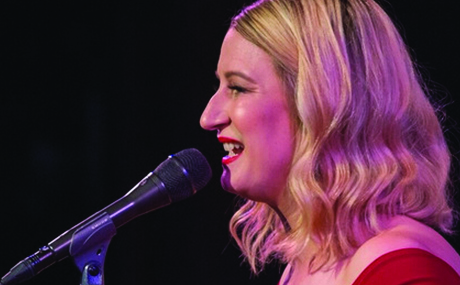 With a New Year's resolution to perform stand-up comedy and an extensive musical theatre background and education from Baldwin Wallace, Theresa Kloos '10 has spent 2016 and 2017 launching her one-woman musical comedy shows.
The success of her debut show, "Reasons to be Unpretty," with performances in New York and Cleveland, encouraged Kloos to stage a follow-up show, "Reasons to be Unsuccessful." The show, which has already been performed in New York, will make its Cleveland premiere on February 2 at 8 p.m. at Bop Stop at The Music Settlement.
A New Spin on Coming-of-Age Humor
In a broadwayworld.com review, Amy Oestreicher wrote, "Although this coming-of age story is one we've heard before, in 'Reasons to be Unsuccessful,' Kloos is able to put a unique spin on it in. I came away with an appreciation of her powerhouse act of spectacular belting, quirky humor, fearless vulnerability that both entertains and strikes that dormant part of us that has longed to start fresh but has been too intimidated to start. What Kloos teaches us, however, is that the only 'failure' is not starting at all. 'Unsuccessful' succeeds with heart, comedy, and Midwestern charm."
Comedy with a Musical Twist
Rather than a typical comedy show, Kloos decided to incorporate her passion for music and singing into her own comedic performances. Her inclusion of a live band tends to surprise audiences, who typically do not expect the unorthodoxy.
Kloos pairs commonly-known pop and rock music works with her own stories. "For example," she said, "in my first show, I tell the story that when I was young, I thought I was supposed to marry my brother. Singing the Beach Boys 'Wouldn't It Be Nice' while telling that story gives the lyrics a whole new meaning."
BW's Impact
The seeds for Kloos' successful shows were planted, in part, at BW, where she was tasked with producing her very own senior recital. "That experience gave me such ownership of my work and gave me the experience to be able to write and produce my shows in New York."
Tickets for the Cleveland premiere are $15 for adults, $10 for students, and can be purchased at www.themusicsettlement.org.