There's Lots of Sparkle with This Internship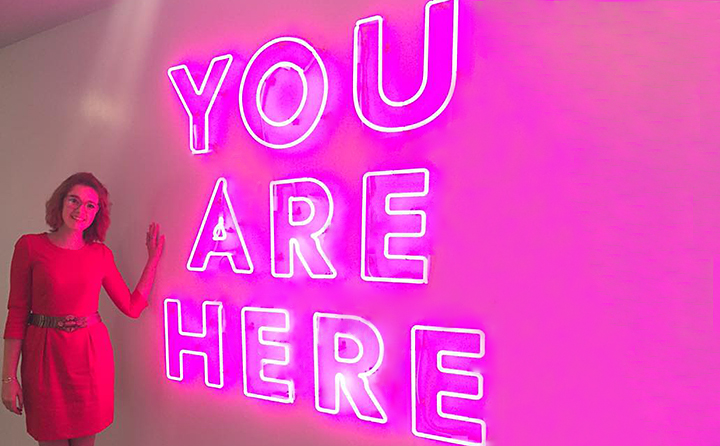 For studio design major Alison Dickson '17, the summer of 2016 may have been a New York minute...a very bright, neon pink one considering the sign that welcomed her to work each morning. 
Most certainly, her 10-week internship in New York City flew by quickly. But to add even more prestige to it, Dickson spent her summer as a jewelry design intern with Kate Spade and Company.
It was a dream internship come true for the BW senior from Erie, Pa.
Standout Among Thousands
Dickson credits BW and its studio art professors for giving her the skills and confidence to get her foot in the door "in an extremely competitive industry for one of the most selective and respected intern programs in the country." She noted Kate Spade receives thousands of applications for each of its 25 summer intern positions.
"I had the opportunity to design several product groups for a variety of brands owned by the company that sell in both specialty stores as well as through wholesale channels," said Dickson." I was able to work with a multitude of departments from product development to merchandising, following products from concept all the way through manufacturing.
"My employers loved my jewelry designs, but they also loved that I could paint, do ceramics and even code, which I gained from my minor in digital media and design."
Impressing Executive Board Members
Among big moments for Dickson was the presentation of her fine jewelry designs to 13 members of Kate Spade's executive board. A high point for any young professional, but even more so in an industry that thrives on having key people see your work.
"My ultimate career goal is to become a professional jewelry designer or creative director for a large fashion company, while also being a practicing artist," explained Dickson. "The internship prepared me for that by sharpening my skill set and providing me with a strong network of professionals in the fashion industry. It was amazing opportunity to feel like an important member of the Kate Spade team!"