BW Sport Management Majors Lead Statue Unveiling for NFL Great Lou Groza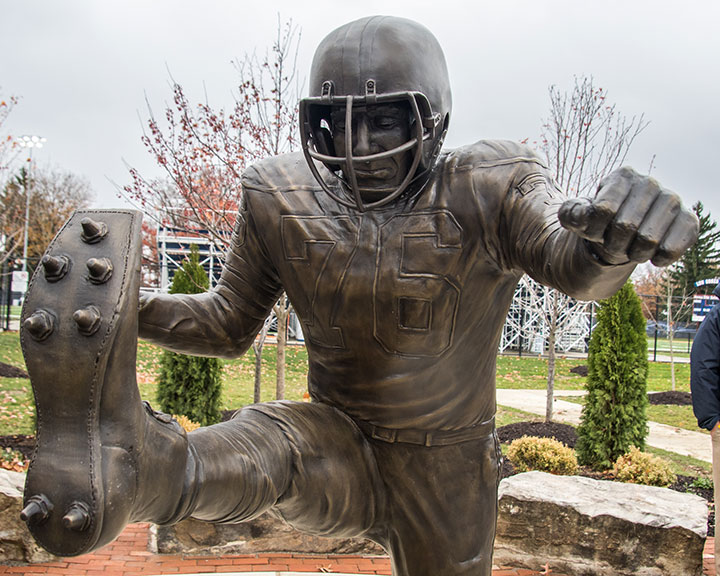 Seventy years after the late Lou Groza moved to Berea to play football for Paul Brown in the Cleveland Browns inaugural 1946 season, his presence still looms large. Now, he has a permanent place in the Berea community with with a newly unveiled statue.
The ceremony to mark the unveiling of the bronze likeness and memorial gardens at Lou Groza Field, home to the local youth sport league that also bears his name, Lou Groza Football, was the work of Baldwin Wallace University sport management majors. Students in the Sport Facility and Event Management class, taught by professor Tony Dick, handled every aspect of the celebration.
"This project was a complete hands-on event management learning experience for our students," said Dick. "They were able to plan the unveiling from start to finish."
A celebration for fit for a hero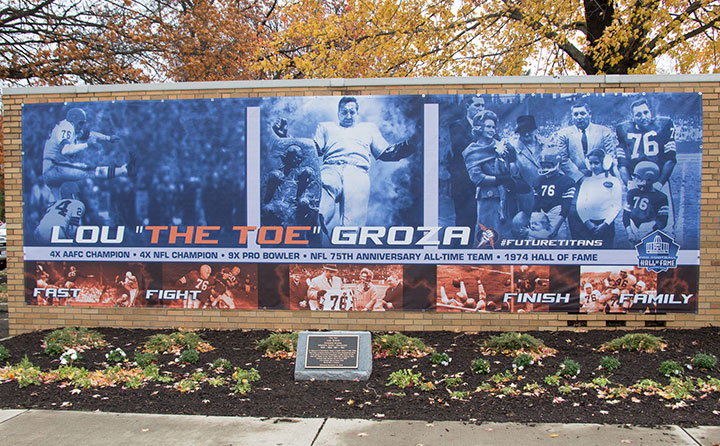 The students put together and promoted a ceremony that featured local dignitaries and Groza's sons, Jon and Judd. "My father would have been humbled by this and he would have been extremely appreciative of this honor," Groza's son Jon told the crowd at the November 19 event.
Groza played 21 seasons for the Browns and spent the majority of his career as an offensive tackle and kicker, earning the nickname "The Toe" for his kicking success. "When we were kids and out kicking the ball around, we all wanted to be Lou Groza," added sculptor Alan Cottrill, who donated his time to the project. Loren Cook II, who funded the project, said simply, "Lou Groza was my super hero."
Student experience with community impact
BW sport management majors frequently gain real world experience through a range of sporting events including an annual work trip to the Super Bowl, but Dick says this project gave them a true 360-degree view, responsibility and control.
"Many of our students are heavily involved in major high school, college and professional sporting events, however, this was a great opportunity to do something within the Berea community that may have been a little smaller scale than what they are used to, but certainly had a far greater community impact." 
To read more about the unveiling, visit cleveland.com.