Students gain experience with global Fortune 500 company in BW's back yard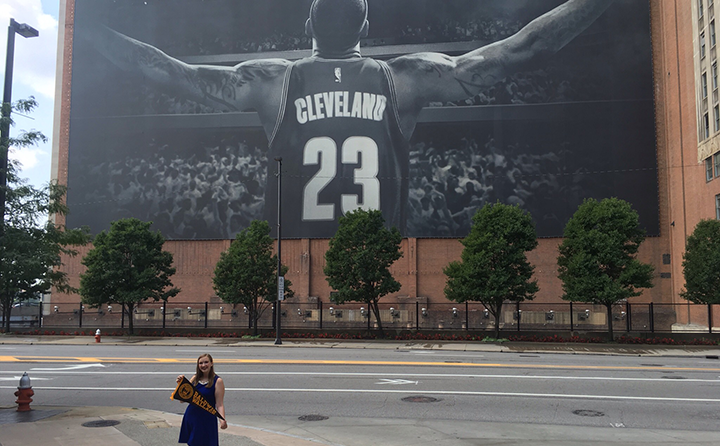 BW often touts the advantages of a Cleveland location that offers access to great internships. Sherwin-Williams, which is marking its 150th anniversary in the coatings industry, is a great example of a Cleveland-based, global, Fortune 500 corporation that provides incredible experiences to students.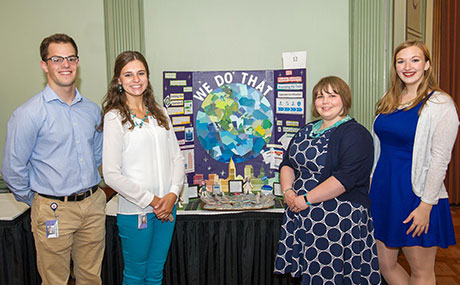 Gwyn Dubel '19 of Greenville, Pa. is among the many BW students taking advantage of Sherwin-Williams' outstanding internship opportunities, extending a summer placement as a Global Supply Chain Human Resources Training and Development intern into the current school year.
Dubel, who is pursuing BW's dual 3/2 BA/MBA program in human resource management as well as marketing, says handling wide-ranging tasks in recruitment and training has increased her passion for human resources 
"I work directly with manufacturing sites from all over North and Latin America to create job templates and helped to initiate the new Operator Certification Program," she says. "I also had the opportunity to attend the Sherwin-Williams annual Human Resources conference where HR leaders from all over the world gather to learn updated systems and processes."
Gaining the right experience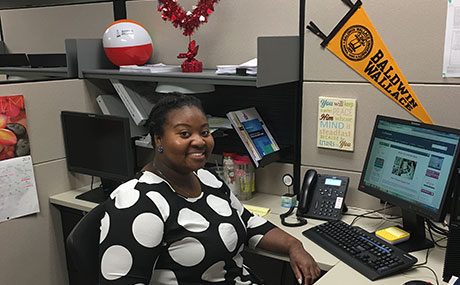 Zuri Howard '16 of Euclid, Ohio, who expects to finish her degree in health care management and human resources this December, started interning with Sherwin-Williams' HR Business Process Improvement team last fall and transitioned into the Benefits team over the summer. "I was elated to tie my strong interest in healthcare to a human resources function," she says.
Howard notes that BW's internship pipeline results in a BW community at the corporation. "Because Sherwin-Williams is such a large company, it is comforting to see other Baldwin Wallace students in the hallways or cafeteria feeling as if I know someone in a sea of employees," she says. 
Alumni connections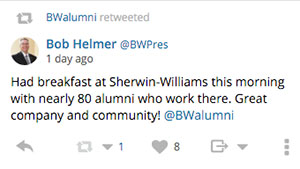 The BW and Sherwin-Williams connection also extends to dozens of BW alumni who are employed at the company. BW President Robert Helmer recently gave them a Twitter shout-out following a breakfast with nearly 80 BW grads on the Sherwin-Williams team.
Career Service Director Carmen Castro-Rivera also attended the breakfast. "It was great to hear BW stories from Sherwin-Williams employees like Jeremy Short, director of human resources and BW alumnus '91," she says. "Jeremy shared his BW legacy--both his parents graduated from BW and now he is an adjunct faculty member in the BW School of Business."
For more information on internships at Sherwin-Williams, visit http://careers.sherwin-williams.com/careers/opportunities/internship.