BW Nursing Program Graduates Achieve Perfect Pass Rate on Licensure Exam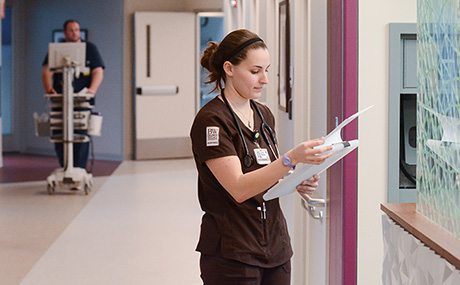 The Baldwin Wallace University Accelerated Bachelor of Science in Nursing Program is one of just four Ohio programs with 10 or more graduates to achieve a 100% pass rate on the NCLEX nursing licensure exam. The Ohio Board of Nursing formally recognized BW in its 2015 NCLEX Pass Rate Report.
Among the four top-performing programs, Baldwin Wallace hit the perfect pass rate with the largest number of graduates and was one of just two Ohio BSN programs to attain the distinction. The 2015 statewide average NCLEX passage rate was 81.21% and the national average was 84.51%. 
High Performance Trend
"This outstanding achievement of our August 2015 graduates continues the trend of high NCLEX performance begun by the Baldwin Wallace Nursing Classes of 2013 and 2014," said James Fell, director of BW's BSN program. "The BW nursing faculty and students should be congratulated for the hard work, commitment and dedication that resulted in this noteworthy achievement."
BW's Accelerated Bachelor of Science in Nursing (BSN) degree program allows Bachelor's degree holders to earn the BSN in just one year through a combination of intensive coursework and comprehensive clinical rotations.