Nonprofit pioneer helps launch Campus Kitchen to fight hunger, food waste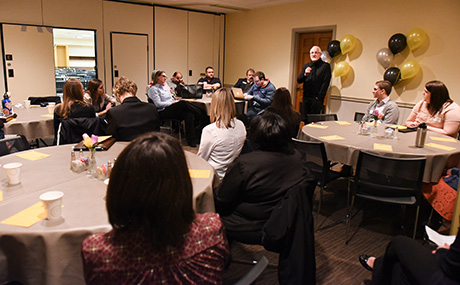 The social entrepreneur who pioneered the country's first "community kitchen" was on hand as Baldwin Wallace University officially joined The Campus Kitchens Project, the leading national nonprofit empowering students to fight hunger and food waste.
At a launch celebration, on Tues., Feb. 23, Robert Egger, founder of D.C. Central Kitchen and L.A. Kitchen, fired up the student-led organization that will turn donated food waste into healthy, balanced meals for the community. 

BW Students Join Growing National Movement
At Campus Kitchens across the country, students combat food waste and hunger by transforming surplus food from dining halls, community gardens, restaurants, and grocery stores into healthy meals. Baldwin Wallace is the 51st Campus Kitchen to join a growing national network and the third in the state of Ohio. 
At BW, student volunteers will conduct food recovery shifts and prepare meals at the Union Dining Hall on campus, with support from BW's Office of Community Outreach (OCO).
Ready to Serve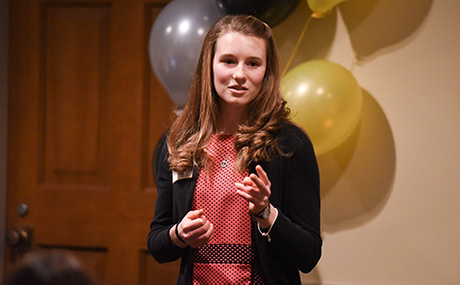 "We're so grateful for the support that this project has received so far," said Kara Carpenter, student director for The Campus Kitchen at BW (pictured here). "We are excited to be serving our first meals to the community tomorrow."
A national training team was on campus to prepare and work with the students as they made their first meal delivery the day after launch to residents of Quarrytown, an affordable housing complex for seniors managed by the Cuyahoga Metropolitan Housing Authority (CMHA). In addition to Quarrytown, the Hunger Network of Cleveland is a confirmed partner, with meals to be delivered to the organization's StayWell sites.
Egger Talk Followed Launch Celebration
Following the launch celebration, Egger headlined a free, "CIGTalk," co-sponsored by BW's David & Frances Brain Speaker Series, which supports presenters on social justice and social change, and BW's Center for Innovation & Growth (CIG) which hosts CIGTalks focusing on innovation and entrepreneurship. 
Egger's D.C. Kitchen model revolutionized the traditional "soup kitchen" into a self-sustaining social enterprise that uses donated food to feed the hungry and fuel a nationally recognized culinary arts training program. The successful Washington D.C. operation spawned L.A. Kitchen, Campus Kitchens Project and other nonprofits.
Growing Impact for Campus Kitchens
"We have a leadership team of six students who have been spearheading this effort, but once the kitchen is fully operational we will have opportunities for hundreds of BW students to volunteer each year in the kitchen on cooking shifts, food recovery shifts and in meal delivery and programming," said Christy Burke Walkuski, director of BW"s Office of Community Outreach & Service-Learning.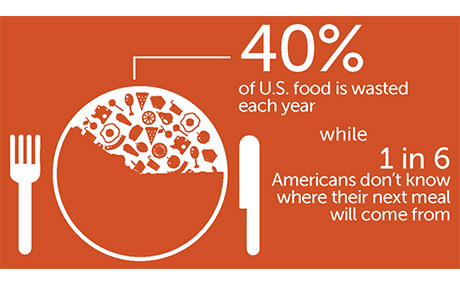 In the last academic year, Campus Kitchens on university and high school campuses across the country recovered more than 972,664 pounds of wasted food and served 310,948 meals. Student volunteers with the national organization also work to promote sustainable solutions to address hunger and food insecurity in their communities.
To learn more or to find out how to bring The Campus Kitchens Project to your school, visit www.campuskitchens.org.